Welcome home.
This is Audio EXP for the 26th of September 2020, and the title of this episode is 'Time travel'.
[The following is a transcript of Audio EXP: #63]
[Also on Stitcher | Spotify | Apple | Google]
There's an assortment of news to get through this week but let's first with a question; "Where are all the time travellers?"
Now, the premise is that if time travel is invented sometime in the future that in the thousands of years that follow some travellers would surely come back to our present today. Where are they?
As is often the case with weird questions like this, there's an old competition and survey behind it. That's true again. History is repeating itself.
In this example, the prize was a Life is Strange graphic novel.
There are some theories to explain the lack of time travel. One, of course, is that time travel isn't possible. Personally, I think that's pretty compelling outside the pure physics of what happens to time as you approach lightspeed.
A close cousin to that is time travel backwards isn't possible, only forward.
It may also be the case that just as in so many movies, time travel is a dangerous thing and the timeline a fragile construction. As a result, we might have lots of time travellers, but we just don't know about it. They have to keep hidden.
The last theory worth headlining in this section is that when time travel happens, it creates alternative realities. We're in a reality in which no time travellers went back to 2020 or before.
I can tell you how other Geek Native readers voted in the survey.
Only 8.5% of readers thought time travel will only be possible going forward.
Twice as many, 17% thought that time travel would not be possible.
18% thought that time travellers need to remain hidden to protect the timeline, whereas 20% voted for the option in which we simply don't believe time travel happens when we hear about it or see it for ourselves.
The largest single group, 36% went for the alternative reality option.
What do you think?
Now, if you think it's a shame that you miss out on all these competitions let me take the chance to point out the two currently live on the site. Even if that means trying to pronounce something awkward again.
At the time of recording, there's about a week left to win one of the best card games in the world. It's a German game called 6 Nimmit, and in that survey, I ask people whether they are braver than their friends.
The other competition is for the official novel tie in for Gears of War 5 and Gears of War Tactics. It's called Gears of War: Bloodlines and the survey there is whether you think we'll see another World War in your lifetime.
You can find both competitions by following the link in the transcript or by the competitions link at the bottom of Geek Native.
On the other hand, you might be wondering about ways to mess with time in your RPG campaign.
Geek Native can help with that too.
Professional GM, Ben Jackson-Ellery writes a series called Genre Police for Geek Native, and he has been exploring this very issue.
In the Deep Time article, he looks at what happens at the very natural GM tendency to skip forward in time or slow it down. For example, saying "And in the morning," is a skip ahead in narrative time, whereas you might also slowdown time down to focus on a single dramatic moment.
Then, in Time Stand Still he looks at less common techniques. For example, you can dial up the emphasis on time by running a montage scene or, after a big action sequence, you might dial downtime and have a session in which the characters get to talk and attend micro-actions without much else going on.
In the Genre Police article, Time After Time Ben gets into the awkward business of adding time travel to your games. It's worth a read, he's an experienced GM and knows of the pit-traps and how to avoid them. For example, take lots of notes and have models of the various timelines written down.
It's a complex topic and so in the last article, One More Time, he looks at more advanced techniques such as working with a paradox or creating a time storm.
I just want to take the chance to briefly segway to the WandaVision trailer which came out this week.
It shows the Scarlet Witch and the android Vision living together as a happily married couple in 1960s America. We know that didn't happen and even in the trailer reality begins to breakdown.
According to reports, the trailer has been very well received. This might be due to the lockdown slowing the release of all new Marvel and DC stuff and perhaps the pandemic is helping the superhero craze last longer and burn out. It might also be because we're all keen to explore these two characters in a bit more detail and there's certainly a mystery to solve here.
Time, of course, or the perception of it is something that both powerful heroes have ways of address.
Speaking of heroes, there's a surprise Batman RPG coming out.
I say it's a surprise because it's not coming from a publisher that's often on Geek Native's RPG radar. The company is the French board game publisher called Monolith. They make an official Batman board game for DC.
The RPG will be called Batman Gotham City Chronicles, and by early accounts, it'll be a d20 system game.
So, unless there's an update otherwise, that means D&D's 3 or 3.5 system is still getting new games. That system is generally what publishers mean when they say d20.
Well, Monolith has offered to keep Geek Native in the loop, so I hope to be able to bring you more details as and when they come.
There are a few other new games worth calling out this week. Well, that's true most weeks, but this is where the podcast has taken us this week.
The first is the folklore horror from Pinnacle and Odd Bard called Holler.
The setting in Holler is a dark fantasy version of Appalachia. Locals are tough. Everyone else is under the thrall of mad industrialists, and their machines and a dangerous and corrupting fog known as the Blight warps the low ground.
Expect encounters with cryptids, demons and of course the deadly machines of the robber barons.
If American-set games are of interest then Grim & Perilous' Flames of Freedom might suit. There's a free preamble out for it already.
On the surface, the game is about the American rebels rising up and throwing off the crumbling might of British imperial rule.
However, below that there's occult mystery in a world in which no one believes in the supernatural any more. There are flesh-eating ghouls tunnelling under Boston, witches in the swamp and the Freemasons are up to something.
Coming to D&D 5e, is a setting called Fading Embers. The primer for this was $10 but is now, as of today, a Pay-What-You-Want with a recommended price of $0.00.
Fading Embers is a fantasy world that has all been choked to death by a magical winter. Divine magic does not work. Fire magic is rare. On the Geek Native blog, there's some art to check out.
I think Fading Embers makes Icewind Dale and the Rime of the Frostmaiden look toasty. We'll have to see what the Kickstarter does, but I suspect if you want to ramp your frozen fantasy horror, then this setting will be a great help.
Sticking with D&D but going in a completely different direction, there's Blackstorm Realms from Jetpack7.
This is a space fantasy campaign setting wrapper. I'm calling it a wrapper because you can use it to travel from planet to planet or setting to setting. The Kickstarter, if successful, will produce a book with three worlds in it and veteran writer jim pinto is at the helm of one.
Another D&D setting to watch is The Wagadu Chronicles. We've spoken about this Afrofantasy before on Audio EXP, but the Kickstarter is now live, and publisher Twin Drums aims to expand the tabletop with more supplements.
Also, Twin Drums have signed on Riot Games as a patron. I think it's a good partnership. Riot certainly can help with the computer game, as The Wagadu Chronicles will also be an MMO, and Riot certainly seems serious about getting into the tabletop games space.
Some old games are coming to D&D too. Green Ronin's romantic fantasy Blue Rose is geting a D&D 5e supplement.
What's a romantic fantasy? I guess it's just like fantasy but with a bit more emphasis on relationships, politics and social and a little less on death by goblin. If you like authors like Mercedes Lackey, Tamora Pierce or, say, Wen Spencer, then you already know the genre.
Wizards of the Coast are even working to bring three of their old settings back to D&D. That was announced by D&D boss Ray Winninger right at the end of D&D Celebration 2020.
Wizards haven't told us what those settings could be, but a poll of over 1,000 fans run on Facebook put Dark Sun in the first place as the setting people wanted, followed by Dragonlance and then Spelljammer.
I don't think that news from Wizards of the Coast was the biggest this week. I'd argue that the HeroQuest news was bigger.
We talked about the potential for two, or even three, HeroQuests two weeks ago. Now we know there will be one, and it'll be a new board game.
Avalon Hill announced a $1,000,000 crowdfunding campaign for the next edition of HeroQuest. They're only taking money from Americans and Canadians, and can't ship to all of Canada, but they made that $1,000,000 within a day.
So, what about the roleplaying game known as HeroQuest? Chaosium has sold the trademark back to Hasbro. I hope they made a tidy profit.
The RPG isn't going away. It's been renamed to QuestWorlds. So, time to protect your old HeroQuest branded books as they might start to get rare and valuable.
The clues that something like this was going on were all there; including a Hasbro trademark application that seemed to go through, even if it did apply to a different category than the one Chaosium and Moon Design had.
Oh well, investigative journalist – I am not.
But, I think there are candidates for bigger gaming stories if we leave the realm of tabletop RPGs.
Amazon announced Luna this week. That's their streaming system for computer games to take on Microsoft's xCloud and Google's Stadia.
I still pay for Stadia and am generally too busy to use it. That may change when Baldur's Gate or Cyberpunk 2077 come out. As I said earlier, this blogger isn't getting the latest Nvidia card, so perhaps the need for Google's hardware will increase as the months roll on.
Amazon, of course, will be a player in this space. They've not been too successful with publishing games, but they do own Twitch.
Okay, Luna might be the biggest gaming news we had this week in due time, but there's a degree of speculation to it.
A candidate for the biggest news of the week that's rooted in cold hard cash comes from Microsoft. They spent $7.5 billion to buy ZeniMax Media.
ZeniMax owns Bethesda and therefore games like Skyrim and the other Elder Scroll games, Doom, Dishonored, Prey, Fallout any many more.
Games like Starfield that they've been working on now will surely be same-day PC and Xbox releases now.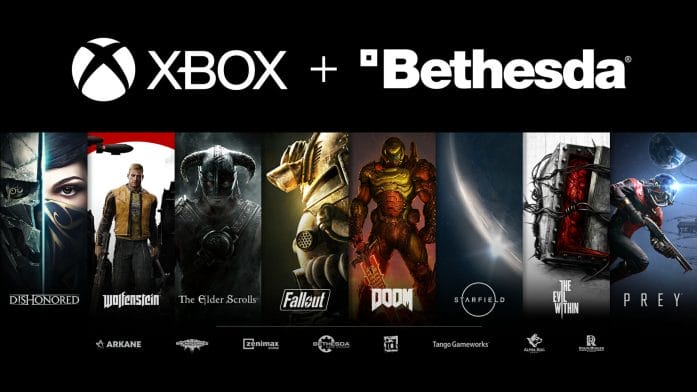 I remember when pundits were urging Microsoft to sell Xbox as it didn't fit with the company's business model. This was just a couple of years ago. It only shows you how wrong some pundits can be.
A happy story takes us back from computer games to D&D. Popular D&D designer Katie Welch left Wizards of the Coast just a few weeks ago and didn't seem to have a job to go to. We can now happily say Katie Welch is at Secret Door.
Secret Door is one of two new studios from a company called Dreamhaven. Dreamhaven is new itself and the latest project from ex-Blizzard boss Mike Morhaime. Secret Door says they're not just interested in computer games but also RPGs and tabletop games.
A good news story to finish up on is the launch of the Critical Role Foundation. Those hugely successful voice actors of Critical Role are determined to do good, and I appreciate it.
The Critical Role Foundation is as you imagine it; a legally appropriate and tax-efficient organisation to collect donations from fans. They'll send most of the money raised on to charity partners and squirrel away a small percentage to deal with emergencies.
And on that note, let's call it a wrap. Keep safe, be warm, stay out of melee range and see you next week.
Scroll down to find the Geek Native community comment section.