Hi friend, want to keep up with the chat on the site and meet new people? This page acts as Geek Native's activity wall, and you can use it to find the latest comments left on the site.
Any of the Mandalorian T-shirts would be lovely to win.

Villains: the wicked collection

The Mandalorian Backpack – The Child

You are considering Mr. Tascini as racist, just evaluating a translation (done by who?) from italian of a facebook post…

If every racist you know says theyre not a racist I think that says more about you than it does…

Apology is an acknowledgement of wrongdoing by definition my man.

Every Racist says "I'm not Racist"

In my opinion to call someone a shitty person is much worse that what Tashini wrote. For most italians (and…

Apology without change is manipulation- no one here is asking for perfection, they're asking for the acknowledgement of wrongdoing and…

I hope for a day when we can learn to forgive for mistakes and not be ourselves what we condemn…
---
Comment teleporter
---
Chat Skills
Geek Native has three badges you can unlock by chatting.

The rallying warrior unlocks after 10 comment upvotes.

The life blood unlocks after you leave 5 comment replies.

The cyborg commentator unlocks after you have started 5 comment threads.

The magic touch unlocks after you've twice been a featured comment.
Latest competition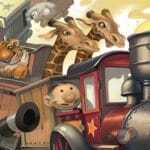 Competition: Win Aramini Circus
-
In Aramini Circus, players are trying to load up trains with animals, providing the colours and numbers match. [...]