Welcome home.
This is Audio EXP for the 9th of May 2020, and the title of this episode is 'Battle stamina and $13m'.
[The following is a transcript of Audio EXP: #43]
[Also on Stitcher | Spotify | Apple | Google]
Do names have power?
If you're a gamer, then I'm sure you'll have encountered a plot where knowing the true name of the demon or fairy causing mischief was the way to wrestle it into submission.
Last year, I ran a giveaway competition that put copies of fantasy author Justin Lee Anderson's The Lost War into readers' hands. The book has gone on to win awards, woo audiences and I love that fact that Geek Native readers know it was based on a fantasy RPG Justin played. The Lost War is set in a fantasy version of Edinburgh, and the clues are in the names everywhere.
So, for the competition, I asked readers "Do names have power?" but didn't specify fantasy names. It is useful knowing the name of a troublesome customer service rep you're trying to deal with, but is it powerful?
I'll let you know how people answered at the end of the podcast.
Oh yeah, it's going to be one of those episodes.
Do you know what is powerful? The unusual combination of kindness and money. That's what Play it Forward is. As mentioned in an earlier episode, Play it Forward is an initiative from Onebookshelf the owners of the DMs Guild and the Storytellers Vault to make sure creators got 100% of the retail value of the RPG accessories and supplements bought there.
Wizards of the Coast, Fantasy Grounds and White Wolf agreed to the idea. They would usually get a commission whenever their intellectual property is used by someone else to make money. So, until May 17th, that's what's happening on those sites. Creators are getting 100% of of the cover price.
There are lots of happy creators on Twitter, but I wanted to call out Celeste Conowitch in particular. If you watch D&D's own official Twitch streams you may have seen her and know who I'm talking about.
If not, then what matters is that we're talking about a freelancer who pays the bills by working in the RPG industry. Not an easy task.
Play it Forward has enabled Celeste to pay her rent this month. A modest victory? Perhaps. I think it's fantastic, though, and evidence that kindness like Play it Forward isn't gimmicky marketing stunts.
Do you know what else would pay the rent? $13,000,000.
That huge amount of money is the new record for a tabletop game on Kickstarter. It goes to Cephalofar Games and their expansion to Gloomhaven; called Frosthaven.
If you don't know the games, then I'd describe them as epic box sets. They merge tabletop board games with roleplaying games in that the world changes based on the decisions you make, and there are different storylines to explore.
Sadly, successes like that haven't been enough to carry Kickstarter through these hard times. The reports this week are bad, and it looks like up to 45% of staff will lose their jobs.
Geek Native keeps a close watch on Kickstarter. Each week there's a summary of RPGs on the platform in the Routinely Itemised column and highlights on specific projects throughout the week. I've certainly noticed a decline, although not a full stop.
The tabletop, especially roleplaying, hobbies are hard economics. Some people do it at a cost – like Geek Native, this podcast and the site costs money, you'll notice the lack of sponsors or adverts here – which makes it very hard for anyone trying to make a living out of it. The hobby is also dominated by a few big players.
The latest Roll20 market report is especially interesting in that respect. It shows that D&D is dominant but also that during lockdown some old-school games are having, in percentage terms, a bit of a boom.
Here's the top five;
50.4% of all campaigns on Roll20 are D&D 5e.
15.6% are uncategorized which probably means they're homebrew or a really obscure game.
12.2% are Call of Cthulhu – any version of Call of Cthulhu.
4.5% are Pathfinder first edition.
1.4% are D&D 3.5 edition.
It's easy to see how dominant D&D is.
Those percentage booms I talked about? HeroQuest, from the makers of Call of Cthulhu, is up 4, 006% and Old School Essentials up 962%.
I'm not calling this an OSR boom, though Roll20 are, because games like Blades in the Dark are also up; 474% in that case.
You can find the whole table by searching for Geek Native Roll20 or by following the link in the show notes back to the site.
In some ways, D&D's success, and therefore dominance, is excellent news. I wish we could have our cake and eat it, though. I wish smaller RPG publishers found it easier to lure in new gamers.
With that in mind, every month Geek Native runs a spotlight on a RPG publisher. The company the spotlight lands on is one picked by the site's backers over at Patreon and the June vote is now live.
The five candidates are;
If you are a site patron, thank you, and please vote.
Let's stick with RPGs for a bit longer as there have been some interesting new releases and games like Altered Carbon, the cyberpunk game based on the Netflix show, progressing on to pre-order on general release.
Another is the Warhammer Age of Sigmar RPG Soulbound from Cubicle 7. You can now pre-order the physical copy, and there's a collector's edition which looks gorgeous.
The Lost Citadel is years late, but Green Ronin have finally published their Undead apocalypse for 5e. I've not even had a chance to look at my PDF, which I got a few months back as a backer, but I'm keen to do as I adore the concept and the cover art looks fantastic.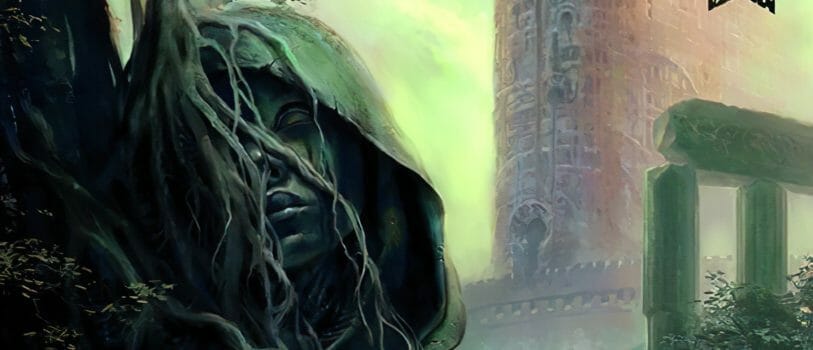 Sandy Petersen, the Cthulhu game guy, has a new project to expand the Cthulhu Mythos Sagas for 5e too. It's a subscription that costs about $20 a month.
With the Cthulhu Mythos Saga you get a 75-page adventure, in hardback, as well as discounts from Petersen Games, every month.
A reliable monthly revenue is a fantastic thing for any publisher to have so I'm sure Petersen Games will work hard on this. They're going to have to; that's an adventure chapter every month from now until doom.
All these games cost money and if that's a problem right now then perhaps the fan-made Fallout RPG will be a better bet for you. It's free, and the 6th edition was just released. That's right; the 6th edition!
Modiphius has the official license, and while they've released an RPG add-on for their Fallout skirmish game, they've not yet released their main Fallout RPG. Playtests for it, though, opened at the start of the year so it might be along soon.
We've already talked about Wizards of the Coast's generosity with the Play it Forward initiative, but it's worth noting that their daily freebies are still coming. In fact, this week Geek Native shared some sites and tools that will alert you whenever WotC's freebies page updates in case you've been struggling to keep up!
Alternatively, if your problem is finding people to play with then Magpie Games have good news. They've expanded their Curated Play Program. You have to buy tickets, which are selling out, but at least you have a chance. $10 is generally enough to get a place at a virtual table, with a high-quality GM and you'll be part of a gaming group. The expanded program does not just play Magpie Games' Masks superhero RPG, but now includes others like Bluebeard's Bride and Zombie World.
Okay, let's pull ourselves away from RPGs just for a bit. I wanted to talk about Netflix's new Ghost in the Shell anime series.
Granted, I don't think the CGI-style animation that Netflix so often favours with its own anime is anything like as cool as the original, but I have good news.
The latest reboot, Ghost In The Shell: SAC_2045 isn't bad. In fact, it's a safe average, perhaps even a high average.
Set in the Stand Alone Complex version, the world has gone to hell in a handbasket when all currencies lost value. The only thing keeping economies afloat now what's called "sustainable war".
That's right, by hiring people for the army, buying weapons and spending that money domestically, countries can keep going. All you need are other countries to fight against; hence the sustainable war.
It's the sort of conditions which might trigger the next evolution of humanity.
If you're a Ghost in the Shell fan, then I reckon this reboot is worth a look.
Another success this week comes from comic book author Cullen Bunn. That's a name I see with more and more regularity, I'm sure movie success is in Cullen's future. In the meantime, though, I want to recommend the comic book Rogue Planet based on the strength of issue one.
It's a cross between the movie Alien and a Lovecraft story.
In other sci-fi news, and hard to miss, is the Star Wars one. There will be another Star Wars film.
Taika Waititi will direct.
Look, I'm going to be optimistic about this. I regret that way the Star Wars and Star Trek fandoms have grown toxic elements.
Nobody has the right to demand Star Wars stories are told in the precise way they want, not unless they're coughing up the many millions necessary to make the film. We can hope, though.
It's okay not to like a Star Wars film and like the rest, or not to like two, or just like the one. It not a life or death thing. It's a fandom thing. Right now; geek fandom is terrific, and it's a time to enjoy, not be angry.
The Op will release a Star Wars Talisman board game.
Isn't that great? Oh, I'm sure it'll be as random and meaningless as ever. The luck of d6 rolls will take your character around the board, again and again, until random chance makes one character strong enough to step closer to the middle of the board.
Just embrace it and have fun, that's my approach, and I like to think of it as a form of battle stamina.
We're sliding back towards games. Okay, that's also not a bad thing. It gives me the chance to highlight Ardent Roleplay an augmented reality app for your Android or iPhone.
Did you ever want a horror to leap out from under the table and give your players a scare during a spooky game? That's the sort of thing Ardent is working on, and they've signed a deal with Call of Cthulhu's Chaosium.
Right now, the app can be used to create virtual tabletop scenes, track characters on these landscapes and their stats.
I know Ardent won't be for everyone, but it feels like another new way to get people interested in tabletop games, and I hope it goes well for them.
Things are going well for the D&D movie, it's not cancelled, and it's clearly an important project for Paramount and Entertainment One, the two companies funding the project. This week they've signed a deal with ex-Marvel exec Jeremy Latcham to come on board as producer. The movie, they say, was made his top priority.
Before I share those "Do names have power?" stats with you, I wanted to highlight that we've had another Genre Police article from Ben this week. It's called "Serial Killer" and is part two of a look at the role and risks of continuity in RPGs. There are merits in worrying less about continuity when it comes to running your games.
Right, those power stats.
73.6% of people who ended the competition thought names have power.
I think they're probably right. Call out someone's name in the street, and you can make them turn around, for example.
I can split these stats down between geeks and non-geeks. I guess the non-geeks were entering the competition because they like to win stuff. Geeks were even more confident that names have power; 77% of geeks, compared to 65% of non-geeks.
There's a new poll on that write-up page, and you can cast your own vote there if you like.
On that note of power, let's call it a day. Speak to you next week and, until then, stay out of melee range.
Join the site discussions by leaving a comment below.