Welcome home.
This is Audio EXP for the 4th of April 2020, and the title of this episode is 'You are a hero'.
[The following is a transcript of Audio EXP: #38]
[Also on Stitcher | Spotify | Apple | Google]
It's tough being trapped inside, held captive by an invisible villain but imagine being a young kid while it's happening.
Imagine bristling with energy, the need to run around and to spend time with friends. You might be old enough to know something is going on, something scary that you don't fully understand.
Self-isolation and social distancing are tough on adults, but for some kids, it is even harder. That's why I want the first story this week not to be about an RPG freebie – don't worry – we'll get to those – but about the Stockport Spider-man.
Stockport is a large town in the Greater Manchester area of England. Historically, Stockport made hats and rope, but the last hat works closed before the turn of the century.
Kids trapped inside their homes in Stockport have a chance of looking out of a window and see Spider-man pass by on patrol.
How cool is that? Parents can use this, if their kids are young enough, to reassure and yet remind that we really do have to stay inside. We're helping people by staying indoors.
In truth, the Stockport Spider-man are two friends. In the UK we're allowed out of our homes for essential food and medical trips and one exercise a day. These two friends are taking turns and using their exercise ration to dress as Spider-man and entertaining kids.
There's a growing fanbase on Facebook for the Stockport Spider-man, and I'm now hearing of other similar activities up and down the country. There's even one postie who wears different fancy dress each them they're out on a mail run.
It's a crisis, but the lockdown is bringing out the best in some people.
It's a big week for comics in general. First up, there's news of a gigantic auction of comic books in the world-famous Sotheby's. The Ian Levine Collection is going under the hammer, and it's believed to be the only complete DC collection anywhere.
Every single DC comic from 1935 to 2014 is in this collection.
I can't imagine this comic book empire going for less than $5 million. Just a few years ago, Action Comics #1 sold for $3.2 million and more recently Detective Comics #27 sold for just over $1 million. Both those two comics are in this collection, along with the first appearance of Wonder Woman, The Flash, Green Lantern, Aquaman and the Justice League.
How much do you think the collection is worth?
The rest of us, those without millions, will be struggling to buy comic books right now. Shops are closed. Even if the shops opened, they wouldn't have the latest editions as the distributors are closed.
In fact, the noise coming out of the Geppi Family Enterprises are not good. That's the company who owns Diamond Comics, the hugely dominant comic book distribution business in the States. They also own Alliance Game Distributors, which does the same thing, except for tabletop games, and they're not going to be able to pay publishers this week. They don't have the cash.
Rumours this week – and I'm only saying rumours because everyone except the key company involved seems to have confirmed them – is that ComicHub is up to something.
ComicHub is a collection of software packages that makes it easier to sell comic books as a store or supply comic books as a publisher to local stores.
According to sites like Bleeding Cool, ComicHub is about to launch a system where local stores can sell digital codes for comic books. A digital copy of the comic book comes with the code and then when the lockdown is over, customers – people like you and me – can then present that code to the local store you bought it from and get a physical copy of the comic book.
In other words, collecting physical copies continues, and local stores are cut into the action in the way that buying digital-only on Comixology does not.
ComicHub has not – as far as I can see – at the time this is recorded, publicly confirmed this is true. If it is, and the reports that they plan to get this all up and running in two weeks comes true, then buying comic books may never be the same again. In a good way.
There's big news from the world of webcomics as well this week. The Korean giant, Tower of God has had more than 4.5 billion views. That's 25% more views than Psy's Gangnam Style video on YouTube has had.
Funded by Crunchyroll, Tower of God is now a Japanese language anime. The sub-titled first episode is available to watch on the platform. Geek Native got an early look, and I enjoyed the episode.
Okay, so the webtoon comes out once a week, so you have to accept backgrounds and character designs are realistically simple to allow publication deadlines to be met. The anime reflects that.
In terms of plot, though. I think it'll be on two layers. Climbing the magic tower is one layer. I suspect that'll be a series of challenges and likely the focus of all the foreground action whether that's fighting, betrayal or other such drama. In the background I think we'll get into the politics of the tower, the noble families and why everyone here – wherever here is – is so powerful.
Will Tower of God hit 4.5 billion views on Crunchyroll? I doubt it. I don't think anime is that mainstream yet in the West, though it's undoubtedly increasingly popular.
Popularity, of course, can matter. The gaming site EN World is closing their Trailseeker patron because it's not popular enough. It has 91 patrons or did, which meant EN World got $170 for each Pathfinder article it wrote. EN World found they were making a loss on that model so have little choice but to stop doing it.
In better Patreon news, it's a new month which means the Publisher Spotlight poll is open again for Geek Native patrons. There are five small publishers backers can vote into the limelight next month. They are;
Thank you. If you're a patron supporter, a regular listener, someone who occasionally shares a Geek Native article on social media, then thank you.
I'm on the Cortex Discord. I've never played the game, but I'm there to track the release of Cortex Prime. It's now two years late. There's a small community of regulars there who are upbeat and friendly, and supportive of the designer as the game soldiers on.
They're helping too. I think like Geek Native's patrons, or EN World's patrons, or geeks who throw bits at Twitch streamers, or readers who turn their ad-blockers off when they visit a small website are heroes in their own way.
There's a bit of the Stockport Spider-man in so many of the things we can do; whether that's to help the community, help the little guys and help each other.
Of course, I'm not saying for a minute it's okay that Cortex Prime is two-years late. If you're annoyed about this, then you have every reason to be so. I guess it's about what, if anything, you do with that annoyance.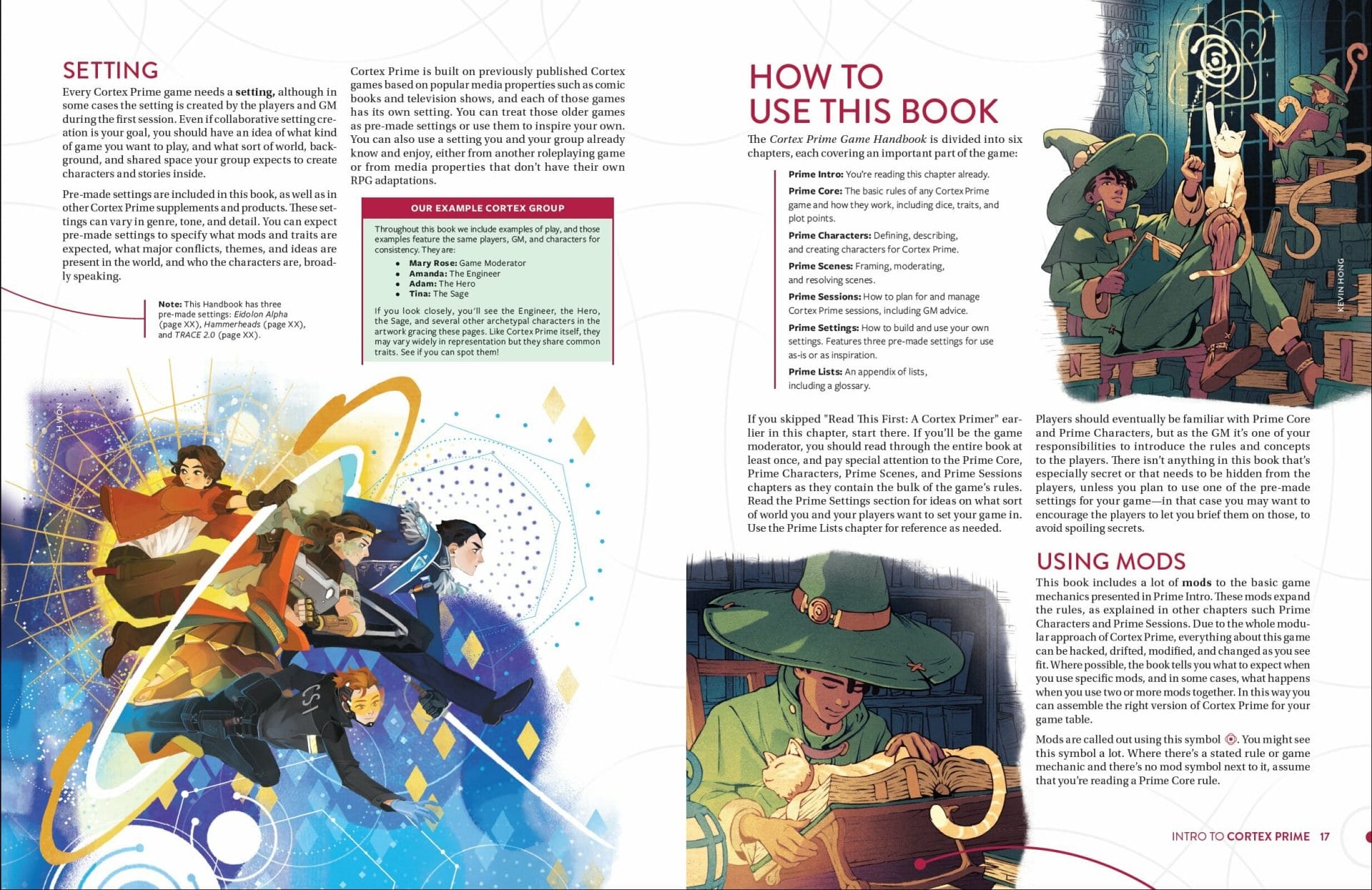 There are signs of progress on Cortex Prime too. This week, Adam Bradford, shared a page from inside the upcoming Cortex Prime and it looks great. That's the same Adam Bradford who co-founded D&D Beyond, and we've spoken about what Fandom might be up to with their very own RPG system in earlier episodes of Audio EXP.
Elsewhere in tabletop gaming names, Wizards of the Coast have had to rename a Magic card. The expansion pack Ikoria: Lair of the Behemoths is already late due to Covid-19 but once that first print run is out, no additional print run will include the card called Spacegodzilla, Death Corona.
Wizards explain that the word 'Corona' has a new meaning now. I think they're right. I also think they've just made that card very collectable.
Wizards of the Coast are keeping up their frequent D&D playtesting with Unearthed Arcana. The latest PDF download contains new spells and rules for magic tattoos.
I think magic tattoos fit high fantasy worlds nicely and are a way of giving some of the more vanilla classes a bit of sparkle. The problem with all such playtests is, of course, if your D&D game is 4 years old and your players have met hundreds of NPCs then why have they never encountered a magic tattoo before?
The art of world-building and storytelling is never easy. Hopefully, Charles Dunwoody's new series on Geek Native will help. It's all about basic world-building and part two, Design a Base Town, came out this week.
There's one other bit of official D&D news that nearly made it by under the radar. There's an errata for Xanathar's Guide to Everything but you can't get it. Not yet. If you happen to have bought a recently printed copy of the book, then you'll have the updated version. A PDF of the changes is due out later.
There are a few changes, mainly about fixing imbalances, and the main one is probably Healing Spirit. Before, if you were smart, you could get healed as often as you needed in the available time with the spell. Now, the spell runs out after a certain amount of usages, even if there's still time on the clock.
You might think that it's good Wizards of the Coast are working to keep the game balanced. The catch, though, is that some collectors won't like there being two different versions of Xanathar's Guide. There's the original one. There's the correct one. Some people will want both and resent it.
I like what tiny publisher Massif Press is doing. They just released the PDF version of the mud and mecha game Lancer. The print books are coming.
$25 will get you the PDF from Itch.io. Right now, though, and for the next few days, if you donate $25 to a charity offering Covid-19 relief and show your receipt to Massif, they'll just give you a copy of Lancer for free. Please do check on social media or over at Geek Native that the offer is still running, though.
There's Pay What You Want download of The Dark Eye available too as well as two free solo-play adventures.
The Dark Eye is often described to me as one of the best fantasy RPGs ever, if not the best. I'm yet to play it so can't verify those claims, but they're made frequently, and by different people, so I suspect, at the very least, it's a good game!
The company behind this generous offer is Ulisses Spiele. They have videos of an actual playthrough of one of those adventures on YouTube. If you're bored, it might be worth your time.
The mapmakers Loke have a free bundle up on DriveThruRPG. There are 12 different battle mats available in their care pack and perfect for virtual tabletop use.
Posthuman Studios have also been generous. They have two Eclipse Phase supplements that are free to download. Eclipse Phase is a transhuman RPG set after an apocalypse or two. The platinum bestseller After the Fall is the first freebie, an anthology of stories set in the game's universe. The other is A Time of Eclipse which has the first 100 or so pages of the game in ePub form.
Modiphius released their Elder Scrolls game Call to Arms this week. It's free in digital form and that means using paper minis, or improvising your own, but feels like a perfect way to test the skirmish game to see if you might be tempted by the physical box when it comes out later. Once again, it's also a good distraction for people locked inside.
Lastly, let's talk about Humble Bundle. There's a large collection of 3D printable dungeon bits available this week and still a few days left on the Conquer Covid-19 program. The latter gets you about $1,000 worth of ebooks and games for a $25 donation.
That's it for this week. We'll speak later, and in the meantime, please do keep safe and well.
Take part in the Geek Native community by sharing a friendly comment below.