Welcome home.
This is Audio EXP for the 4th of January 2020, and the title of this episode is 'The most successful RPGs of the decade'.
[The following is a transcript of Audio EXP: #25]
[Also on Stitcher | Spotify | Apple | Google]
Audio EXP is Geek Native's highlights show, so let's dig in!
ICv2 is a company that collects and publishes data on geeky things such as the RPG industry. They've just revealed that according to retailers in North America the biggest selling RPGs in the last quarter are D&D 5e, Pathfinder 2e, Shadowrun 6e, Vampire 5e and Star Wars.
I think if you had to guess what the biggest selling RPGs of the last decade where then you'd be hard-pressed to find a better list of candidates.
Before D&D 5 launched, Pathfinder was the top seller, outpacing 4e considerably. Fantasy Flight's Star Wars was published in June 2013, so it's most of the decade to secure that 5th position.
There's maybe one RPG that might challenge for a top-five position, and that's Call of Cthulhu. The 7th edition came out in 2014, and it's sold on DriveThruRPG which makes it hard for ICv2 to track. The Keeper's Rulebook is a Platinum bestseller on DriveThruRPG which puts it in the top 1% of all games.
As it happens, Geek Native does have some DriveThruRPG data, and we go back 10 years. Kinda.
What we can do is reveal of all the games published in 2010, which game sold the most. Then we can look at all the games released in 2011 and reveal which one sold the most. We can do this all the way up to 2019.
The best selling game published in and of 2010 was Dresden Files RPG: Your Story by Evil Hat.
The best selling game published in 2011 was Vampire: The Masquerade 20th Anniversary Edition by White Wolf.
The best selling game published in 2012 was Shards of the Exalted Dream by Onyx Path Publishing. So, yeah, to be clear… that's a sourcebook for Exalted.
What about 2013? The title is taken by Shadowrun: Fifth Edition published by Catalyst Game Labs.
Then in 2014, the best seller was Shadowrun: Run & Gun also by Catalyst Game Labs, another sourcebook.
The title for 2015 was taken by Mage: The Ascension 20th Anniversary Edition published by Onyx Path.
Exalted 3rd edition, also by Onyx Path, takes the best seller position in 2016.
In 2017, the best selling game published that year was Star Trek Adventures.
We're getting close to the end of the decade now. In 2018, the best selling game is also the first classical Western fantasy to make the list. It's The Witcher Pen & Paper RPG by R Talsorian Games.
And this year? The 2019 best seller title goes to another R Talsorian Games' success – the Jumpstart Kit for Cyberpunk RED.
So, do we have an answer for what the most successful RPGs of the decade are? I think the DriveThruRPG data confirm that we'd be hard to challenge D&D, Pathfinder, Shadowrun, Vampire or Star Wars.
If you've caught the previous two Audio EXP episodes, then you'll know we've been going through this year's best sellers at DriveThruRPG genre by genre. I know we've just kinda done the grand reveal with a whole decade of winners, but we do have the top three generic RPGs and products sales data, and it is interesting.
Quickly, then, the best selling generic RPG product published and sold this year at DriveThruRPG is Monte Cook Games' Cypher System. That's followed by the Fate Accessilbity Toolkit and then the Savage Worlds World Builder and Game Master Guide by Pinnacle Entertainment.
You'll find links to all this data in the show notes. The exception is the ICv2 data which is behind a paywall on their site.
Yeah, that's a tricky one, isn't it? I support ICv2 right to monetise their site even if they usually share the relative positions of the top five RPGs for free.
As it happens, EN World published a summary of the ICv2 data and I can do nothing but trust them to get the balance of fair use right. You'll find links to all third-party RPG news mentioned on Geek Native in Routinely Itemised: RPGs #29 this week.
Right then, what else caught readers attention?
We had a guest post from award-winning designer Josh Fox. He talked about How to play the traitor and still get to be a hero.
The timing was not a coincidence. Fox's RPG studio has just launched a Kickstarter for Last Fleet. That's a high tension sci-fi game which uses the Zodiac as character playbooks.
I think it's alright to get Battlestar Galactica vibes from this. You have humanity's survivors, fleeing through space, perused by a relentless enemy.
The Scorpio character type is a sleeper-agent. They're working for the enemy. Last Fleet has a system which copes with the fact there are spies on board, and all the players know who it is.
Curious to know more? We've a preview of the character playbook on the site and also a summary of the Kickstarter.
We also had a guest post from Charles Dunwoody. He takes Free League Publishing's Mutant: Year Zero and walks new GMs through it, helping them cope with combat and setting up a basic scenario.
It's been a week of RPG advice as Geek Native also kicked off an RPG Blog Carnival on Random Encounter Tables.
There's a group of RPG bloggers know as the RPG Blogger Alliance. At its heart, it's a meeting point, a way to find people writing about similar stuff.
The Carnivals are a theme which people are welcome to write about on a given month and which the host, Geek Native this month, then collects into a summary post.
So, hopefully, we'll get some insight on clever things to do with Random Encounter Tables by the end of the month.
The approach I wrote about in the launch article was a dynamic system. I suggested that tradition static encounter tables are a bit basic and can be a bit awkward.
Instead, why not assign certain event types to values on a d6. 1 might be the weather, 2 be animals, 3 be a criminal encounter, etc. Of course, you can customise this to suit where your players are and your game world.
Then roll a bunch of d6 and look for matching sets. Roll more d6 if players are likely to encounter something. If you roll 3d6 and get a pair of 3s, then that might be a mild criminal encounter, perhaps a common pick-pocketing attempt in the market square. Alternatively, if you rolled 5d6 and got four 1s, then that's a pretty unusual weather event. It could be red lightning in a storm that sends the city's priests into a flurry of distress or which hits just when the local lord is trying to cross a dangerous ford?
I think it was also a pretty good week for freebies. Let's quickly run through a summary.
Palladium Books has, for now at least, a generous 60-page free download for the Garden of the Gods sourcebook for their fantasy RPG. Inside you'll find rules for curses, blessings, returning forgotten gods and all sorts of mythology.
I noticed The Lizard Man Diaries had produced another random generator. This time there are rules and buttons to press to create the insides of a spaceship complete with battle map.
Over on GM Binder, there's a really good looking fan-conversion of Dark Sun.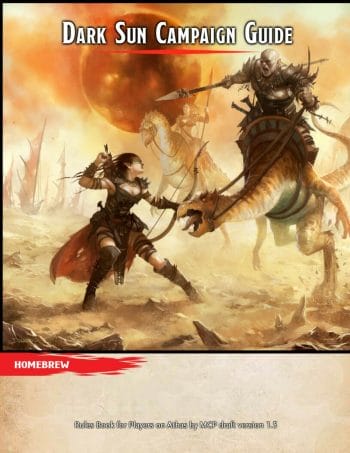 Now, Dark Sun isn't to everyone's tastes because it's set in a world without gods and where magic has destroyed the ecosystem. The result is a harsh desert in which metal and water are both more precious than any one person.
Dark Sun was an official setting for AD&D 2e and D&D 4e. It was also the first campaign world to have a metaplot attached to it out of the box.
I think it's worth checking out.
Over on Homebrewery, there is an ongoing project to convert old 4e books to 5e, and the Lost Vaults series has now rescued some 1,400 4e magic items. That's been a popular story, telling me that 5e DMs are still plenty hungry for more magical goodies to give their players.
Both GM Binder and Homebrewery are excellent resources, by the way. Both allow you to create a professional layout for your homebrew using markdown text. You don't need to be an artist to make your D&D content look good.
Hunters Entertainment are ramping up their Free Content Friday offering in 2020.
The first bundle of goodies from them includes freebies for the Kids on Bikes RPG, Icarus and Outbreak: Undead.
Hunters Entertainment aren't the only ones trying to start 2020 strong. Over on the blog, I have created a new corrections page and written about improving transparency on the site. Hopefully, this is all common sense stuff. I'm not a journalist, makes are made, when they are they'll be corrected, and that correction noted. Equally, the site tries to make money – er, I mean, reduce loss – through display ads and affiliate links. You can't buy an editorial. You cannot bribe your way into this podcast.
As it's the start of the month the Spotlight poll for February is open. This is an official way for you to influence topics on the site. If you're a Patreon supporter, then you can vote in this poll to help determine which publisher gets written up in February.
Lastly, before I sign off for another week, I want to tell you about the Yuan-ti that applied to college. This is a true story.
A man has admitted to believing he was one-eighth Yuan-ti. He swears that was the tribe name his parents used when discussing their native American heritage. He, therefore, put Yuan-ti down on his college application.
It was only last month that he discovered Yuan-ti was a fictional race. They're D&Ds snakemen and absolutely not a tribe of First People.
Oops!
That's a wrap for this week. Take care.
What are your thoughts? Strike up a discussion and leave a comment below.