Geek Native is pleased to offer up this guest post from Josh Fox of Black Armada.
The award-winning studio that Josh and his partner, Becky Annison, run is soon to launch a Kickstarter for a sci-fi RPG called Last Fleet.
When Geek Native discovered that one of the character playbooks in the game is for a sleeper agent, working for the enemy, I had some questions.
For one; how could that possibly work?
Thankfully, Josh can answer them all, and the guest post below does just that.
A bonus we also have a preview of the Scorpio playbook, and if that whets your appetite, there's also the full Last Fleet playbook reference pack.
How to play the traitor and still get to be a hero
By Josh Fox.
When we watch a TV show or read a book where there's a hidden traitor, the tension just ramps up and we're on the edge of our seats wondering what they'll do next, and whether they'll finally get caught. But let's face it, in games the same characters often fall flat. When most of us are playing to be heroes, the sour taste created by secret player-versus-player elements coming in can really spoil things. But wouldn't it be great if you could get that edge-of-seat feeling without losing the fun of playing a hero?
That's exactly what you can do in Last Fleet. Last Fleet is a roleplaying game about a rag-tag fleet of ships, fleeing across space from an implacable inhuman foe. You play the brave pilots, officers, engineers, politicians and journalists who battle to keep the fleet – and themselves – in one piece. In this article I'll talk a bit about the characters you can play in Last Fleet. I'll also talk about how the Scorpio playbook handles the traitor issue, and how you can apply those lessons to your game.
Last Fleet's playbooks are more connected to personality than your role on the fleet. Each character has a particular approach to solving conflicts, and (usually) a particular set of problems or vices that they'll grapple with in play. The playbooks are:
Aries, a passionate and hot-headed character. They solve problems through sheer style and confidence, but tend to antagonise other characters with ill discipline and blunt honesty.
Taurus, a tough, selfless and principled character. They solve problems through willpower and resilience, and they're good at helping and protecting others. They tend to have a martyr complex that eventually ends in tragedy.
Gemini, a charismatic communicator who pursues their own agenda. They're great at working connections and getting what they want socially. The problem is, their interests tend to be at odds with those of the fleet.
Cancer, a skilled leader who cares deeply for their comrades. They are good at solving problems through others, boosting them with their leadership and inspiration. They have a tendency to overlook bad behaviour until it's got way out of hand.
Leo, a magnetic individual who others want to follow. They're good at getting people to do what they want, and impressing people with flashy moves. Their charisma can sometimes backfire when people take their words too far.
Virgo, a serious professional who prides themselves on being the best. They solve problems by going at them methodically and single-mindedly. They tend to rack up pressure and explode through lack of self-care.
Libra, a skilled diplomat and negotiator and, perhaps, leader. They are good at tackling political crises on the fleet, and building up relationships with other characters. They tend to do things their way and damn the consequences.
Scorpio, a secretive manipulator whose motives are in doubt – we'll explore this one further down.
Sagittarius, a relentlessly curious person. They are good at making new relationships, exploring new places, or digging into interesting puzzles. The only problem is that sometimes curiosity kills the cat.
Capricorn, an uncompromising tactician. They are at their best when the going gets tough, and they solve problems through drastic action or taking risks. Of course, this sometimes leads to collateral damage.
Aquarius, a perceptive investigator. They are good at finding out information and revealing the truth when others are trying to conceal it. They're likely to make enemies along the way – the truth sometimes hurts.
Pisces, an otherworldly person. They have strange abilities that allow them to see things others do not. Using these abilities may put their motives in question or expose them to danger.
Probably my favourite playbook in the game is Scorpio. This character is a sleeper agent, working for the enemy. You play them as a heroic character doing their best for the fleet, but there is growing self-doubt and suspicion hanging over them.
Every session, unless they're already in the middle of dealing with the fallout from previous sessions, Scorpio secretly does something terrible that threatens the ship. The GM knows what it is, but the player may or may not get clues that give them a chance to avert disaster. The player rolls the dice and, if they're lucky, it won't be too bad – whatever they've done is small-scale, or they get the chance to stop it, or at the very least there isn't any evidence pointing to them. If they roll badly, the shit hits the fan and they'll spend this session and probably future ones trying to pick up the pieces.
What's great about this approach is that everyone is in on the secret. The whole group knows you're working for the enemy. And the whole group are trying to stop the Scorpio from succeeding in their evil plans – including the Scorpio themselves. That's right, you get to be a hero, even as the rules mean that you wake up every other session to find you've done something awful that you have to struggle to undo. The group gets the edge-of-seat feeling as they wonder what the Scorpio will do next, and whether they'll get caught, without feeling like their friend is stabbing them in the back.
The Scorpio comes with a bunch of moves that support this secret double life. They are great at manipulation and deception. One of the basic moves in this game is "reach out" and you use it to reduce pressure on yourself and others, while forging a stronger relationship with them. The Scorpio turns this on its head, by using "reach out" to emotionally pressure others into doing what they want. It's kind of mean, but also kind of beautiful. The fact the Scorpio has plenty of ammunition to keep themselves from getting caught helps avoid them getting caught in session 1 and thrown straight in the brig (or worse).
You can apply these lessons to your own game. When someone wants to be a traitor, that could be fun, if the group are all signed up. But as a great alternative, ask them if they'd prefer to be a sleeper agent. Help them to build a character with mysterious gaps in their timeline, and then exploit those gaps to unleash merry hell. You don't necessarily need special rules to do this – you can run the sleeper agent like any other threat you'd include in a game, just one that happens to be part of the player group. Make sure that they take whatever skills and abilities your system provides to help them cover it up, and make sure that everyone is in on the secret, so that everyone can enjoy the tension of wondering what will happen next.
Of course, with any story that includes a traitor, it has to come to an end at some point. Last Fleet's core mechanics help you to manage this smoothly. In the game, everyone builds up pressure over time, which periodically leads to your character exploding and doing something foolish or dangerous, or lashing out socially at another character, or otherwise getting into a mess. Over the long-term, it can get to the point where your character retires from the game. This is not dissimilar to how characters get Marked in Night Witches, progressively losing more of themselves until they die. In the case of the Scorpio, though, they have an extra option – instead of retiring due to death or injury, they can reveal they were a traitor all along and commit one last atrocity before joining the other side.
Of course, not everyone enjoys being the bad guy. This playbook is for people – and groups – who like exploring the tension of knowing one of you is a traitor. It is definitely not a PVP playbook, since the GM effectively plays your evil side. You're constantly surprised by the terrible things you've done and probably desperately working to stop them, or at least cover them up. And in the end, you can stop it for good: one of the options you can take, once you've earned some XP, is to finally shake off the enemy's influence and drop the "sleeper agent" move from your sheet. That's a great way to end a traitor arc in a way that doesn't leave that sour taste of betrayal, so that the bad guy finally becomes the hero for good.
Last Fleet is coming to Kickstarter and will launch on the 2nd of January at 5pm GMT (midday EST).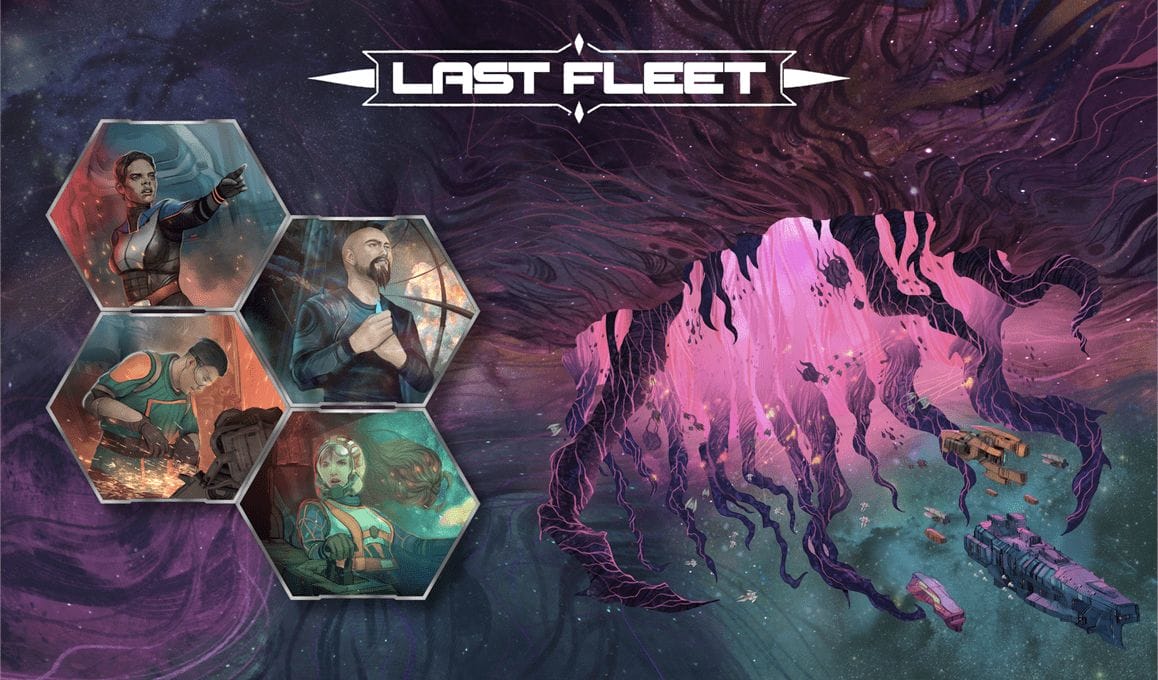 Scorpio playbook
Last Fleet playbook
Rate any comments below thumbs up or thumbs down if you find any particularly helpful or agreeable.