Welcome home.
This is Audio EXP for the 15th of August 2020, and the title of this episode is 'Outside RPGs'.
[The following is a transcript of Audio EXP: #57]
[Also on Stitcher | Spotify | Apple | Google]
Do you think we're heading to a cyberpunk future?
Mike Pondsmith, the designer of the original Cyberpunk RPG, reminded us this year that his vision of the genre is a warning of what might happen if we don't improve. It's not an aspiration.
In cyberpunk settings, we see corporations with more power than governments, we see inequality, and that leads to the integration of technology into the human body.
At the end of 2019, Geek Native had a copy of Volume 1 of the Blade Runner 2019 comic series to give away.
If you're a regular, then you'll have already guessed where this is going.
To enter the giveaway, all people had to do was say whether they considered themselves a geek or not and whether they thought we'd see a cyberpunk future in 20 years.
Now, I'll publish a breakdown of the answers later today but what do you think. Will we see a cyberpunk future in 20 years?
104 people answered the competition question. 52 people thought we would. 52 people did not. Yep, it's a 50/50 split.
However, there is one wrinkle in the data which I find interesting. Geeks are much less likely to predict a cyberpunk future.
Of the people who said they considered themselves to be a geek, only 43% of them thought we'd see a cyberpunk future in the next 20 years.
Of people who said they weren't a geek, and competitions like this attract people who just like trying to win stuff off the internet, 62% of them said we would.
Of course, the usual disclaimers apply. 104 people aren't a vast number, and this was a competition, I can't promise people to put any thought into their answers, but I've seen surveys cited in TV ads with less robust data.
Why do you think the geeks are less likely to predict a cyberpunk future? Are we more optimistic? Or do we feel the technology isn't there yet? And perhaps geeks have a more demanding definition of cyberpunk, with a higher level of technology required?
Now, the title of this episode is "Outside RPGs" but I happen to have an RPG related stat to bring in here.
ICv2, a site for shop owners and bloggers like me, published their latest study of best-selling RPGs. They get this data by talking to people who sell RPGs and asking them what's selling the best.
Make what you want of this approach, it safely puts D&D in the first spot followed by Pathfinder. For the first time ever, they've looked at 3rd-party 5e books, lumped them all together and given the collective a listing; and that takes the third spot.
Paizo has a second entry in fourth place with Starfinder, and then I was surprised to see Cyberpunk in the fifth position.
I was surprised to see Cyberpunk there because the new Cyberpunk Red isn't out yet. There's a boxed jumpstart, yes, but that came out last year.
However, there are two factors at play here. Firstly, the boxed jumpstart is still available, and as interest in cyberpunk rises, it continues to sell. Secondly, ICv2 doesn't say Cyberpunk Red, it just says Cyberpunk. I'm told there's been a re-release of some classic Cyberpunk 2020 books. So, combined, we see Cyberpunk RPG material back in the best sellers.
And, since we've snuck on to RPGs, please let me keep going for a bit with some select headlines for you.
Hasbro owns Dungeons & Dragons, and the toy company's rival Mattel is now getting into roleplaying games.
This week, Fandom Tabletop and Mattel announced the Masters of the Universe: Legends of Grayskull RPG.
It'll use Cortex Prime as the system. That's the same decision The Dragon Prince made.
As I said with The Dragon Prince news, it's probably too early to call this a trend, but Cortex does have a history of lining up great franchises. The license has expired now, but Battlestar Galactica and Firefly used Cortex.
Fandom now finds themselves running D&D Beyond for Hasbro and setting up Legends of Grayskull for Mattel.
By the way, if you're listening to this podcast on Saturday 15th, when it comes out, then it's D&D Beyond's third birthday and they have coupon codes to get discounts off D&D books and digital dice in their store. You'll find the link to the list in the show notes.
Absolute Tabletop have a free to download setting that might tempt you. It's a 5e-powered sci-fi called Harbinger.
Another free, not 5e this time, that caught my eye is game called The Wildsea. There's a 50+ playtest available for this month that's free to download.
The Wildsea is set on a world which has been taken over by rapidly growing plants and trees. You're a wildsailor in the game, a crew of a chainsaw powered boat that sails through the upper branches of these trees.
You can play as a human or a humanoid cactus. Pretty cool, huh? You can also play as a fungal growth sent out by the colony to explore. Or, if you can stomach it, you can play as a hive-mind of small spiders all living together in the remains of a suit of armour or eco-gear which gives it a humanoid shape.
Sounds wonderfully weird, I'd be up for that.
A game that I keep on meaning to investigate is Robert J Schwalb's Shadow of the Demon Lord. I'm told it's tough and dark.
This week, Robert announced a rebuild of it called Shadow of the Weird Wizard as a more family-friendly version.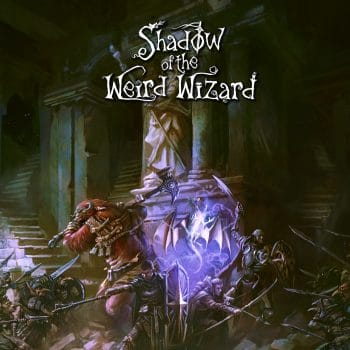 What caught my attention about the Weird Wizard is that it is set after the second remembered apocalypse.
Also on the "I need to check out list" is Tableplop. Had you heard of Tableplop?
Strange name. It's a free virtual tabletop. It came on my radar this week after getting an upgrade, adding a drag and drop tray to move tokens around more easily and an improved fog of war system.
You even get 100MB of storage as part of the free tier, and you can pay to go higher or support the project via Patreon if you want.
Speaking of Patreon, there's a thank you coming for Geek Native's Patreons or anyone who becomes a patron before the end of the week. There's a PDF copy of the core Adventure System rules and the superhero supplement.
Geek Native's Patreon isn't spent on technology costs. I want it to help support the tabletop industry. In this case, I'm buying these PDFs at a discount, with the permission of the publisher handing them on to people kind enough to support Geek Native. The grand plan, though, is to be able to commission articles and art.
However, if you are tempted to earn some karma this week then can I direct you to the Bundle for Beirut at DriveThruRPG. There's been one on Itch.io already, that's been and gone, raising nearly $8,000 for the blast torn city.
Lastly in the RPG section, I want to say it's been a fairly busy week or two with RPG reviews on the site. The most recent was for a project called Eyes Unclouded which is an anthology of 11 D&D adventures inspired by classic anime.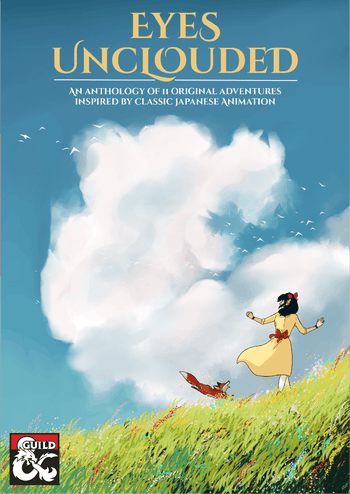 I'm using Ghibli as a shorthand for classic anime, for legal reasons, of course, Eyes Unclouded cannot. So, let me say it; if you fancy running a Ghibli style D&D scenario or campaign, then you'll find Eyes Unclouded helpful.
And it's with anime that I want to finally get to the "Outside RPGs" part of this podcast. Geek Native does not just write about RPGs or tabletop games.
The site was created, over a decade ago, to try and lure people into the RPG hobby and the technique was to show that gamers did more than just talk about that time they rolled nat 20 with their 13th level Cleric in a single boss fight.
I wanted to connect other geeky interests with the hobby, and therefore join the hobby with other geeky interests.
Eyes Unclouded, which blends anime and D&D together, is an excellent example of why I thought that approach might work.
And since I'm an anime fan, I write about anime too.
I don't do it too often. There's a rule of thumb on the site; no more than one anime post per day. It's often the first post after the newsletter goes out too, and that's significant because the newsletter only shows the five most recent stories.
That rule of thumb sits along with a similar one for Kickstarters. No more than one Kickstarter post per day, and that's why there's often a long list of Kickstarter projects in the Routinely Itemised: RPG news summary post on Friday. It would be too time-consuming and too spammy to write them all up.
It's been a busy week of anime news, though, and there are lots of great shows freshly out. If you haven't already found Irregular Reconnaissance then that's, hopefully, worth keeping your eye on if you're an anime fan. Each article in that series is a look at about five shows, often tracking the progress of the series.
Netflix is streaming the latest season of The Seven Deadly Sins. Fans were worried about it, for lots of reasons, including the censoring of blood but as far as I can tell it's been warmly received. If you are a fan, then give the latest season a chance.
Crunchyroll, Netflix's rival in the anime space, as been working with a Korean company called WEBTOON to take big web comic successes and turn them into anime. We've already had a complete season of Tower of God which was great.
Now, The God of High School is shaping up as strongly.
On the surface, The God of High School is a mixed technique combat championship. Very quickly, though, we find out that there are supernatural powers in the world.
We're only a few episodes in, and it's not a spoiler to say that the championship and those with supernatural powers are connected.
I'm going to surprise myself and mention Rent-a-Girlfriend too.
I think I was expecting a rom-com. I was also fully expecting to write it up as a show I'd be abandoning after watching the first three.
I'm sticking with it, though. It's a surprisingly good commentary on the human condition. We'll have to see how long the writers can stretch out the concept for, though.
Getting back to the WEBTOON partnerships, one that's just about to come out is Noblesse.
In Noblesse "Nobles" are a different species than humans and yet live amongst us in hiding. This WEBTOON adaption is about a Noble waking up after an 800-year long sleep in modern-day Asia and quickly finding himself at odds with a secret society.
Now, because anime is booming and streaming platforms are booming too, thanks in part to the lockdown, this means the corporate owners of Crunchyroll have a cunning plan.
The ultimate owners of Crunchyroll are AT&T who have a debt of $153.4bn.
While Crunchyroll sits in a group known as Otter Media, its immediate parent is WarnerMedia. There are multiple credible reports that Crunchyroll is up for sale.
The asking price is between $1bn and $1.5bn. That's a staggering amount of money for anything anime related, but some basic maths of multiplying the monthly subscription cost of Crunchyroll with the number of paying subscribers it as seems to justify those numbers.
I don't think Netflix will be tempted, but people are talking about the likes of Sony – who own Funimation and Aniplex – as a potential buyer.
I'm happy to pay both Crunchyroll and Netflix fees. I binge-watched all of season two of The Umbrella Academy and enjoyed it. I've also been lucky enough to playtest The Umbrella Academy card came that's currently rolling in money on Kickstarter.
Now, I think there were some production problems with my prototype, but putting those aside I found the game really easy to learn and lots of fun. I've gone for a deluxe edition on the Kickstarter itself.
Lastly, I want to call out an exclusive that Geek Native managed to land even if it is just a glimpse of one. Statix Press, who is part of Titan Comics, will release an English language version of a comic book series called Wika.
Wika, originally in French, is a steampunk fairytale and the preview art you can see on the blog is incredible. Each panel is full of impressive detail, and it's strange how well the steampunk aesthetic works with butterfly wings.
And on that note, let's call it a wrap. Keep safe, stay out of melee range and see you next week.
Are you the first reader to have something to say about this post? Check out the comments below.