Welcome home.
This is Audio EXP for the 11th of April 2020, and the title of this episode is 'RPG news and new RPGs'.
[The following is a transcript of Audio EXP: #39]
[Also on Stitcher | Spotify | Apple | Google]
Well, I had been resisting that almost symmetrical podcast episode title for weeks and week, but here we are. It's a lovely holiday weekend here in Scotland, but the lockdown continues, and so we remain inside.
Let's kick off by talking about some of the things you can do inside. This coming Thursday Amy Vorphal will run a remarkable D&D game on Twitch. Felicia Day and the cast of The Guild are reuniting for a one-off charity effort. The twist? They won't be roleplaying as themselves; they'll be roleplaying while playing their geeky characters from The Guild.
Good luck, Amy!
Due to the lockdown, the Origins game Fair is moving to October, and in the original June slot, there will be Origins Online. So, if like me, you're interested in taking part in one of these huge game fairs but have no interest in travelling thousands of miles to attend, then this is a great opportunity.
On a similar note, The 2020 Hugo Award nominees have been announced and CoNZealand, the event at which the winners would have been announced, has also become a virtual convention.
As has become the recent tradition, there are a few freebies to mention, but while we're talking about things you can do online then let's also point out the free Doctor Who audio books from Big Finish.
Actually, they call these downloads Audio dramas because there's a full cast involved. Big Finish is the company that dominates the extended Doctor Who universe and, if you're quick, The Innocent might still be free. The Innocent is a War Doctor story set at a time in which the Dalek fleet is making its final push on Gallifrey.
Okay, let's talk about some new RPGs and RPG news.
Hunters Entertainment are busy with their successful Altered Carbon Kickstarter and RPG but that doesn't mean they're not too busy to finally get started on Werewolf: The Apocalypse.
As a reminder, Modiphius has the Vampire license after owners Paradox awarded it to them and moved White Wolf into a management of the World of Darkness role. Why? White Wolf made some mistakes in finding that sweet spot between the edgy darkness Vampire needs and not making money off actual human suffering.
Paradox has awarded the license to make the fifth edition of Werewolf to Hunters. At the start of the week, they dropped subtle hints about forthcoming news and mentioned Whispers of Luna and then, by the end of the week, we had a writers video with a diverse team talking about why the game is special for them.
Hey, I've heard some people write off the low budget effort, but it works for me. It was heartfelt and natural. Isn't that appropriate for Werewolf?
Another new game, which came out this week, also has a Modiphius connection. Red Scar Publishing's Devil's Run RPG based on the board game uses Modiphius' 2d20 system and is the first third-party game to do so. However, you can also use Savage Worlds to play if that's your preference.
There's a free quickstart for Devil's Run available too if you fancy a cautious look before splashing the cash on the full RPG.
Let's go for a Modiphius hat trick and talk about the Dishonored RPG. I reviewed it this week and felt like I was trying to tiptoe around tripwires. Simply put, some people are disappointed and are being angry-vocal about it.
What's the problem? It seems like the first digital offering had some significant errors in it. Modiphius' errata notes say that early drafts got caught up with the final.
We're on to digital version 3, I think, so far and that's good. Modiphius is fixing things quickly despite being hampered by the lockdown. The game isn't due to reach the printers until the end of the month. These fixes are coming in time.
The biggest problem that I could see was that the slim collection of Void powers sometimes needed you to spend more Void points than you are allowed to.
I've never played the Dishonored computer game. I remember the trailers looking very interesting, though, and wanting to play.
My main concern as I downloaded the RPG was whether it would tell me enough to recreate the Dishonored world and capture that 'whaleoil-punk' vibe.
I think it does.
That said, I would prefer to play the game rather than GM it until I know the computer games.
Dishonored, though, is a streamlined system that favours story over crunch. Despite my concerns about tripwires and saying something that might provoke angry responses – I liked the game and said so in the review.
If you're not up for learning a new system, perhaps like those Devil's Run fans who will pick Savage Worlds as their rules engine, then why not check out Crystal Heart.
Crystal Heart is a pay what you want Savage Worlds setting on DriveThruRPG. It's based on a popular webcomic, which you can read for free, or which you can pay what you want and download the collective graphic novels from DriveThruComics.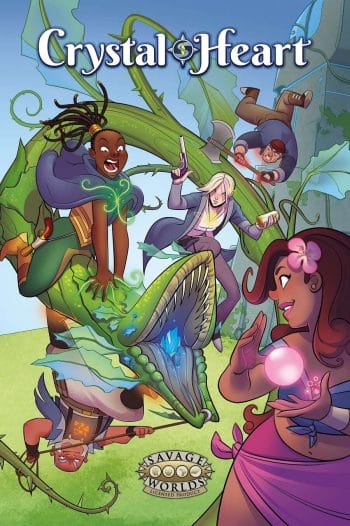 The setting is one in which people trade their hearts for crystals, and this gives them special powers. If you're looking for Savage World rules around magic crystals then I imagine Crystal Heart will be full of goodies and inspiration.
The last new RPG I want to talk about in the time we've got hasn't been properly announced yet. It's called Those Dark Places and it'll use the One Dice Determines Success system. That's a single d6.
Osprey Publishing, that's the Bloomsbury company now doing RPGs, hasn't officially said anything about the game yet. However, Jonathan Hicks, the designer, has.
Those Dark Places will be a sci-fi game about how scary and dangerous travelling in cramp metal tubes through the expanse is. How space stations are death traps and just how claustrophobic everything is.
In RPG news, and perhaps this overlaps into new RPG-for-you, territory, the Bundle of Holding as a Godbound deal.
Godbound is a game from Kevin Crawford – who did Stars Without Number – set around the fall of Heaven and with the PCs as new gods, or Godbound, left to deal with angry angels, the remains of parasitic old gods and monsters while trying to forge a new and better world.
There's a bit of D&D news too. Wizards of the Coast have released some freebies for the game, and have been adding to their offering every day.
They've also released four different sets of errata. Rules have been updated for the Player's Handbook, Out of the Abyss, Mordenkainen's Tome of Foes and Xanathar's Guide to Everything.
So, if you've any of those books, they're probably now out of date. Pop over to Wizards to get the PDF update or follow the link in the show notes to Geek Native's coverage of the story, and there are links to all the updates you need there.
In the miniatures game category, the big news is that Osprey is making Frostgrave a free download for now. No, you can't download the miniatures so you'll have to use stand-ins, but this is a fantastic chance to see what makes Frostgrave such a popular game.
In Frostgrave, wizards lead teams of experts into the remains of an ancient city. They're searching for treasure and knowledge from a civilization that came before them, and it often means fighting to get it.
Another bit of news from the miniatures and board games section of the hobby isn't so good. Authorities have suspended trading in CMON.
Cool Minis or Not was once a site where people rated each other's paint jobs. Kickstarter helped turn them into a very successful publisher of games.
However, auditors seem to be very unhappy at the state of the company's record-keeping and finances. There are three problems that we know about, and one of them is questions around a $1.5m deal. What's that money for? Good question, auditors, and it's a shame CMON doesn't seem to have a robust answer.
The second problem seems to be around pre-payments. Uh-oh. That sound dangerous.
I've saved the worst for last, simply put the auditors have flagged CMON as a going concern. As far as I understand it, that's auditor speak for big problems. Frankly, it doesn't look great for the company.
I didn't want to leave the board game section on a downer so let me quickly point out that Asmodee have created a whole micro-site around free downloads. You can now get six of their games as print-and-play distractions for the kids.
The games are Drixit, Dobble, Combo Color, Unlock, Cortex and Timeline. Some of those games have different names depending in which part of the world you're in so if you've bored kids and a good printer, it's worth digging into this story.
To finish off, let's talk about the remarkable Artbreeder.
Artbreeder is a free website that makes you portraits, and it makes portraits in numerous styles; from photographs to anime.
You can mix two pictures together; for example, uploading a dwarf image and a ranger's image to get the likeness of a dwarf ranger.
That's just the start, Artbreeder uses AI or machine learning, so understands things – kinda – like eyes and hair, age and ethnicity. So you can toggle things like 'Now make the ranger older' or 'now add more hair' and the illustration will adapt accordingly.
Please, though, don't use pictures you don't have the rights for. Anything created by Artbreeder become public use.
That's it for this week. We'll speak later, and in the meantime, please do keep safe and well.
Leave a comment below and join the Geek Native community.