Welcome home.
This is Audio EXP for the 19th of September 2020, and the title of this episode is 'Madness'.
[The following is a transcript of Audio EXP: #62]
[Also on Stitcher | Spotify | Apple | Google]
There's a 28-page free preview of Monte Cook Games' We Are All Mad Here available from the publisher's own store.
The game uses Cypher, which I recently went on record to say is my current favourite system. More on that later. And We Are All Mad Here was written by Monte Cook Games' Shanna Germain. She co-owns the company and is the creative director.
Now, the name of the RPG is not to be taken lightly. "We are all mad here" is a quote from Alice in Wonderland.
Alice says; "But I don't want to go among mad people."
And the Cheshire Cat replies; "Oh, you can't help that. We're all mad here. I'm mad. You're mad."
Now, Alice's Adventures in Wonderland was written in 1865. We're coming up to the book's 155th birthday.
Safe to say society had a very different understanding of what madness is or could be back then.
There's a somewhat famous meme that occasionally does the rounds on Facebook listing all the conditions which could get you admitted to an asylum in the 19th century.
Drinking too much tea, if you were a woman, could do it. Anyone could be overcome by Religious Excitement which was basically disagreeing with any common belief. Or you might be suffering from a case of Overexertion and find yourself committed.
Now we're beginning to realise how little we know about the human mind. Mental health might be connected to a chemical imbalance in your body, to events entirely outside your control and like it or not, we all exist on a spectrum of learning and communication style.
Thankfully, this podcast isn't a go at Monte Cook Games or Shanna Germain for mishandling a touchy subject.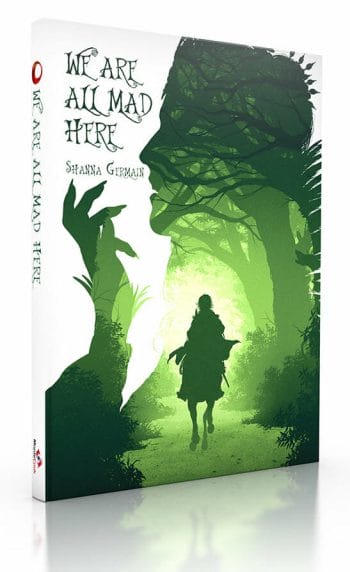 The RPG We Are All Mad Here is firmly set in fairytales and folklore. The book contains a full chapter on mental health in gaming and that entire chapter is included in the download.
So, even if you're not using the Cypher System, grabbing a free preview of We Are All Mad Here might be a helpful thing for any gamer to do.
Just don't, you know, overexert yourself.
There was a Geek Native survey write-up this week which skirts on this issue and upset some people. Sorry about that, I never set out to ruffle feathers, although I concede I do like to explore interesting questions.
So, what happened?
Earlier this year I had some Geek Native merch from the Redbubble store to give away. It was a canvas bag ideal for carrying hardbacks illustrated with a cute little Mind Flayer playing with Snapchat. Yeah, welcome to the weird and wonderful world of Geek Native merch.
To enter the giveaway you just had to say whether you thought flesh-eating or mind-controlling horrors like Mind Flayers are too scary for D&D.
Now, I suspect if you're listening to this podcast then you know Mind Flayers have been a key part of D&D since their inception and that they are far from the worst of the terrors the game can throw at players.
However, in the survey, more than 10% of people voted to say that they thought Mind Flayers are too scary for D&D.
This upset people. We've seen this before, I'm sure. People didn't like the idea of a combat wheelchair, so it's no surprise that the mere hint of a challenge to the presence of a D&D staple like the Mind Flayer would provoke an adverse reaction.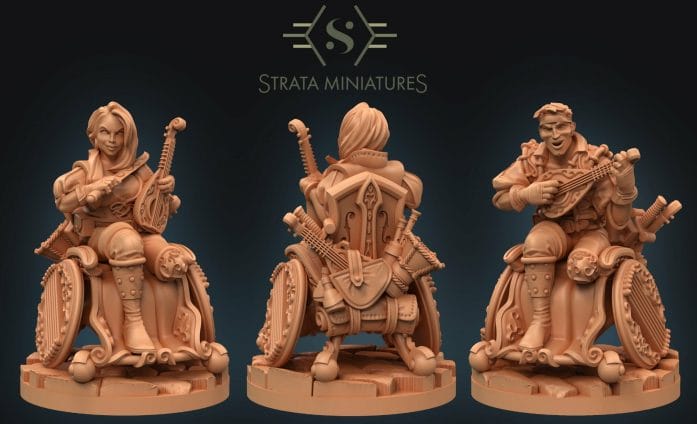 Honestly, I think angry outbursts are counter-productive. No one is coming to threaten your D&D. Especially not if you demonstrate you're a well-adjusted individual.
Now, let me tie these two threads together.
This week Wizards of the Coast published the new adventure setting Icewind Dale: Rime of the Frostmaiden. It's a Forgotten Realms adventure, but unlike previous official D&D experiences, this game has a horror feel to it.
Rime of the Frostmaiden digs into the sense of isolation that winter can bring. It's possible to run in a way that really ramps up feelings of paranoia too and, of course, with influences like John Carpenter's The Thing you can have as much gore as you want.
Third-party creators, people who sell products via the DMs Guild, had a gift with Rime of the Frostmaiden. The area of Icewind Dale is well documented, and the tone of the adventure was announced months ahead of time by Wizards of the Coast.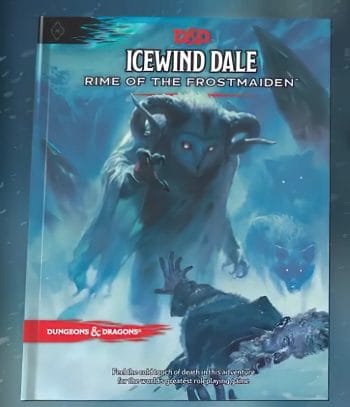 As a result, there has been a steady stream of DMs Guild supplements for Icewind Dale. Geek Native has given these a one-touch treatment with a single summary post.
However, I'm pleased to see supporting posts like Creating Terror without Being a Jerk by James Haeck on D&D Beyond.
That's the connection. Icewind Dale: Rime of the Frostmaiden might have first got headlines for exposing the metaplot that's been running through all of Wizards of the Coast's adventures, but I think it could change gaming group's approach to D&D in other ways. Those ways are around maturity and tackling more thoughtful subjects than dungeon crawls.
Yes, I know there's an official WotC supplement called Waterdeep: Dungeon of the Mad Mage. And yes, I don't recall seeing a single tweet suggesting that Wizards shouldn't be using words like "Mad" so perhaps this is all overblown. However, the lack of any real depth on the issue of "madness" in that Waterdeep adventure is why I think Icewind Dale, rather than anything before it, might be the setting that challenges players in new ways.
There's one other connection between the launch of Icewind Dale and issues that get some people riled up.
With the launch of Rime of the Frostmaiden, we enter a new Adventurers League season. It's called Plague of the Ancients.
In the free download, Plague of the Ancients introduces new and entirely optional rules for handling racial modifiers in D&D. We're expecting Tasha's Cauldron of Everything to bring these to hardback, these Adventurer League rules might be a set of lightweight alternatives. But we have these ones now.
Simply put, racial modifiers are intended for adventurer level individuals. Average examples of any fantasy race don't tend to have these bonuses. Secondly, these bonuses can be given to any attribute you want.
I think this is a simple and elegant solution.
I've seen two forms of complaints against the approach. One of the complaints is that these optional rules effectively get rid of races and that all characters are just human variants now.
I don't believe that all. It might be true if you see your character as a spreadsheet to manage numbers, but surely that would always have been the case?
I've also seen that this approach will empower min-maxers. In other words, some races do better from modifiers than others, and if you can place them against any attribute, then people will pick races just for the big numbers.
So what? I think if you're happy to play with min-maxers then all this is fair game.
I'm not happy to play with people like that, and I doubt anyone I game with regularly would ever consider it.
Now, before I stop talking about D&D for this podcast. I do quickly want to highlight an original idea from a tiny publisher called Sewer Brew Games. They've imaged an alien symbiote like Marvel's Venom as a Patron for a D&D Warlock. This is a Patron that lives in the Warlock's body and gives them a growing hunger for flesh.
Sure, you might not like it, but I think it's different and workable. It's another example of how flexible 5e can be.
Outside of D&D, there's now B&B. Not Bed and Breakfast, but Bunkers & Badasses.
The RPG is from Nerdvana Games, a new name for my radar, and it's the official tabletop game for Borderlands. That's Gearbox's shooter.
The trailer for it barely makes any reference to the rules, and instead, focuses purely on vibe, atmosphere and attitude. That also works for me!
The game is supported with a mini range, collectable gun cards and even a battle grid game board. I hope it does well. If you decide to make the investment, please let us know what you make of Nerdvana's efforts.
A surprise investment in the world of tabletop games this week comes from the Amazon-owned streaming platform Twitch. Twitch has co-founded a new Cortex Prime RPG called Into the Mother Lands.
Into the Mother Lands is not just an RPG but is also an actual live play show that'll run on Twitch. It's also a creative team led by people of colour, and the team wasn't the very best people for the job then I doubt they would have got a single penny from Twitch.
Also, just in case you missed it. That's another score for Cortex Prime and their well-connected owners Fandom. Surely this is another reason that Fandom should work on a Cortex supporting overlay for Twitch?
Technology continues to be impressive. There's a new Nvidia graphics card ordered for Geek Native HQ although, sadly, it won't be going into this blogger's machine. The upgrade is going to a member of the team who spends far more time on Twitch than I do.
I did actually appear on Twitch this week. Over at Twitch.tv/GMsCut you can watch me answer questions about Geek Native for an hour at the Roll Mongers podcast show Attack of Opportunity. This is where I place Cypher in the number one system slot, albeit only for now.
In the show, Jeff and I do talk about the technology developments shaping the RPG genre. I briefly mention Facebook's new Oculus Quest 2, since news about the new VR headsets had leaked.
You don't even need a PC for them. You could tether these new lightweight VR headsets to an app on your phone.
So, if we think virtual desktops and Twitch actual plays are getting impressive in 2020. Imagine what 2021 could do if virtual reality becomes so much more affordable and improves in quality and experience. Potential game-changer, right?
A potential game-changer that I was lucky enough to get an advance shot of is Riot Games' Tellstones: King's Gambit.
It's a high-quality tabletop game and a duel of memories. Thumbs up from me. The game-changing element, though, is that the giant Riot games – known or League of Legends – is getting into tabletop games.
Mind you, there are also rumours this weekend of the Trump administration looking into both Epic Games and Riot because of their Tencent investments. Tencent is a Chinese company.
It's hard to imagine not seeing my American friends on TikTok, but it's even harder to imagine no Americans on Fortnite.
Lastly, I want to call out Love and Monsters.
This is a monster apocalypse movie that will now go straight to digital. It's not going to be locked to any one platform, it's going all over the place, and it has Michael Rooker as a cool hunter character.
The monster part is easy. What about love? Well, two lovebirds get pulled apart during the initial monster outbreak and at the start of the movie they get in contact again over the radio. The guy, played by Dylan O'Brien, decides it's worth it to make the trek across the monster-infested country to his sweetheart.
And on that note, let's call it a wrap. Keep safe, stay out of melee and monster range and see you next week.
Replying to other comments to this article with helpful observations can boost your karma.