Welcome home.
This is Audio EXP for the 13th of June 2020, and the title of this episode is 'A battle cry: Black Lives Matter'.
[The following is a transcript of Audio EXP: #48]
[Also on Stitcher | Spotify | Apple | Google]
Black Lives Matter, and it's pleasing to see the tabletop hobby community commit to equality and fairness.
I spend a lot of time on social networks online. Although I left the especially toxic ones many years ago, I still expected to see more in the way of unpleasant fights and tone-deaf comments than I actually did.
GAMA, the Games Manufacturers Association, and Origins did less well. As a result, Origins Online has been cancelled.
Origins Online was an online convention intended to replace the Origins Games Fair which was cancelled due to the lockdown.
While Origins did tweet support for Black creators, they did not say the words "Black Lives Matter". As I said at the start of this podcast, so many games companies did, and this made the lack of those three essential words from Origins even more troublesome.
People began to cancel. Then special guests started to withdraw and then, in pretty short order, so many special guests had cancelled that there wasn't much of Origins Online left.
So, GAMA has called the whole convention off.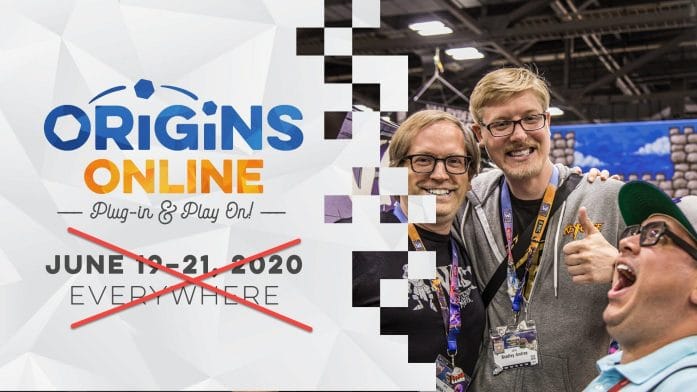 The cancellation was made with an apology. The first thing GAMA did was to say that Black Lives Matter. Origins is offering refunds for everyone. If you're a company and Origins owes you money then you can, if you want, donate that cash to a Black Lives Matter fund – one of a list that GAMA has provided – and they'll match your Dollar amount. $100,000 could be raised this way.
However, I've seen people ask whether this is a sincere offer from GAMA or just damage limitation. Others have pointed out that small companies have already given as much as they can afford, so are poorly placed to also give away the money Origins owes them.
San Japan is another convention that hasn't done amazingly well. The event is on in September and has not been cancelled. However, San Japan will happen without a chairman. He's had to resign, rightly so, after making stupid racial comments on social media.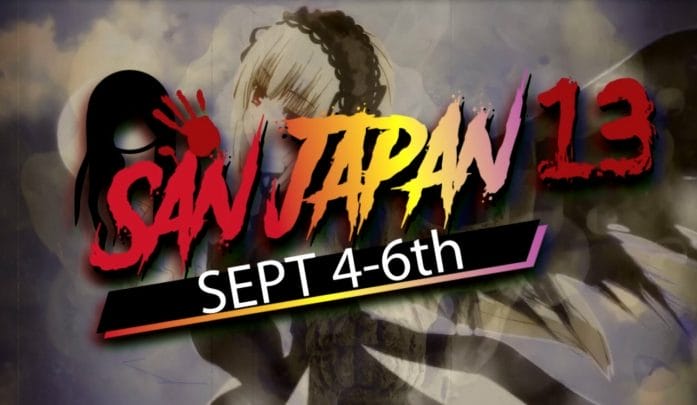 In essence, he said San Japan does not pay for people of colour to be among their special guests because they don't bring in enough money for the convention. He also said San Japan's audience prefers divas and sexual predators.
It boggles my mind that anyone smart enough to be the chairman of a convention as well known and as successful as San Japan could phrase anything so badly.
I also want to mention Onyx Path Con which was announced this week and is on right now. Yes, right now, from the 12th to the 14th of June. It's excellent the Onyx Path is running an event like this, but that's not much notice.
Here's a success.
Itch is running a Bundle for Racial Justice and Equality. When Geek Native covered the bundle, you could spend $5 and get $3,500 worth of games. Tabletop games, computer games, all sort of games.
That bundle has continued to grow.
At the time of recording, there are still 2 days left to back the bundle, and now your $5 will get you more than $9,000 worth of games.
The project has raised a magnificent $6,000,000 for Black Lives Matter groups.
As usual, you'll find a link in the show notes back to the transcript, and from there you'll be able to access any site that I mention in today's episode.
Itch.io isn't the only one with a bundle or two. The DMs Guild and DriveThruRPG have several bundles raising money for NAACP Legal Defense, National Police Accountability and Black Lives Matter causes.
These bundles include games like Cyberpunk Red, the quickstart. Cyberpunk, of course, is the creation of Mike Pondsmith. On the RTG blog, Pondsmith has shared his experiences of being a black man and encounters with the cops. He says he's lucky, he has known several good cops and officials. He says he's had people watch his back for him, but he leaves us no doubt there are too many corrupt cops. I think it's worth taking the time to read the whole article.
Wizards of the Coast have apologised and banned seven Magic the Gathering cards for racism.
The names will give you clues straightaway. They are;
Invoke Prejudice
Cleanse
Stone-Throwing Devils
Pradesh Gypsies
Jihad
Imprison
Crusade
Invoke Prejudice is especially insidious. Its number in the Gatherer database is 1488. That meant nothing to me until researching the story this week, but it's a widely documented white supremacist code.
No wonder Wizards of the Coast felt they had no option but to remove the cards from their system, record what happened and apologise.
Handiwork Games are running Kickstarter for a 5e-powered setting called Beowulf: Age of Heroes.
Beowulf is an Old English poem about a hero that kills a monster and then runs into the monster's mother. It's probably the oldest recorded story in Europe.
Now, while Beowulf might be especially exciting to games for being a Duet RPG, that's one specifically designed to work well with one DM with one Player, Handiwork Games knew of another angle.
This Anglo-Saxon story and period is a favourite of certain racist groups. They seem to forget that the Anglo-Saxons were immigrants bringing a Middle-Eastern religion into northern Europe. Handiwork is having none of it. There's a whole section in the Kickstarter text, a large one, about taking a stance against racists.
Handiwork Games explains that their font doesn't use the lightning bolt S because, they feel, they dislike that too much these days as it is so often used by racists.
The Kickstarter also says that a portion of the money raised by the Beowulf game will be donated to anti-racist efforts. This is a great idea.
Another Kicktarter story I want to mention is that of Magpie Games and Role.
Role is a gaming platform currently in Kickstarter. They gave themselves very little time to raise $60,000. At the time of recording, they have 5 days left and $5,000 still to go.
I think they'll make it. I hope they do. As a community, Role is working hard to be inclusive and fair. The only people put off by that are the sort of people that online communities are probably best off without.
Magpie Games have recently found success in a curated play program in which they sell tickets to games they've arranged. You get to play, they provide the group and the professional GM.
Magpie has announced they're joining Role, even though it's not yet Kickstarted, and will also be providing exclusive content.
If Role Kickstarts, then we've a system here that encourages diversity, allows for online play and helps you get into a gaming group. It could be an evolution in virtual tabletops.
Oh, there's also big news from D&D. Any other week and we'd already be talking about Rime of the Frostmaiden.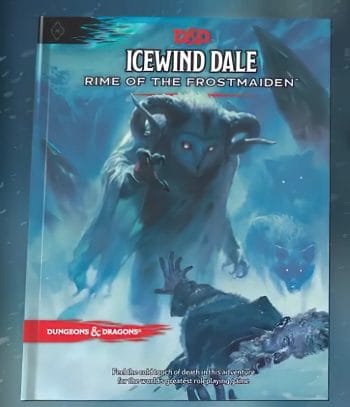 The chances are pretty high that the announcement Wizards of the Coast will make at D&D Live is that the next storyline will be set in Icewind Dale and that the book will be called Rime of the Frostmaiden.
D&D Beyond, a company that works closely with Wizards of the Coast, ran a video on their YouTube channel for a short time before pulling it down. They ran it too soon, it gave away the Rime of the Frostmaiden and screengrabs were taken.
I've tried to make those screengrabs larger and clearer, with little success, but enough to convince me that the book looks real.
It seems to fit, D&D has been dropping clues about cold and snow ever since D&D Live was announced.
The kicker for me is that an Icewind Dale release may well tie in with the Dark Alliance computer game.
In the meantime, D&D Live is looking impressive. There's already a stream with people like Karen Gillan, David Harbour and Brandon Routh in it. Yesterday, Wizards announced that six Game of Thrones actors will have one too.
Lastly, and not to make this all about tabletop games and racism, I've some stats from a British site called Menkind. Menkind sells games and gadgets, the sort of site that gets active with research in time for Father's Day.
They surveyed 2, 400 British dads and father figures. That survey shows that 59% of dads are spending more time with their kids on streaming platforms. I think this means Netflix.
The survey also shows 49% of dads are spending more time playing board games and card games with their kids. 42% are spending more time playing computer games.
My favourite stat comes from the unexpected joys of the lockdown section of the report.
The number one unexpected joy fathers have felt, in this survey, was beating their kids at video games. It's almost three times as popular than teaching the kids to prank their mother.
And on that note, let's leave it there. Keep safe, keep well and let's catch up again next week.
Got something helpful to add? Please let us know via the discussion area below.