Welcome home.
This is Audio EXP for the 7th of December 2019, and the title of this episode is 'Locke & Key with the Thirsty Sword Lesbians'.
[The following is a transcript of Audio EXP: #21]
We're going to spend the next few minutes chatting about some of the most popular stories on Geek Native this week. We're also going to get onto some breaking RPG news which went live even as I was writing today's script.
First, though, let's talk about one of the most popular stories. That was that Netflix has finally put a date on Locke & Key.
Locke & Key is a horror mystery comic book from Joe Hill and Gabriel Rodriguez that's published by IDW. It's the story of the Locke family moving back to their ancestral home. That's a place that happens to be called Keyhome.
Once in Keyhome, the Locke siblings quickly discover magical keys and their chilling connections to demons.
The family is making a move because their father was horribly murdered, and although I've not yet read the comic books, I sense that death is a constant companion in the series.
Netflix has confirmed the 10-part series will start on the 7th of February, 2020.
I think this is attempt three at turning the graphic novel into a show. DreamWorks had the rights in 2010, and then Hulu had a bash in 2017 but gave up.
The news that Netflix had finally pinned a date on their attempt and that it was just a few months away has been popular with Geek Native's readers and so let's hope the streaming platform has done an excellent job with the adaptation.
We had quite a few possible other cinema and TV stories this week. If I ever win the lottery and Geek Native gets a full-time writer, perhaps the blog could have covered them all. Instead, I went with the first official trailer for Black Widow.
I think it has a bit of a James Bond vibe to it and given that Black Widow is a government trained spy, that makes sense. There was also a James Bond trailer out this week, but I've not even had time to look at it yet let alone share it on the blog. Please do let me know if you think it's worthwhile.
Of course, Black Widow isn't all spies. It's superhero too. There are some superhero talking points. Firstly, I like the look of David Harbour's Red Guardian.
Yeah, sure, people have concerns that the trailer made a fat joke but given we've already had bro Thor show us that it doesn't matter what you look like, it matters how you step up and look after people, I suspect we'll see some positive messages around Red Guardian too.
The trailer also showed us Taskmaster. I think it's Taskmaster. He didn't really look like the Taskmaster I remember, but I concede that Taskmaster is somewhat goofy on reflection, especially with a big cloak.
I think we also saw another Black Widow and the supervillain the Iron Maiden. We'll just have to find out how many seeds Marvel are sowing with this film.
Also, from the world of entertainment, we had the return of Doctor Who. The story Geek Native picked up and shared some preview images from was the first issue of season two of the comic book series.
Season 2 of the Thirteenth Doctor begins with a crossover. There's both the Autons and the Weeping Angels causing problems in London. And so, in a retelling of the popular Blink TV episode, we have the Tenth and the Thirteen Doctor both working to save the city.
And the last entertainment story has to be about Baby Yoda. Firstly, we don't even have Disney+ here in the UK. The internet is going potty for a show I can't see and characters I'm trying to avoid spoilers for.
However, when an oddly non-fuzzy plushie called Star Wars: The Child appeared on WalMart then I and the rest of the web noticed. I think someone had hit publish too soon as the Baby Yoda model, as adorable as it was, quickly vanished.
I checked before recording this podcast, and I've good news if you liked what you saw. The Star Wars Child is back and WalMart are taking pre-orders. You'll find the link in the show notes or in the transcript of this recording which appears on Geek Native.
Let's stick with sci-fi and segway into the world of RPGs. Nibiru is a very different sort of sci-fi.
Nibiru is an RPG from Federico Sohns. Sohns works at Modiphius but, as of right now, this hard sci-fi game is a Kickstarter project and not connected with the British publisher.
It's quite a game. I have an early Kickstarter copy, and I like it very much. For a start, it's gorgeous.
The game itself is very different. It's life on board a huge spaceship, and the rulebook gives us thousands of years of history for the people there. Our PCs, though, are known as Vagabonds. They've woken up somewhere in the spaceship and without most of their memories.
Nibiru becomes about discovering your character, writing their back story, by rediscovering your memories. As you do so, you also unlock powers.
I suspect this game isn't for everyone. The combat is brutal. Mental health is a real thing, and that means before some characters are retired as being unplayable, it can be angsty and unpleasant.
However, if you're into dark and sombre adventure in a very different environment, then I think Nibiru is worth checking out. Hopefully, all Kickstarter backers will get what they're expecting, and then the game will become more broadly available.
Another game to look forward too, and a game you can sign up to play test right now, is Thirsty Sword Lesbians.
I'm not sure how you react to a name like Thirsty Sword Lesbians.
My mind immediately went to the urban dictionary of Thirsty, rather than the Oxford dictionary one.
Despite that, my mind immediately went to the Oxford dictionary definition of Sword, not the urban dictionary one.
And so I avoided any mismatch potential with the word Lesbians. However, my mental image was very anime. I suspect very male fantasy anime.
That's not what Thirsty Sword Lesbians is about, not at all. When I saw that it was Evil Hat publishing the game, I knew to dig a bit deeper.
The designer is April Kit Walsh and she, as a day job, work as an attorney for the Electronic Frontier Foundation. So, this is a game designer worthy of deep respect. April's day job is to defend your civil liberties in the digital world.
Thirsty Sword Lesbians isn't a male fantasy, it's all about LGBT representation.
The phrase "disaster lesbians" is used to describe the game again and again. So, I think what we have here are action heroes who represent women but who get caught up in all sorts of drama. And actual sword fighting.
I think it's going to be one to watch. I suspect, though, Evil Hat will Kickstart it and for financial safety reasons restrict shipping to the US only.
In the meantime, you and check out what Thirsty Sword Lesbians look like over at Gay Spaceship Games' Itch.io account.
In other RPG news, Chaosium has announced that Ben Aaronovitch's Rivers of London is becoming an RPG.
You might know the first book in the series as Midnight Riot if you bought it in the States. It's a supernatural thriller, with a young policeman getting caught up in a violent murder investigation and ending up learning magic.
The Rivers of London RPG will use the Basic RPG and 2020 might be an exciting year for the franchise. Simon Pegg and Nick Frost have bought the rights to turn the series into a TV version. Given that these two did Hot Fuzz, I'm both thrilled with the news and interested to see whether they can tell a very different cop story.
Another book which became an RPG is Gunnar Roxen's Broken Shield. Geek Native had news this week, along with a preview of the game, that the second edition of the Broken Shield RPG was out.
Broken Shield is also about cops in London trying to police the supernatural, but it's very different to Rivers of London. Here the living gods are more like superheroes and the technology advanced, deadly and dark.
Despite all the bleakness that surrounds Broken Shield, the second edition is about giving the game hope. Maybe, if you work hard, the future will not be all bad.
Okay, so those last two bits of news were about books that became games. What about an April Fool's joke that became a game?
That's what happened when Fantasy Flight Games joked the expansion to their Arkham Horror card game called The Dogwich Legacy. Months later, the publishing powerhouse has taken the joke and made it real.
Barkham Horror: The Meddling of Meowlathteop will actually be made as an expansion. Good on them and everyone who wrote in to say, "Hey, I know you meant it as a joke, but I'd totally buy that game if it were real."
We had a guest piece on Geek Native this week. Charles Dunwoody supplied a second article, this one a study on RPG rules that affect fictional violence.
For example, in Robert J Schwalb's Shadow of the Demon Lord, PCs ca pick up taints of corruption for murder. This leads to marks of darkness, insanity, and ultimately it banishes a PC's soul to hell.
If that's a bit dark, then check out the most popular post on Reddit of 2019. It's a gaming comic from SRGRAFO, and it is all about taking the time to show a game you've already mastered to someone you care about.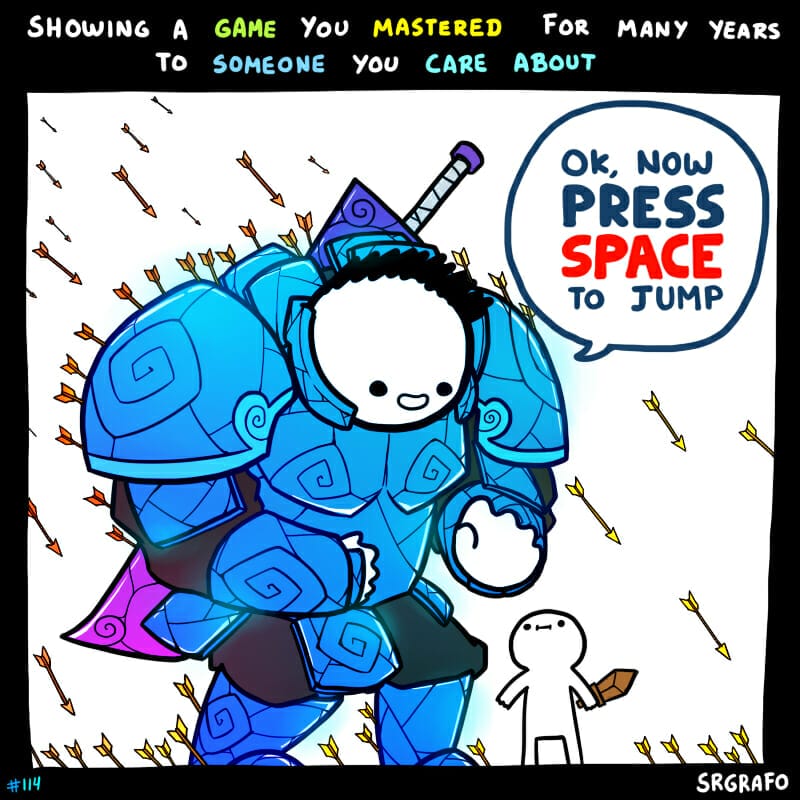 Okay, I know a podcast isn't the best medium to show a comic panel but follow the link in the show notes, and I promise the two gaming buddies will punch you right in the feels. In a good way.
As it's the first week of December, it means the RPG Publisher Spotlight poll is open. If you're a Geek Native patron, even if you just donate $1 a month, you get to vote in it.
A vote is your way to determine which publisher gets highlighted by the blog until the end of the year. Voting helps support the RPG industry. Well, as much as exposure on this little blog can achieve. I'm sure it's a good thing to do.
Right, before we wrap up for the week let's include that breaking news which hit the internet just as I started to write the summary.
Hunters Entertainment have revealed they are the partner that Paradox Interactive mentioned, but wouldn't name, during PDXCon.
This means the tabletop RPG Werewolf: The Apocalypse fifth edition is coming. It's being made by the same company that did Kids on Bikes and will be publishing the Altered Carbon RPG in 2020.
It's a bit of a wait until Werewolf, though, as the game isn't scheduled until 2021.
Okay, that's enough for now and you won't have a whole year to wait for the next episode of Audio EXP. I'll be back next week.