I nominated SLA Industries as one of my top 10 RPGs of 2020 for my local indie gamers zine. It didn't happen; the consensus was that Nightfall Games, the publisher, is too big now to be considered indie.
Nightfall is, after all, working on the Terminator RPG, and you don't get a title like Terminator without having some serious chops. In Nightfall's case, they earned their chops with SLA Industries. SLA is an RPG that was once optioned for a TV series.
So, to recap, one of my recommendations for RPG of the year and a company good enough to attract the attention of big-budget productions and licenses like Terminator or the StokerVerse. I'm a considerable fanboi.
Weirdly, I'm also a bit frustrated with the 2nd edition.
The World of Progress
In SLA Industries, you're operatives for a mega-corporation that controls multiple star systems with an iron fist. You're on planet Mort, the centre of this corporate empire. It always rains, life is cheap, and your battles against monsters in ruins and serial killers is broadcast on TV to distract the working masses.
It's a fantastic set-up, a perfect set-up for a roleplaying game with missions given to you and layers of the plot to dig into. SLA Industries, the company, is evil. It's a known secret. The 900-plus-year-old boss, Mr Slayer, is a mystery, and named individuals in the company are feared.
The opposition appears to be no better! There are rival corporations that, somehow, are yet to be squashed. Companies like DarkNight and Thresher. Or are they just terrorist groups? There are the returning Conflict Races, aliens that SLA Industries all but exterminated a thousand years ago, the Cult known as Shi'An connected to an unknowable planet known as White Earth and the Collateral horrors created by SLA itself like the Carrien mutants and Cannibals.
So, why my frustration? I think the 2nd edition is written for fans. It's written for people who know this and want to know more.
After only a few pages, this gorgeously illustrated hardback digs into hundreds of years of history. If you're new to the game, you've no idea why you're reading any of it. Does what happened 900 years ago matter for running a game in SLA today? Does it convince you the setting is incredible? No. It just feels like homework.
We're about three dozen pages into SLA before we get to the World of Progress chapter. I think it's brilliant, but it does the same thing again and spoils fans at the expense of newbies.
For example, there's a music genre in Mort called Burb. You might hear it at the employee only nightclub, The Pit. Or, you might listen to Bashhead or Spectral instead. In fact, there are two whole pages on music genres that you might hear in the nightclub. Fantastic detail, impressive, but should it come before the part of the book that tells potential players who they can play in the game and what they can do?
SLA Characters
Humans are everywhere, but they're not the only option in the World of Progress. With the core rules, you can't play one of the alien races that once fought against SLA but you could be;
A Frother (ex-human drug warriors)
An Ebonite (psions/Ebb-wielding slender humanoids)
A "Malice" Stormer 313 (a bio-engineered warrior)
A "Xeno" Stomer 711 (another type of bio-engineered warrior, bio-engineering is what made SLA so powerful)
A Shaktar (an honourable alien hunter)
A Wraithen (a chilly alien hunter – previously known as Wraiths in SLA 1e)
One of the Advanced Carrien (an uplifted mutant)
A Neophron (a new to Mort bird-like alien)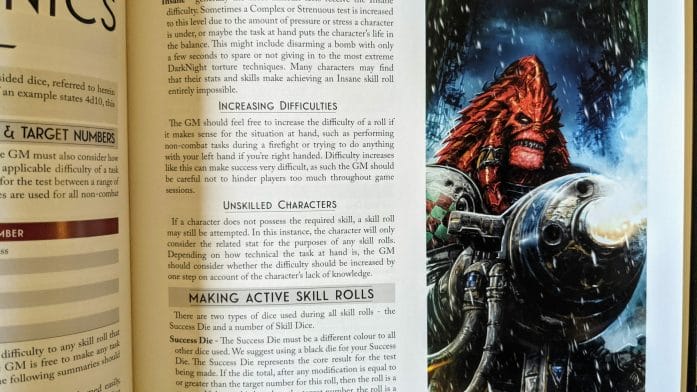 You're an SLA operative. You may have different skills from your fellow SLA operatives, but your roles overlap considerably, and your mission is the same. Your choice of race is essential as there's no other broad brush to define your character with, no classes, or roles, etc.
I have to say that the races are clever. The existence of the Advanced Carrien blows my mind, especially given the "secret" history of the Carrien. Once again, though, that's a bonus for people familiar with 1e and might not have the same impact on people just picking the book up.
SLA Industries 2nd edition system
There's a whole new set of game mechanics for this edition of SLA Industries. Designed by Chris Shepperson, Nightfall 2e uses the S5S system.
S5S means rolling a bunch of dice that you might not get to use, but it does streamline things.
For each task in SLA Industries, players roll d10s of two different colours, a single success dice which thematically makes sense to be white or black and up to five skill dice of any other colour.
If the skill dice and modifiers don't beat the challenge number, ignore the rest; you've failed. If these crucial dice has scored high enough, then the skill dice tell you the degree by which you've succeeded.
I like the frustration this causes. Perhaps I'm being a sadist, but there's something "World of Progress" about seeing lots of high scoring skill dice only then to see that the success dice has let you down. The wasted potential. The monopoly of one dominant die… and how evil that is.
Nicely, stats for weapons and armour are straightforward. As a result, Nightfall can add catalogues of guns and melee options to the game. Kitting out your operative is an experience, part of the character design and tooling up appropriately for missions.
The Ebb is the magic/psionics system in SLA Industries. There's a set of rules to govern it, and the 10 disciplines are still available. As the plot has it, there was once 12.
Look and Feel
The art is gorgeous, lots of talent on display here.
I'd have more urban shots, though, more rain, more darkness. I want to see more of the industrial hellhole that is Mort. I think this is the same design choice that has us get hundreds of years of history before we're tempted by the dark lure of the day-to-day game.
The layout is spot on, easy to read, easy to follow.
My beef about the game's flow, I guess, is part of the "look and feel" review. SLA Industries 2e flows in such a way that it helps to know about it already.
I'm struggling a bit with the flow of this review. It's hard to get beneath the surface of the World of Progress and truffle up all the good bits because there are so many nuggets and spoilers are so crucial to the game.
If I'm struggling to structure a few hundred words, I totally get why the flow of the core rules was a challenge. It might be that Nightfall took the best possible route when there was no better alternative, but I would have flipped everything around. I would have presented the game as Operatives out on missions first and then dug deeper, ending with the history.
The way it is now, the game almost reduces the point of the player characters. That's my frustration.
Overall
One of my favourite games. Perhaps my frustration with it comes from caring about SLA Industries and wanting to see it pick up new players.
Give it a go, get yourself a GM (or be the GM) who can get to grips with a deep and cleverly structured world and then plan an exploration of associated secrets through immediate and pressing challenges.
Quick Links
Your thoughts? Join the banter below or start us off with an insightful observation?