After a very successful Kickstarter, one that funded in 7 minutes, Free League Publishing and their partners GDW and Amargosa Press are taking pre-orders on Twilight: 2000.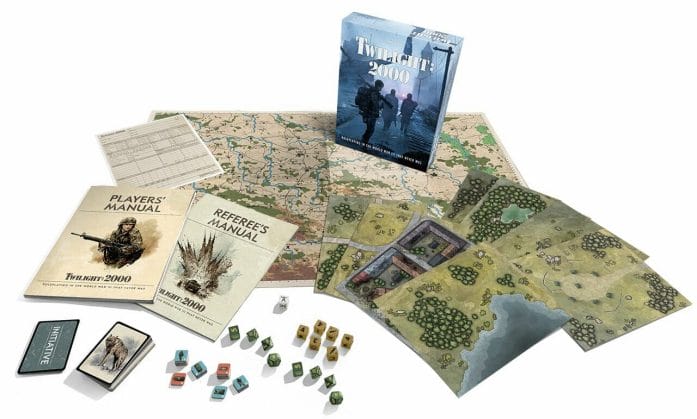 The core rules include a 152-page Player's Manual that provides travel and base-building systems, a 112-page Referee's Manual with 53 scenarios and a double-sided impressively large (864x558mm) hex travel map.
There are 15 engraved dice, 16 modular battle maps, a further 16 specific battle maps, cardboard tokens, encounter and initiative cards, and character sheets.
The store lists those rules at 498 Krona, which is about £42 or US $59.
Free League's store, which is handling the pre-orders, also offer the Referee's Screen (198kr), Dice Set (178kr), Weapon Cards (148kr) and separate Twilight: 2000 Player's Manual (198kr) on pre-order.
Fans will be pleased to see that the Swedish publisher's formidable art is available as merch via Redbubble and that the first edition of Twlight: 2000 is now on DriveThruRPG.
What do you think? Measured observations are welcome and you can leave them in the comment section below.