Dark Astral is a chapbook for the Zweihander Grim & Perilous RPG.
Chapbook is an old term, dating back to 1800 in England where itinerant salesmen would sell these 40-pages booklets. Yeah, I had to look it up. The definition is fitting, though, an old term applied to new technology.
Dark Astral can be delivered on relatively new technology. Not only can you grab a copy from Amazon, you can download a PDF from DriveThruRPG and that comes with a seperately formatted Phone PDF.
The setting itself is a juxtaposition of highly advanced technology and old ways. It's a Renaissance-era in terms of politics and understanding but built on science that took humanity to the stars.
We'll soon discover that the Zweihander team give us a better look at Dark Astral than any review code, and so I think taking the introductory page to quote verbatim to describe the setting is forgivable.
In the grim future of Dark Astral, superstition reigns supreme.

The solar system is spread apart into warring fiefdoms, technology has gone by the wayside and become an extreme luxury, education is fleeting and knowledge is reserved for the powerful – meaning science and medicine lag behind. Religion and superstition reign. This is a campaign setting that is deeply entrenched in superstition and subverted ideals, despite the staggering height of technology.

Dark Astral is the Renaissance era transplanted into the theater of the Vault of Night: foolhardy Shadowbrokers, corrupted Klergists, insane Psykonauts, hedonistic Technokrats, sanguine Manhunters and ravaged Astrotemplars all have their niche, even if their sailing ships are replaced by space arks and bows with laser rifles. In Dark Astral, don't use traditional science fiction terms: aliens are called The Other, gravity is called Ætherea, planets are called Dominions, spaceships are called Arks, stars are called Mirrors and space itself is called the Vault of Night. In the uncharted territories in the Vault of Night, there are not galaxies, but Wytch-spirals. Instead of black holes, there are the starless wells called Dark Astral.
I think there are a few other things it's worthwhile forgiving. It's okay if you get Warhammer 40K vibes from Dark Astral. It's not a copy, but the blend of gothic retro in space cannot surely overlap. It's also understandable to get some Dune vibes. In fact, we're told that Dark Astral is inspired by Alejandro Jodorowsky's unrealized take on Dune.
I said the Zweihander team offers the best look at Dark Astral than anyone could manage? It's true. Here it is.
To go a little further, I tried to run a game of Dark Astral as a one-off over the internet during the lockdown. It was a simple one on Discord, no virtual tabletop and with characters created in advance.
Here's the order people died in;
After 63 minutes, the mad Psykonaut picked a fight she had no chance in. It went as well as expected.
After 80 minutes, the Manhunter and Astrotemplar stumbled into an ambush. In fairness, it was the Astrotemplar's fault, but it was the Manhunter who died.
After 114 minutes, just shy of two hours, the weakened Astrotemplar got himself stuck between a rock and a centries old cleaning robot/statue/golem and died.
So, yeah, it was a short game. That can happen in Zweihander. However, it was fun, and crucially no one struggled with the concept of fantasy in space.
Any sufficiently advanced technology is indistinguishable from magic.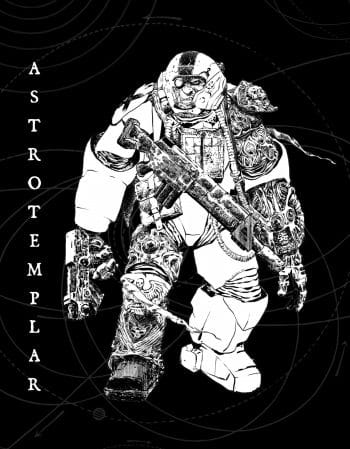 Arthur C. Clarke's iconic quote was the flavour of the night. The remaining two hours, by the way, was spent discussing Kickstarter projects we had all foolishly backed during the lockdown.
Without a doubt, the Astrotemplar was a lot of fun to play, the Psykonaut a bit tricky and the Manhunter somewhat frustrating. Interesting, the second choice profession of all three players was going to be Shadowbroker.
Astrotemplars are enhanced warriors, Klergists those few people with some understanding on advanced technology, Manhunters are trained bounty-hunters, Psykonauts are mutant psychics, Shadowbrokers are spaceship (sorry, Ark) captains and Technokrats powerful and effective bureaucrats.
Dark Astral review summary
Look, don't let the total party kill put you off. It didn't put us off. We enjoyed Dark Astral.
The game takes Zweihander into space, does it well and does it while feeling entirely like Zweihander. We enjoyed that.
You can pick up Dark Astral from Amazon or DriveThruRPG.
Please note: My copy of Dark Astral was provided for review.
Are you the first reader to have something to say about this post? Check out the comments below.