Days of Wonder and Blizzard have a board game based on World of Warcraft. It's not a big one. Small World of Warcraft is the two company's first collaboration.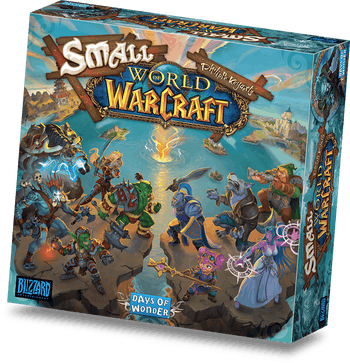 The game is a mashup of Small World, using those mechanics, with the Warcraft Universe.
Philippe Keyaerts' Small World currently has a 7.3 rating on Board Game Geek and is a top 50 family game.
We knew Small World of Warcraft as coming, it was previewed at BlizzCon 2019 when the fantasy races on Azeroth clashed.
In the game players can pick races from either the Horde or the Alliance, combining special powers and forces. Occupation of legendary terrains and control of powerful artefacts are needed to build the empire.
Empires fall, though.
Days of Wonder worked closely with Blizzard on the artwork. I think the result manages to be both cute and entirely World of Warcraft at the same time.
Adrien Martinot, head of Days of Wonder, told press;
Working alongside Blizzard has been an amazing experience. Not only did our vision for the game quickly align, but the creative work we've done together has been intense and extremely satisfying. Blizzard allowed us to deep dive into their rich Warcraft universe, and I'm eager to see this incredible cooperation come to light when the game releases."
You don't need any other edition to play Small World of Warcraft. 2 to 5 players can start from scratch and complete a game in about 40 to 80 minutes, that's the same as Small World which is no surprise.
The game comes with 6 double-sided boards, 16 Warcraft Race banners, 182 Matching Race tokens and 15 Murloc tokens, 20 Unique Special Power badges, 5 Player Summary Sheets, 12 Artifact and Legendary place markers, 10 Mountains, 9 Wisp Walls, 4 Harmony tokens, 12 Bombs, 1 Champion, 10 Forts, 2 Military Objectives, 5 Beasts, 6 Watch Towers, 110 Victory coins, 1 Custom Reinforcement die, 1 Game turn track, 1 Game turn marker, 1 rulebook and 1 Team Variant Rules sheet.
The game is slated for release later this year, once we get Summer and will cost €59.99/$59.99.
What do you make of Small World of Warcraft? A perfect pressie for an MMO friend of yours?