Welcome home.
This is Audio EXP for the 18th of April 2020, and the title of this episode is 'New RPGs and random dungeons'.
[The following is a transcript of Audio EXP: #40]
[Also on Stitcher | Spotify | Apple | Google]
In this episode, we have news about free RPGs, and we're going to highlight some of the week's many new releases.
Let's start by talking about FIST: Freelance Infantry Strike Team.
This silver bestseller on DriveThruRPG is an indie RPG from B. Everett Dutton, and in it, you play an outcast, a misfit who has fallen to the bottom of society and out the other side. You're back in action now, though, but as a kick-ass mercenary with special powers.
You might be hired to stop the enemy superpower launching an aether bomb that will blow a hole in reality, neutralise the unholy item that will raise every corpse as a flesh-hungry vampire-ghoul or just investigate rumours that the Prime Minister is a lizardman in disguise.
FIST is usually $5, but if you're a Geek Native patron, or become one by the 25th, then you'll get a copy for free. I've very kindly been given some codes to give away to site supporters.
Currently, the May RPG Spotlight is tied and so if you do back the site via Patreon, then you can help out by casting the decisive vote as well.
This morning, Irregular Reconnaissance: Anime #62 was posted to the blog. That's a roundup of anime mini-reviews – a topic that's probably due a podcast episode to itself – but for now, I wanted to highlight that Crunchyroll's Tower of God looks promising after the first three episodes.
Tower of God is perhaps the most important new anime in Crunchyroll's lineup for 2020 and its a bit of a gamble. It's based on a Korean webtoon.
That was in my mind again this week on the news that Netflix has commissioned its own Korean webtoon conversion. The webtoon is called "Now at Our School" and it follows a group of friends stuck in their school building as a zombie virus sweeps through the world.
Are we ready for virus stories?
Netflix thinks we are although it's dropped the word "School" from the show's title. The anime they've commissioned will be called "All of Us Are Dead.
There. Is that's much more friendly?
That's not the only bit of Netflix news I wanted to squeeze into this podcast. I also noticed that they've signed a deal with Boom! Studios.
Boom! is an American company that does comic books. They've actually worked with Netflix before on The Dark Crystal. Boom! even has an American film company with a stake in them due to the forthcoming The Empty Man movie; that's based on one of their comic book titles.
Now, thanks to this deal, Netflix will get the first look at any of their properties. That doesn't mean companies like 20th Century Fox can't make movies or TV shows out of Boom! comics, only that Netflix gets the first pick of the pie.
I suppose that's all about the money. Netflix won't get caught up in any messy bidding wars. They've paid money up front to avoid all that.
Speaking about money, and edging back towards the tabletop, I wanted to talk about CMON. In last week's episode I revealed how the company has had trading in its shares suspended after failing entirely to assure auditors that its finances were in good order.
Two things have happened since then. Firstly, CMON issued a statement which basically said – chill, it's cool, we're okay and will continue to trade. It suggests the auditors don't really like or get the Kickstarter model in which pledges are both money the company has and money the company does not have.
The second thing is that they launched a new Kickstarter. The game is called Ankh: Gods of Egypt. It's a board game with camels and creatures. The battle is to determine which of the players will become the one true god.
At the time of recording, Ankh has raised more than 1.2 million American dollars. Hopefully, CMON has got their maths right, will make a profit and a smooth and painless Kickstarter will get people the game they want and some cash into the company.
Another company that's been busy is Cubicle 7. This week they released their updated Wrath & Glory RPG.
Wrath & Glory is a Warhammer 40K RPG which hadn't been out for very long before Games Workshop dropped the initial RPG publisher and moved the game to Cubicle 7.
I imagine that created a dilemma for Cubicle 7. If they changed too much and messed with a brand new RPG that had only recently published supplements, then they would annoy the games' early supporters. However, if they didn't change enough, then what value are they adding?
11 months later and the digital version of the revised edition is out. If you previously bought a PDF copy on DriveThruRPG then check your library. You will automatically have been given the new version. If like me, you have a hardback of the original then we'll have to wait a bit longer. Most likely, for us, is a free PDF that points out the changes between books.
Early reviews seem reasonably positive, it looks like typos might be a bit too prominent for Cubicle 7's QA team to be entirely happy, and I think we might have cut down on vehicles, but the mood seems pretty positive.
I suggest one of the reasons Cubicle 7 was given Wrath & Glory to manage was that they were doing all the other Warhammer titles. One of which is the still to be released Age of Sigmar RPG called Soulbound.
Well, we must be getting much closer to a release now as Cubicle 7 has released a look at the layout in which appears to be a nearly finished book.
They may well be aiming for a UK Gaming Expo announcement, that's now in August provided the convention isn't cancelled again.
Despite really getting into the old Warhammer world as a kid, I've not really kept up and barely know the Age of Sigmar setting.
I think I know The Forgotten Realms better and that's a statement I think teenage me would be surprised I would be making.
The Forgotten Realms got a new book this week too. It's called The Border Kingdoms. It's not being published by Wizards of the Coast, and yet it's an official book, and the new rules in it are Adventure League legal.
How come? It's written by Ed Greenwood, and he created The Forgotten Realms.
You can buy it from the DM's Guild.
Also from D&D this week is a re-think on Psionics.
Wizards of the Coast point out that psionics using creatures have been part of D&D 5e since the publication and perhaps one of the reasons they've said that is in response to people who say D&D doesn't need psionics.
After all, what's the difference between psionics and magic? You're using supernatural powers in both.
Well, I guess it comes down to theme and style. Psionics feel a bit more sci-fi, and with the new playtest rules from Unearthed Arcana, the Psi Knights are warriors that use force fields and telekinetic powers in combat. Want to play a Jedi in D&D? I imagine you will be looking at this fighter subclass.
The speculation that D&Ds next big book will be something like Spelljammer, a mixture of magic and sci-fi, is getting louder.
In the meantime, there's plenty of new RPGs to look at that came out this week.
First up on my list is Pelgrane Press' The Yellow King.
This is a troubled Kickstarter project that's about two years late. I wasn't a backer, but just by keeping an eye on Pelgrane Press for news reasons, I can see they were good at keeping people in the loop, providing freebies and struggled through to push the project out.
It's actually four books and is a game inspired by Robert W. Chambers' short stories. Book 1 is set in Paris during the Belle Epoque, book 2 is the European wars and book 3 the aftermath. That leaves book 4 set in a modern era like us except the unnatural is natural and there might be a ghoul living next door.
The Yellow King uses Robin D Law's GUMSHOE system. It's a game about mystery and investigation.
Strangewood Studios, a small studio in Sweden, published Agents of Concordia this week too.
It's a multiverse game that mixes technology and mysticism in ways unusual to RPG settings. Characters are agents of a special task force assigned to protecting all the different dimensions in the Concordia.
You can play as, for example, a 9-foot ogre investigator or a 3-foot rodent locksmith with a rocket car.
Strangewood used Modiphius to bring the game to market, but it's not a 2d20 RPG.
Another interesting collaboration was between Onyx Path and Eschaton Media for the Dystopia Rising: Evolution RPG.
Eschaton Media has a live-action series in which characters are Strains of humanity that evolved to survive through the zombie apocalypse. The baddies are raiders and, of course, legions of zombies.
Dystopia Rising: Evolution uses the Storypath system, and Onyx Path are including it in their Storypath Nexus community content system. That means if you follow the rules you can publish and sell your own Dystopia Rising content.
I've got lots of Chrome tabs open with other new games to write up but for this highlights show of what I managed to cover this week there's one more 'out this week' we have time for. That's Time Traveler's Codex for Mutants & Masterminds.
Green Ronin's superhero game is very good, but time travelling is one of those things that can easily go wrong and mess up otherwise solid campaigns.
There's new splat in the Time Traveler's Codex, but I'm sure Green Ronin's advice on how to handle time travelling in the supplement will be equally interesting to GMs.
Okay, since we're still in lockdown there's some freebies to highlight too. The first might not be lockdown related but I only noticed it because I was looking. That's for Ars Magica.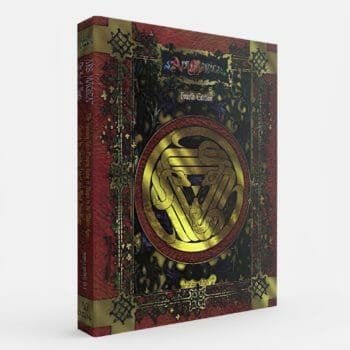 If you're willing to sign up to Atlas Games' mailing list then there's a free copy of Ars Magica 4th edition for you. The current edition is 5th, but I think the 4th edition is well worth having especially if you've not tried or even read up on troupe style play.
In Ars Magica, you have more than one character. They're used at different times. Your mage will often be busy locked away in a tower and researching great magic. So you might play your companion more often or perhaps even the Grog servant.
The Sunless Citadel is now free via Fantasy Grounds, Roll20 and D&D Beyond.
If the name is familiar, it is because it is the introductory adventure from D&D 3.0 and was then later packaged up in Tales from the Yawning Portal for D&D 5.
Wizards are making it free for virtual tabletops as part of their effort to make the lockdown more manageable for people. Virtual tabletops enable remote RPGs and have come into their own for many people in the last few weeks.
It's no surprise to see that Pinnacle Entertainment Group, that's the company who published the Savage Worlds rules, have appointed a virtual tabletop manager and signed deals with Astral Tabletop and Roll20.
Previously, they had been exclusive with Fantasy Grounds. You can still use Fantasy Grounds in your Savage Worlds campaign, that's not going away, but PEG are simply expanding.
Astral, I hope, will be pleased to be included in that lineup. There are other virtual tabletops, like Talespire which looks impressive in beta, but the big two of Fantasy Grounds and Roll20 might become the big three with the Onebookshelf backed Astral as option number three.
Want something very different? The post-apocalyptic RPG Degenesis is now free to download. The core rules and the very many supplements.
This RPG is a labour of love from a German design studio that makes movies look fantastic, big Holywood moves, for their day job. There's even a whole bunch of short films, or trailers, for the RPG.
The game has been hard to get hold off previously and wasn't cheap because of all the incredible art. Now, in digital, it's free. It's not an easy game but well worth a look.
I also want to highlight that Mantic Games' Kings of War is available for download. Now, that's a wargame rather than an RPG, but I think it's one in which paper minis will be an adequate solution if you want to test a game before committing.
Kings of War doesn't bother removing individual models from units as it's too fiddly. Instead, you keep your units together and track their collective health.
Sticking with clever uses of paper for tabletop games, I want to call out Crooked Staff Terrain too.
Kristian Richards, who runs Crooked Staff, has put together a random dungeon generator and supplied the virtual tabletop files to recreate those designs. In other words, a random dungeon that you can actually import into Roll20, Fantasy Grounds or Astral.
Crooked Staff also sell, at low prices, dungeon designs that you download, print out and paste to cardboard to build physical tabletop models.
Lastly, I wanted to highlight an impressive piece of data visualisation from Sten Johnson.
This Critical Role fan used every single d20 roll by Vox Machina to build an animated histogram.
In other words; it's effortless to see how many dice rolled what on a d20. I think the results are odd, it's not a smooth distribution from 1 to 20 at all.
Well, that's a wrap. Please keep well and tune in next week.
Unlock achievement badges by sharing observations about this article in the comments.