Kings of War is a popular wargame. Mantic Games have this week made the third edition of the rules, which came out last October, entirely free.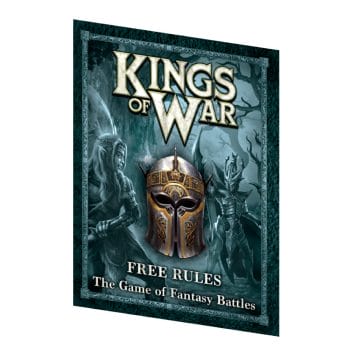 You can get the free Kings of War rules here.
Now, of course, as a wargame, you really need tons of minis and an epically decorated gaming table to get the full experience. Still, there's nothing stopping you use paper cutouts in the short term, especially while learning the rules and designing your army.
Kings of War specialises in the multi-base models too as they do away with the idea of removing individual figures from units (as too messy) in favour of tracking damage per unit. That's already a practical level of abstraction which means battles can be more like a diorama and, honestly, paper designs aren't a terrible way to start.
The free rules contain army rules for goblins, elves, ogres and undead as well as the Kings of War created twisted Nightstalkers, pious Basileans, semi-aquatic Trident Realm of Neritica, frosty Northern Alliance and the wicked Forces of the Abyss.
The download contains rules for movement, ranged and melee combat.
There are a Kings of War RPG coming, published by Red Scar who have just put Devil's Run RPG on the shelves. There's free to download quickstart rules for KoW RPG (as well as Devil's Run).
Right now, though, you can download the free Kings of War rules.
Take part in the community by leaving an interesting comment below.