KeyForge is a game from Magic: The Gathering's creator and Fantasy Flight Games in which every deck is different.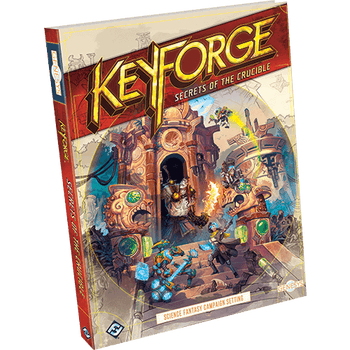 It's designed to stop the "rich players win" problems that collectable card games have. KeyForge has become an enormous hit, and Dicebreaker's Alex Meehan recently reported that the game has sold over 1.5 million unique decks.
Now it's getting an RPG of its own too. In a blog post, Fantasy Flight has revealed that the Secrets of the Crucible will be a new sourcebook for their Genesys Roleplaying System.
The 272-paged book is due out in the next quarter and will have new character creation options, unique weapons, armour and skills.
The sci-fi setting is a colourful one, set around the mystery of Æmber and a merger of science and magic.
There will be 11 new species; including Giants, Robots and Martians. More significantly, perhaps, Secrets of the Crucible will also have rules to allow you to create for your races.
Fantasy Flight Games are providing help for Game Masters with NPC templates and ways to quickly create familiar feeling adventures. The adventure builder in the RPG supplement will use a modular format that actively encourages GMs to reuse "segments of the adventure types" in different combinations.
There's more information about the RPG over at Fantasy Flight Games.
Share your thoughts with the community by adding a comment to this post.