Raven God Games have a Pay What You Want with a suggested price of $0.00.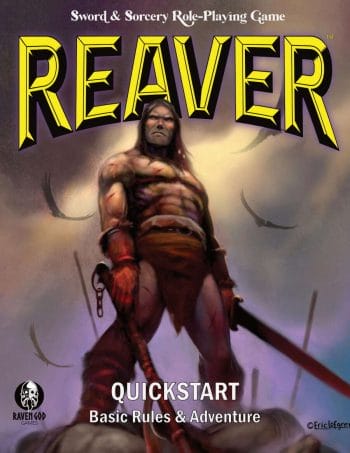 The Reaver: Sword & Sorcery Quickstart is the download in question. It's 92 pages long and uses its own system. The download unpacks into a cheatsheet, a hi and lo-res version, and a second zip of pre-gen character sheets.
The cover shows a grim brute of a fighter, and sure enough, the pitch for Reaver is that it's inspired by Robert E. Howard, Charles R. Saunders and Karl Edward Wagner but also says it's less gonzo and more grim.
The intro and basic setting stretch to 6 pages, with equipment following over another 8 and then 21 pages of game rules. There are 4 pages for the magic system and then 9 of spells.
The GM, or Chronicler as the row is referred to here, gets another 7, and then there are 18 pages of scenarios and hooks and 10 pages of baddies and adversaries.
The system uses a die-chain mechanic, and while it doesn't need special dice, you will see d5, d14, and d16s mentioned!
Magic is dangerous to use, and there's a meta-currency for the chronicler and players.
Quick Links
Join in the discussion below, start us off or pop over to the chat portal.