Is there a right and a wrong way to run a solo RPG? Playing a tabletop RPG by yourself is now firmly established, and rising in popularity. We've looked at how they can be run.
In this article, Jacob White, the author of the indie project A Many Tale, which began life as a solo-RPG shares some wisdom and learnings around escaping from mechanics and smoothing out kinks from your solo experience.
A Many Tale is a cosmic fantasy following the adventures of a strangely intelligent mouseling. This mouseling, Opaline, is cursed to blip from dimension to plant. In a story with a scope such as that, Jacob has plenty of experience.
There may be no right or wrong way to play a solo RPG, but there are certainly techniques to experiment with to help discover more enjoyable ways to do it.
Enhancing Narrative and Personalizing Mechanics
by Jacob White
Along my Solo-RPG journey, the most recurrent kink lies in the nagging desire to adhere to the ruleset. At the table with friends and a GM, the ruleset at play is the standard by which everyone must play, but when playing write-and-roll campaigns alone, the muscles worked in a group can become the obstacles to your enjoyment of the solo experience. Let's dig into how I streamlined my game for my serialized project, A Many Tale, and how my methodology may help you, too.
To Roll or Not to Roll:
If narrative storytelling is what you're striving for, perhaps dial back on the rules and rolls. I found that while writing A Many Tale, even though many of the situations I came across only needed a die roll or two to give me my "fix" of gaming, I found myself constantly rolling during each encounter to try and adhere to the "rules."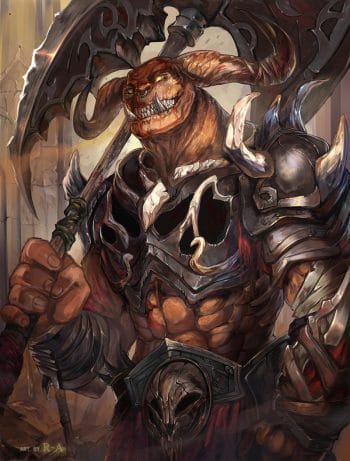 If your game is for gaming, roll all you want! If you find yourself frustrated, then perhaps your journey is leaning on the story side. If that's where you're headed, take the "prompt" that the die roll gives you and run with it. For example. . .
You charm an ogre into helping your character. Option 1: You could either continue rolling to make sure his spell is maintained and roll for every action he takes. Option 2: You could run with this first success and come up with the rest on the fly. Option 1 allows many opportunities for fun failures (or not so fun failures), while Option 2 allows you to control what happens without the dice. Both are equally advantageous for different expectations and playstyles.
Character Creation—It's the Little Things:
When surrounded by five other friends at the table, everyone's characters are defined by their specified builds. The individualistic nature of everyone's crafted character relies on the depth of the sheet in front of you and what exactly you can do to distinguish yourself from the rest. Bonuses to stealth or grappling? Each small choice is a brushstroke on the big canvas, painting the picture of who you are in relation to the party.
As a Forever-DM and author creating improv-based fiction, I conceived of this deeply complex skill system, intense inventory, and log to keep track of NPCs, affiliations, buffs and so on. I crafted a specialty custom character sheet and decked it out with lengthy descriptions of abilities, weapons, and spells.
Then I tried to use this sheet. The numbers, calculations, and nuances of a deeply mechanical character did not transfer to the journey I wanted to take. I wanted the freedom to improvise storylines, not become a slave to the game system.
The beauty in storytelling lies not in every tiny detail of a character's capability—the beauty lies only in their choices. What matters isn't the Plus 1 strength bonus to lift a horse from freezing water, but they went out on the frozen lake to lift the horse from frozen water.
The analytics of the sheet only put pressure on the "fun," and kills the surprise which works so well in a group setting. With many other players present, these skills and statistics are vital. When solo, they merely hinder the potential possibilities. Try loosening up what stats you include and exclude, and see what strikes your favorite level of balance. For me, I stick to the main 6 stats, and that's it.
You distinguish your character in Solo-play, not the others at the table. Let go of those insane calculations and inventories and keep track of what matters—the relationships and choices in your own world.
Laying the Foundations with Concrete Consistency:
Several stories into A Many Tale's arc, I found myself at an impasse. My character was in dialogue with a powerful opponent, and I saw an opportunity for him to flip this villain to his side. Philosophically and emotionally, this made brilliant sense. I hadn't planned for it, but I fell in love with the idea.
Only problem? I rolled a Natural 1. Then tried again and failed the second time. Frustrated and unwilling to waste the opportunity, I waved the failure off and had them join forces. The choice was simple: these two characters had a "moment" together. I wouldn't throw that away.
Carve out the nature of your world and your character, and keep the themes and meaning close to your heart. There is no DM to force fail you and no other players to interrupt your flow. Don't let the dice decide simply because in past encounters they had the power. You are the arbiter of NPCs and systems in this game. If something doesn't make sense, but the dice tell you to force it, maybe throw away the dice and lay a foundation of reasoning instead.
The best consistency is in the characters, their choices, and in your decision to roll or not to roll. Personalizing your game is all about experimentation and your narrative expectations. There are many ways to play a good game and tell a good story. Your balance is different from mine, but I hope this helps you enjoy the process!
For a look at my process in action, feel free to check out my serial A Many Tale. I'm happy to help you with your journey further and always love talking TTRPGs and writing.
Quick Links
Creative Commons credits: Ogre Warrior by Hanh-Chu and The Abysswalker by Dawnweaver 13.
Use the comment box below to leave a helpful comment and earn some geek cred!