Black Lantern Productions is an indie RPG publisher based in Crete/Greece, and they have got a Kickstarter slated for January 2022.
The game is called Soulmist and its beta version opened this week.
How does that work? In addition to examining 50-pages from Soulmist for free, players taking part in the open beta will have the option of voting on the direction of the story.
The Time of Judgement has four one-shots, which can be run in isolation or sequentially to give you and players a glimpse into the dark fantasy world.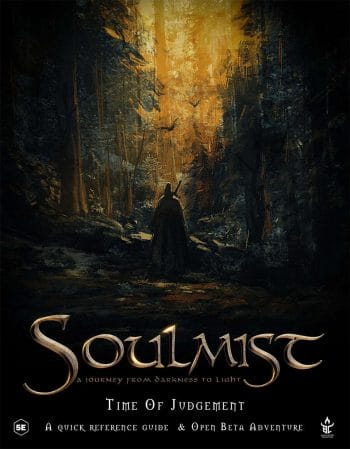 There's a voting form on the Soulmist website on which you can pick Act 1, 2, 3, 4 or all of them and give your verdict. You can find the subjects guilty or innocent.
The setting is the World of Fyera, a world a bit like our own but after The Ruination. The world slowed, and now one side is caught facing the sun while the other looks away, never to see the light again.
Now, things transform in the Darklands. Creatures that have never been seen before are emerging from the depths of the Earth in the Darklands.
But in Fyera, every living being has a flame, a soulspark. And some heroes have been cultivating theirs – some villains too. As long as the world is dominated by the dark soulsparks, the soulmist will row darker and the horrors come even more frequently.
Quick Links
What do you think? Let us know in the comments below!