Comparisons to Beauty and the Beast feel inevitable and frustrating.
Why inevitable? There's a beauty and a beast. Belle is also directed by Mamoru Hosoda, who did Wolf Children and The Boy and the Beast, both of which draw on Beauty and the Beast.
Why frustrating? Belle is evolved so far from Beauty and the Beast that it highlights the faults of the former. It does so in a non-critical way, Mamoru Hosoda is a fan.
Why does it matter? I think Belle will win an Oscar.
Is it that good?
According to reports, Belle received a 14-minute standing ovation at Cannes.
I loved it, but not enough to stand and applaud for 14 minutes.
I loved it because the physical appearance of Belle didn't matter at all, unlike Beauty and the Beast.
I loved the anime because it portrays a pleasant vision of the internet. It's MetaVerse stuff, somewhere between full-on Oasis/Ready Player One and the VR chat we have today.
In this future internet application, a second world called U, you can have an additional life. It's different from your real life. That means differently important but still significant. I think that's a more honest representation of the internet today.
Belle, the animation, is stunning. Each and every frame is a postcard. For example, mundane life, such as a shot at the light rail station, is richly detailed to the extent that the floor tiles have texture. The virtual reality scenes, set in U, are magical by design but not process. No tickbox rules were followed to forge the extravagant musical scenes in U; natural talent made them brilliant.
What I didn't love
I was lucky enough to watch Belle on the cinema screen during a festival. The visual impact of the animation, I suggest, will be much reduced on a smaller screen.
Belle didn't win the Judge's Vote, one of two best film slots up for grabs, beaten by FFMN. The audience vote isn't public yet, but we've been told it's very close.
I'm going to steal a comment I overheard from a discussion in the cinema. An anime fan remarked how much they liked Belle but didn't feel married to any of the story's characters.
I think that's an insight. Belle's personal situation isn't unique, she lost her mum early on in her life, but it's hard to relate to if that isn't you. It's natural to sympathize with, but if you've not grown up with such trauma and emptiness, it's not a feeling easily recreated. Belle's powerful singing ability sets her even further apart.
And we don't know who Dragon is.
The potential real-life love interest is the silent type, her father the silent type, and so it goes. The best friend, who might be a wicked witch (in a good way) is perhaps the most approachable. She's certainly my favourite.
The character that dominates is Belle, and our best access to her is similar to the closeness we might feel for Twitch streamers we often watch and speak to sometimes.
I'm a middle-aged, white, CIS man. I'm not saying I wasn't represented in the anime. It's about the closeness that the genre can sometimes manage.
What actually happens in Belle?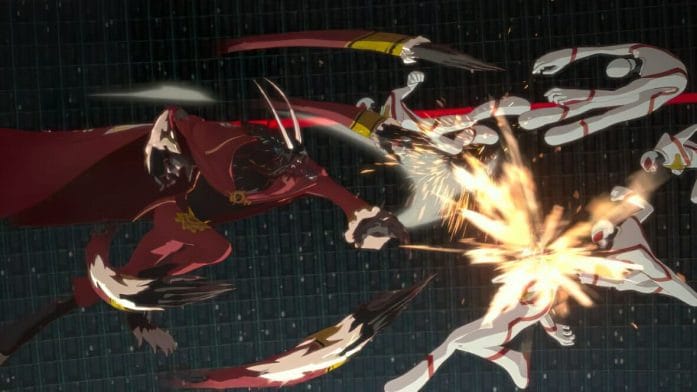 Suzu Naito is a 17-year-old high school student struggling to find her place in life years after her mum's death. One day the mousy rural girl is tempted into the virtual world of U.
Day one in U is not as expected, but Belle becomes a virtual sensation quickly.
The plot takes a curveball when a live stream performance is interrupted in front of millions. The unofficial police force of U, the superhero-like squad of protectors, chase in a rebellious cage fighter known as Dragon.
There's absolutely commentary here about the mob mentality (the vigilante squad of guardians), community responsibility (no official police force) and individuality (the Dragon and Belle).
Soon most of U are hunting for Dragon while wondering what Belle's relationship with the creature is. Furthermore, the superheroes of U have the power to strip away the anonymity of avatars and reveal the origin of the character.
Should they?
At this point, we have got the real-life investigation of whom the Dragon is from people trying to protect the fighter and those trying to discover who might be behind it. There are the virtual adventures inside U, which take a twist as Belle is so famous she needs to slink around, and those super-powered guardians/vigilantes are on the prowl.
That investigation leads to important life decisions but doesn't expect the plot to finish with the strands tied into bows. We get some resolution, not all of it.
Overall
I think it's a no-brainer. Watch Belle if you can.
Replying to other comments to this article with helpful observations can boost your karma.