The Adventurers League, the official D&D organised play program, has released the latest Ravenloft: Mist Hunters scenario The Amber Dirge.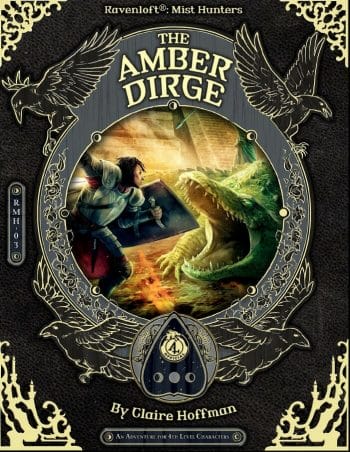 The fourth adventure in the series is suitable for 4th-level characters, but it may not be ideal for all players as a horror.
Your benefactor, Alanik Ray, has dispatched you to Har'Akir to investigate rumors of the White Oasis. Residents of the nearby River's Shelter are all dying and seek to cleanse themselves in the oasis's waters as hauntingly beautiful reed pipe music accompanies their passing. Something isn't quite right, however. Are there more nefarious deeds afoot?
Prior to the release of The Amber Dirge, Wizards of the Coat issued an "effective today" update. They said;
Community feedback has been taken into account to finalize the guidance published today. Some concerns may not have been addressed immediately, being more appropriate for clarification in a forthcoming update to the Forgotten Realms FAQ.
The DM Info guidance lives on Wizards.com. It's a mix of practical and supporting links. For example, you can use the hub to access the free download core D&D rules, the D&D Adventurers League logsheet as well as the most recent D&D Adventurers League Dungeon Master's Guide.
In addition, with the release of The Amber Dirge, Wizards of the Coast say that DMs must have familiarised themselves with the Mist Hunters Safety Kit.
Quick Links
Not left a comment before? It'll be held in moderation until manually approved.