The beautiful and happy, the beautiful and sad, Violet Evergarden: Eternity and the Auto-Memory Doll got its cinematic UK premiere tonight in Edinburgh.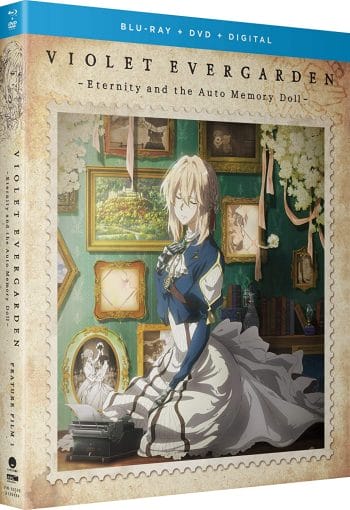 It's not to be mistaken with the Netflix movie that was also released this week.
Netflix brought Violet Evergarden to the West, thankfully. The Violet Evergarden: the Movie is the second film, and Eternity and the Auto-Memory Doll is the first. It's been available on platforms for a while and on blu-ray.
I always appreciate the chance to watch anime on the big cinema screen as it's a chance to look closely at characters and admire the stunning backdrops. We've Tolkien-Esq castles sitting in the surrounds of a fantasy-like forest or the steampunk dirt of a railway station.
Why the delay in getting it to cinema screens? First the dreadful firebombing of the studio that left people dead, then COVID lockdowns.
What do you get?
If Violet Evergarden, the series, is about the horrors of war, how we have no choice but to struggle and survive but how new relationships might help with that, then Eternity is the opposite.
This movie is about how sometimes freedom leads us into gilded cages, how choices are horrifically hard and how sometimes it is for the best that relationships end.
It's a movie of two halves and Taylor the mailer, the better half. Although both are equally moving.
The action starts when Violet is deployed not as a letter-writing auto doll but as an instructress. Why? In part, for reasons developed by the series (which I don't think you need to have seen to enjoy this movie and I won't spoil), and because we need to see Violet's own personal development. Violet's student is an ill and grumpy young woman who is struggling to become a debutante.
The flip is apparent. Here, Violet is explicitly the tutor. Is she able to handle an awkward student?
My favourite scene in the movie is in this half. The two are bonding; Violet is shown a potential new hairstyle and asked to comment on it. Her thoughts? Her buns might block her vision. She's thinking like a soldier. I think she always will.
So, be rest assured, this may be an older, wiser and more climatised Violet, but she's still our favourite typewriter-hands former child warrior.
Relationships
Violet the solider, the knight in white armour, makes a splash when she arrives in the all-girls school hiding our student. I think all the girls have a little bit of a crush on her.
I think our student falls from the exclusive heights of bitchy and distant to the common depths of having a crush on her teacher. Okay, more than a crush.
There's more than a friendship here, but this isn't that sort of anime, and the spark is brief. Life is cruel and even more relentless than war. It marches on and carries the two with them.
Our student, though, has a student of her own. The torch has somewhere to go, and this makes up the second arc of the film.
Taylor the mailer, has more action, at least, more running and jumping. I don't think a single punch or kick is thrown in the whole movie. The concluding segment, though, feels faster. It does have fast bikes.
That's not to say it's any less sentimental. I heard sniffing behind me in the cinema.
Overall
If you're expecting warriors with super-ninja skill, girl-school action or any of the usual anime titillation, you're out of luck.
I loved it, though. It's a powerful and emotional series, and this movie does Violet Evergarden justice. It's not more of the same, as the world has ticked on. It's more of what makes Violet such a compelling character and story.
Quick Links
Share your thoughts on this article in the comments below.