Christmas tree dice really are a thing. There's a successful campaign on Kickstarter with a few days left to run. After writing about the tree spinners I caved and became a backer.
While the successful campaign means it's likely some of us will now have quirky Christmas decorations, it doesn't mean they'll be widespread. The designs are patented and the creators are not working with any third-party resellers. Nevertheless, ads for the oddly shaped dice are appearing.
Mark Franzen, the project coordinator, warned backers;
Please be aware that Hymgho created and patented the Christmas tree dice. No one else is selling these. If you see pictures from this campaign being used elsewhere it is a scam, I doubt you will even get a counterfeit for your money, as this was an expensive, and complex item. There is a reason it is priced the way it is here, and there is a reason scammers are using pictures I took, they cannot produce their own.
Geek Native can undoubtedly confirm that ads for the spinner dice that use the same images from Kickstarter appear on Facebook.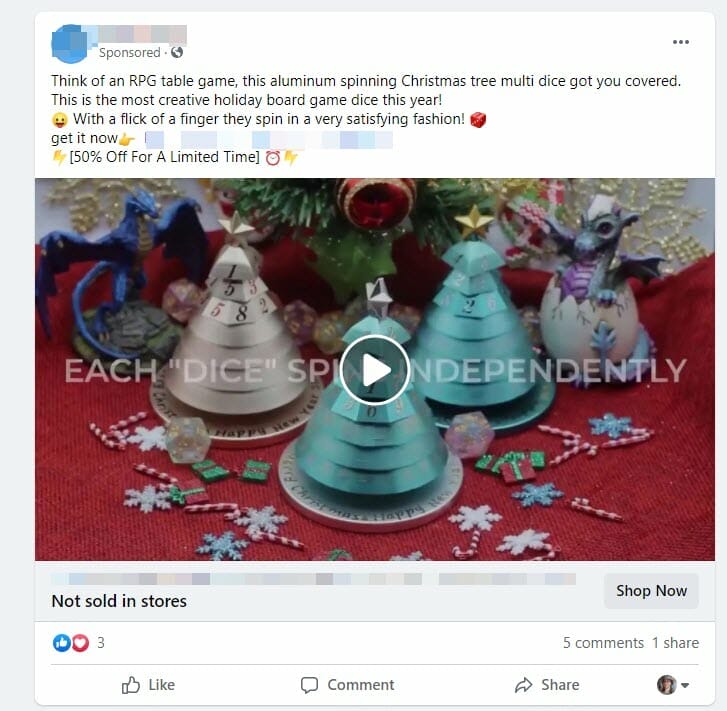 I reached out to Mark for comment and for more information.
I am the US sales agent for a very talented Chinese designer Dinghua Tang. Dinghua Tang designed and produced our samples/prototypes in 2019, but due to the complications of running a Kickstarter from China this is the first year he was able to present them. Having long experience in Chinese production, he obtained a Chinese asap after producing the samples and starting to look for sales partners.
Mark described some of the steps taken to try and protect tabletop gamers from scammers.
This is my second Kickstarter so I have done a lot of research on the platform and followed other successful projects enough to not be surprised, when after our project hit $100k, scam listings started showing up on other platforms. Facebook is the worst and hardest to control because it has dozens of different accounts linking to their own websites for sales, so you can't really get them taken down. I've reported some ebay listings, but they don't really give you room to defend yourself/explain the issue in the report form. Hopefully, if they do take action it will be easier to deal with other future listings on that site.
We both noted that it was telling the copycats hadn't been able to demonstrate they'd copied the manufacturing process. Mark added;
They are using our pictures with their listings, and I do fear that lends them a little credibility if consumers think they are authorized to do so. But, that is also a good way to catch them if you're familiar with our project on Kickstarter. I literally took all the pictures myself and can prove it pretty easily. It's also a complicated item, so it will be a while before copycats hit the market, we believe, and they won't have original pictures until then.
If you're cautious about Kickstarters, and Hymgho has yet to fulfil the pledges, after all, the Christmas tree dice will be available from Hymgho.com once they're ready for official retail.
Quick Links
Leave your own remarks on this in the comment area at the bottom of this page.