Spencer Campbell is back on Kickstarter, with a success that not even misguided toxic energy from computer game fans can stop. I'll get back to that.
NOVA is a sci-fi set on Earth after the Sun exploded. Characters are pilots in powered Sparks suits who venture into the darkness to do battle in an RPG designed to feel like a looter shooter computer game. The project has funded, with 20 days still on the clock, and you can join in on the progress at the pitch page.
You can download the quickstart for free, or even check out the Lumen system that powers it.
Lumen recently got a SRD after a toxic bashlash.
What happened? Spencer makes tabletop RPGs that feel like computer games like Destiny. He made FRAME inspired by Warframe, which upset a small but vocal number of the Warframe computer game.
These gamers thought that Spencer was trying to rip off or steal Warframe to make an unofficial RPG. FRAME was clearly and openly inspired by Warframe. Whether it had crossed the line into plagiarism or IP infringement was left unanswered (though most third-party observers seem to say it was safe as houses) as the Kickstarter for FRAME was cancelled.
I don't think, and very much hope, that anything bad will happen to NOVA. It deals with light and dark, but that doesn't make it a threat to Destiny's lawyers.
NOVA is a rules-lite tabletop RPG in a world where the Sun exploded, and humanity struggles to hold onto what little light they have left. The players will pilot exosuits, called Sparks, exploring the dark ruins of old Earth, searching for the technology and knowledge that may just bring on a new dawn for our planet.
In the RPG, players roll polls of d6 based on how they acted rather than what they did. This keeps the action quick and frantic, like a looter shooter, and so each character has three attributes;
Sun for powerful, sweeping or emotional actions. Moon for reactive, quick and effective measures. Shade for methodical, practical and surgical actions.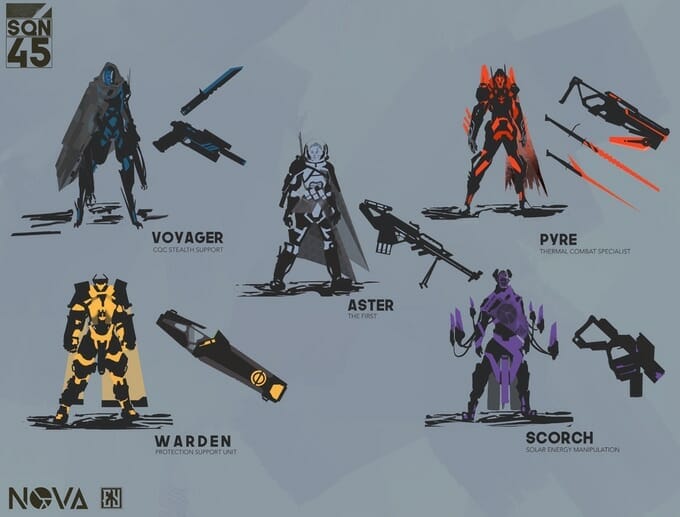 A pledge of $15 will get you a PDF of the game, and it'll come via Itch.io.
Upgrade that pledge to $25, and you'll also get a perfect-bound printed copy, but you'll have to add shipping. However, a promise of $40 means you'll get a hardcover, which bumps the international shipping price.
The estimated delivery of the project is December 2021, unless you're digital-only, in which case you'll get it in November.
See any comments you like below? Give them a thumbs up in the rating system.