Cameron Day, the co-creator of Supers & Sorcery, defines junker space fantasy as having three things; swashbuckling adventure, wide-open exploration with salvaging, and wild technology.
Daylight Publications' Comets & Cockpits will bring Geographica Adelphos a fantasy-leaning setting on a megaplanet, and Technologica Epoch a tech-heavy sci-fi to 5e. The Kickstarter funded in just two hours. You can see the latest total or join in from the project page.
There's a mini-preview available via Google Drive, which at least offers a flavour of Daylight's style.
Geographica Adelphos is a setting guide that contains 5 new races, 7 new subclasses, a whole new magic system for sigils, a bestiary and an adventure suitable for 6th-level characters.
The atmosphere in Geographica Adelphos is intended to evoke suggestions of Firefly or a magically modified Borderlands.
Technological Epoch is also a setting guide, with more tech, 5 new races, 7 new subclasses, rules for mech and starship mechanics, a bestiary and an adventure for 8th-level characters.
The vibe here is more like Gundam, Halo or even Star Wars.
What makes us different from other 5e sci-fi?
We're not throwing the baby out with the bath water. Traditional fantasy mechanics and flavor will sit right alongside our magitech elements, creating a vibrant medley of options.
Wanna play a Circle of the Moon Druid and still feel relevant? You can do that.
Want to use that sweet scimitar of speed your grandfather handed down to you? You can do that.
Wanna be a druid wielding a scimitar of speed while flying a speeder against a rampaging mech? Now you can do that!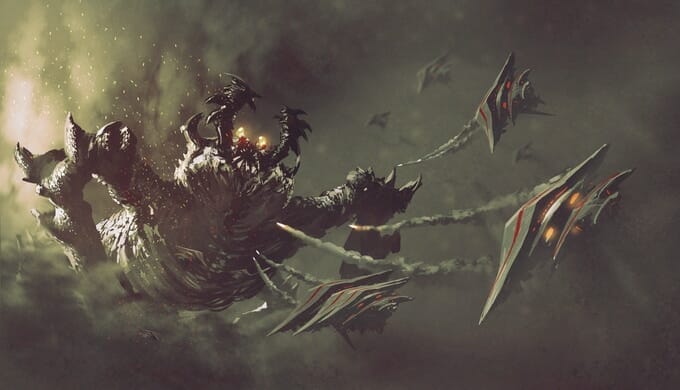 A pledge of $15 unlocks one of the two books in PDF format. One book in print takes a promise of $25, and that delivers the at-cost print-on-demand coupon and the PDF.
Both books in PDF cost $30, and both, via at-cost coupons, in print cost $45.
At the time of writing, Daylight offers early backer tiers, but they don't indicate when those might expire.
Higher tiers exist, some exclusives have sold out, and the estimated delivery is January 2022.
Why not leave a comment below and get to know other Geek Native readers.