🐙Sponsored Post paid for by Geek Native. We may earn a commission on sales.
April the 5th is Star Trek First Contact day. The day when humanity first met alien life. It's also a free online event with panels of Star Trek celebs from in front of the camera and wizards from behind. We're expecting news from Patrick Stewart.
How about using Starfleet to organise your keys? You can see if a ship is in dock whether a flatmate is at home, or you could make the houser ule that the keys to the garage are always returned to docking bay 6.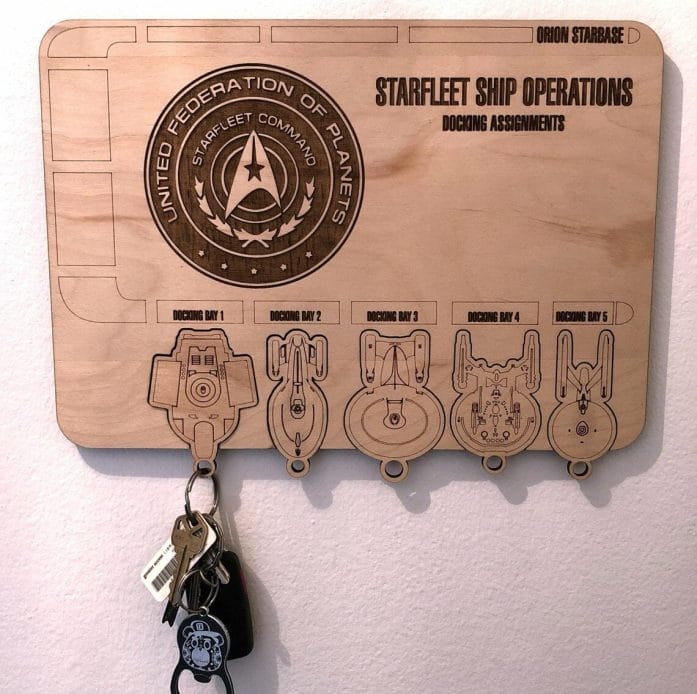 Etsy retailer NerdySwagger has two different versions of this Starfleet themed key plaque to offer you; the standard Orion design or a customised one.
The handmade wooden tiles are less than an inch in depth but robust enough not for the Federation's ships to get harmed in your pocket, 9.25 inches tall and 13.25 inches wide. As you can see, that's enough space for six key chains side-by-side.
After nearly 100 reviews, the shop has a perfect 5/5 score, but shipping takes weeks and is expensive. It's also helpful to remember that since these key holders are cut from wood, there will be all sorts of natural variations in colour.
Quick Links
Take part in the community by leaving an interesting comment below.