Cosplay isn't an easy hobby.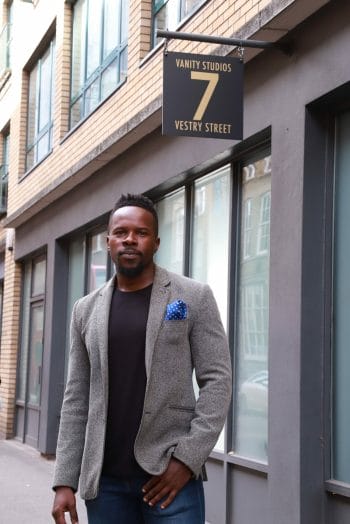 Not only does it take a lot of time, but it can also be expensive. Material isn't cheap, and the hardware needed can be costly. Everything from sewing machines, 3d-printers and glue guns can stack up to become a fierce cost.
It's a shame to spend all that energy and moolah only to half-arse it at the end and not get some good photographs. It's sometimes the photography that immortalises all that hard work. Still, it can be the professional or semi-professional photoshoot that dramatically hikes up the cost at the end of the day.
Given the stakes, it's worth getting the most from any photography investment. Geek Native is fortunate enough to share some cosplay photoshoot tips from Emeka Ikechi. Emeka is the Director of Vanity Studios, a London-based team with loads of experience getting the best cosplay photographs.
Tips for getting amazing images from a cosplay photoshoot
By Emeka Ikechi, Director, Vanity Studios
Whether you cosplay for gig work or for fun, you may find that having a photoshoot is a great way to create the best possible images – one that fans and friends will love to see and share.  
When you've put time, money and effort into creating an amazing costume you want to make sure the images are the best, so let me give some tips on how to achieve this.
What is your goal?
Taking photos for fun is very different to taking them for a work portfolio. Perhaps you simply want to have a get together with friends and capture some fun memories. This can be relaxed, silly, and include some humorous poses.
If you want to create a portfolio for your website or other gig work more preparation will be required. You need to show your costume from all angles and in the best lighting to demonstrate its accuracy and quality. You'll also need to consider some iconic poses, such as Spiderman's upside-down hang or the "hero's landing".
Get the accessories right
What is Wonder Woman without her whip or Cloud Strife without his ridiculously giant sword?
As you prepare for your photoshoot, you'll want your accessories to look perfect, so they complement and complete your costume. Changes can be made to an image when editing, however, it is difficult to add in authentic-looking accessories. It is best to get them right to start with!
If you are looking for paid work from your cosplay, it's even more important that you have all your character's accessories and that your costume looks authentic. It's the authenticity and quality of both that will make your cosplay career (or leave it languishing).
Help with makeup
Make up is likely to be important. For example, you'll be using a lot of blue face paint to look like Halo's Cortana.
A good photographic studio will help you touch up your make-up, so it looks perfect and captures the essence of the character, without taking lots of time and becoming a major chore.
You will need to think about lighting too. Sticking with the blue face paint as an example, you will find this won't look good under red lighting. Play around to get the lighting right if you are taking pictures at home.
Working with a professional photographer with a good feel for cosplay
Booking a session with a professional photographer who really understands cosplay and the characters you are portraying is a definite plus. A professional will know how to capture the right angles and your character's iconic poses. They'll also come up with creative ideas to enhance the photoshoot.
Rather than Lara Croft standing still in front of the camera, you could experiment with jumping through the air shooting some bats. Or perhaps your Superman could fly over the Metropolis skyline rather than striding across the floor or sitting on a chair?
Effects like these will take a bit of thought and some extras to make look just right. A professional will be able to prepare and help you with getting the dynamic images you want. 
Use backgrounds to enhance your photos
The background you choose will enhance your photos by turning a shot into a scene. If designed well they will set off both you and your amazing cosplay.
Why not try adding some action with aliens attacking New York or setting the scene with a background from Mario World? Your creativity and knowledge of your character will provide other ideas, I'm sure.
To work well backgrounds will require preparation. They can't be small scale – you need them big enough and detailed enough to work for the photo but not to the point where they detract from or overwhelm your all-important costume.
Have a wide range of images taken
It doesn't matter how skilled or experienced your photographer is, it is always hard to know exactly what will or won't work well in a photo. What you think might look great can actually turn out to be somewhat clichéd or cheesy in reality. Playing around and having fun is part of the process and you'll come up with ideas that didn't hit you before you started the shoot.
The simplest way to ensure you get the best from your photoshoot is to take lots of images in different poses and styles, with different backgrounds and accessories. This will give you plenty of options when it comes to choosing the pictures you will use.  
If you are aiming for images to use for gig work, having a variety to show can also give your clients lots of ideas for potential photos or scenes for you to act out.
So, when you have your photoshoot have fun, try out different poses, backgrounds, lighting etc. That way you will end up with amazing images you will be proud to show and share.
About the author
Emeka Ikechi is Director of Vanity Studios, a contemporary studio for photoshoots in the centre of Shoreditch in London. Since 2009 Vanity Studios has been providing clients with high-quality professional photos and an excellent photoshoot experience. The team of photographers and make-up artists ensure each client receives bespoke photography that meets their requirements.
Quick Links
Got something helpful to add? Please let us know via the discussion area below.