Asmodee has had a busy day and has announced several new deals in North America.
My Hero Academia card game and Jasco Games
At the virtual GAMA event today, which runs on and off throughout the week, the publisher and distribution company announced a worldwide exclusive on My Hero Academia.
Jasco Games' card game, based on one of the world's most popular anime, allows players to battle characters from Class 1-A.
Jason Hawronsky, CEO & Founder of Jasco Games, told press;
At Jasco Games, we're committed to creating high quality, memorable games and are excited to partner with an industry leader that shares our values. Together with Asmodee, we look forward to bringing the high-energy My Hero Academia CCG to a wide audience."
The My Hero Academia CCG launches in Summer 2021, and Wave 1 includes the 2-Player Rival Deck and booster boxes.
Azul and Plan B Games
Following the news that Asmodee has bought Plan B comes the not surprising news that in North America they will distribute the company's catalogue too.
As a result, games like Azul, Great Western Trail, Camel Up and Century Spice Road will ship via Asmodee.
Andre Kieren, Head of USA Distribution, said in a press statement;
We're delighted to offer Plan B Games' masterfully designed titles to our retailers and their communities. We envision Azul among our other pillar games, like Ticket to Ride and Catan, because of its ease of play and appeal to casual and experienced players alike."
Tabletop Tycoon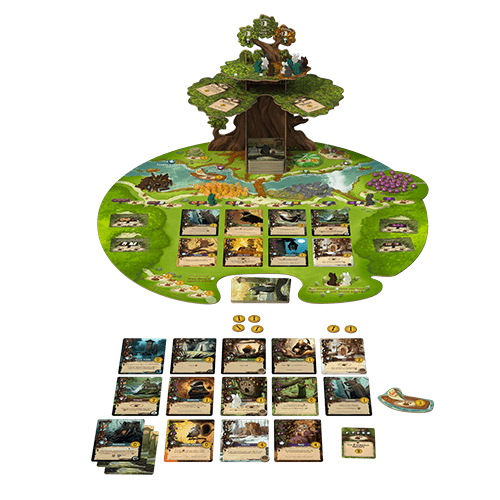 Joining the active list of announcements is a partnership with the family-owned Tabletop Tycoon. Asmodee USA retailers will be able to buy games like Everdell, Black Orchestra and Nemo's Wars through the distributor.
Dan Yarrington, CEO & President of Tabletop Tycoon, noted;
"I am very excited to join the accomplished company of successful independent publishing studios distributed by Asmodee USA. This will bring our titles (present and future) to a broader variety of outlets so we can continue with our mission of 'Making the World Better, One Game at a Time'"
Thundergryph Games
Asmodee USA also picked up an exclusive English distribution partnership with Thundergryph Games.
The 5-year-old Thundergryph Games has titles like Tang Garden, Spirits of the Forest and Iwari.
Gonzalo Aguirre Bisi, Founder and President of Thundergryph Games, told us;
Asmodee has given us the warmest welcome as our new English distribution partner, and we already feel like part of the family. This important relationship will help us grow professionally as a board game publisher. We are extremely excited to unveil our plans for 2021 together."
Endless Winter: Paleoamericans and Fantasia Games
In yet another deal, Asmodee also secured a large English language deal with Fantasia Games for Endless Winter: Paleoamericans.
Endless Winter: Paleoamericans is a Stan Kordonskiy designed, and Jonny Pac developed euro-style worker game which will receive a Rivers & Rafts, Cave Paintings and Ancestors supplements this winter.
Head of Studio, Yorgo Tsalamanis, revealed;
After a whirlwind year of launching Fantasia Games and a successful Kickstarter for our first game, we're thrilled to partner with Asmodee and continue the momentum of Endless Winter: Paleoamericans,"
Take part in the Geek Native community by leaving a comment below.