Mike Pondsmith and R. Talsorian Games' full Cyberpunk Red is now out. The tabletop RPG is the sequel to Cyberpunk 2020 and the prequel to the computer game Cyberpunk 2077.
The Cyberpunk Red jumpstart digital edition is now discounted to only $10 at DriveThruRPG, but you can get an even better deal, for a limited time, at Humble Bundle.
It's also worth knowing that Old Guns Never Die is out, and free to download, which you can use to convert Cyberpunk 2020 weapons to Cyberpunk Red and make Humble's collection of retro-2020 supplements stretch even further.
You can get these Cyberpunk deals at Humble Bundle.
Pay £0.76 tier
Blackhand's Guide
Forlorn Hope
Edgerunners, Inc.
Listen Up, You Primitive Screwheads
Maximum Metal
Chromebook 1/2
Pay £6.15 tier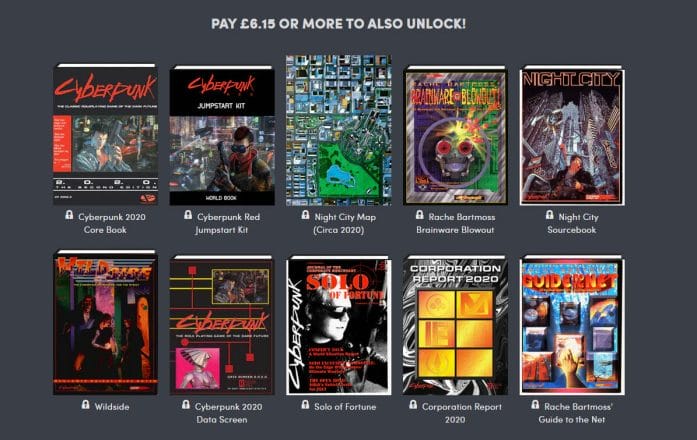 Cyberpunk 2020 Core Book
Cyberpunk Red Jumpstart Kit
Night City Map (Circa 2020)
Rache Bartmoss Brainware Blowout
Night City Sourcebook
Wildside
Cyberpunk 2020 Data Screen
Solo of Fortune
Corporation Report 2020
Rache Bartmoss' Guide to the Net
Pay £11.54 tier
There are so many books in this tier that we can only show the first two rows in the screengrab.
Firestorm: Stormfront
Firestorm: Shockwave
Pacific Rim Sourcebook
Rough Guide To The U.K.
Rockerboy
Protect and Serve
Deep Space
Eurosource Plus
Eurotour
Home of the Brave
Live and Direct
NeoTribes
Land of the Free
You can grab this deal for the next 27 days only.
Readers like to you help to make Geek Native. Nip down to the comments below and let us know what you made of this blog post.