Last May, British comedians such as Nish Kumar and Sue Perkins played D&D for Comic Relief.
The session of tabletop RPG hijinks was broadcast on Twitch and viewers could contribute to the charity to influence gameplay.
Episode 2 will feature James Acaster, Lou Sanders, Phil Wang and Sally Philips and once again viewers can donate to meddle with the story. Paul Foxcroft returns as the Dungeon Master.
The second official D&D & Comic Relief stream will air on Friday the 4th of December. You can contribute via the Tiltify program.
Sally Phillips told press;
I may never have played Dungeons and Dragons before but reckon I'd be better suited to life in the Forgotten Realms, as I have always felt that I might change into a woodland creature at any moment. So I can't believe I will be anything other than epic in this game! We continue living through such strange times so I hope we can provide some entertainment and laughs for those watching the stream from home while raising funds for Comic Relief."
Meanwhile, James Acaster who is a gamer added;
I'm a huge gamer and I have no doubt this will be an EPIC game to watch. Mixed with the unknown twists and turns awaiting us from the public votes, who knows how this will turn out but I bet it will be a good laugh for those watching and will hopefully bring in lots of donations for Comic Relief.
The game is being run in partnership with Wizards of the Coast. Dan Barrett, the senior brand at D&D noted;
We were hugely proud of the money raised during the first Comic Relief Plays D&D game earlier this year, and we're thrilled to again bring the adventure to those safe at home as part of our Holiday Specials series. With another all-star cast, we can't wait to see the hilarious chaos unfold and donations for a great cause come in!"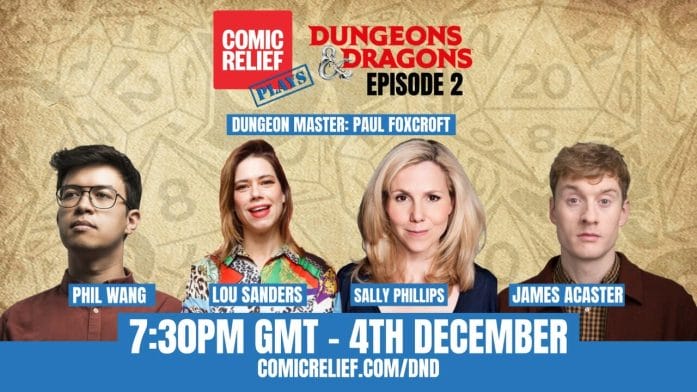 The first fundraising stream contributed more than £25,000 to Comic Relief. Ready to do good? Pop over to the official campaign page.
Take part in the Geek Native community by leaving a comment below.