The top-selling product on DriveThruRPG today is Dissident Whispers.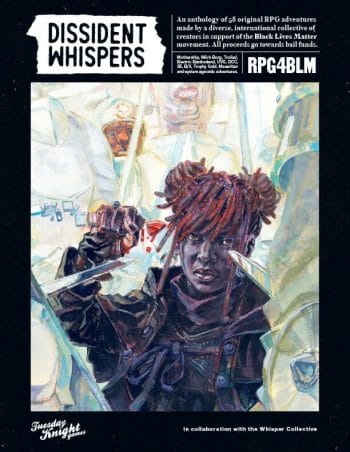 The $20 collection of adventures was published on Monday night by Tuesday Knight Games. That's the company behind the sci-fi horror Mothership.
However, Dissident Whispers is more than that. It includes adventures for Mork Borg (black metal RPG), Trophy Gold, Troika!, Electric Bastionland, Dungeon Crawl Classics, The Ultraviolet Grasslands, The Black Hack, Maustritter, B/X and even this system known as Fifth Edition.
Large, yup! There are 148-pages in total, and it took a team of 90 people to make it happen—authors, editors, designers and illustrators.
The creators won't make any money for this project. All proceeds are being given to the National Bail Fund Network.
Hardcopy fan? Tuesday Knight Games are taking pre-orders, and I'd suggest watching their Facebook for updates.
You can support Black Lives Matter and boost your adventure collection by picking up Dissident Whispers.
Level up your geek stat by contributing to the comments.