The great advanced PDF RPGs have over their printed ancestors is that they can be updated.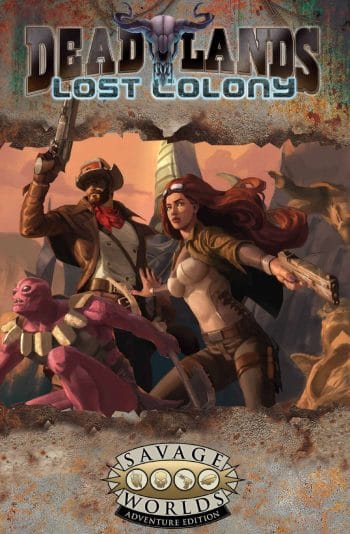 Sites like DriveThruRPG automatically alert customers to when a new version of a PDF they've bought is available. In fact, players returning to a site to get the latest update of a game they've already bought are a chance for the publisher to tempt them with another supplement.
Pinnacle Entertainment has got some minor errors for the forthcoming Deadlands: Lost Colony. The PDF is already updated, at DriveThru and the PEGInc store, but the books have already been printed.
It means that when the Deadlands: Lost Colony books leave the warehouse, they'll shop with printed bookmark errata.
PEG says;
The error in question occurs on pages 63 and 100: The penalty to Fear checks isn't the Fear Level itself, but -1 for each Fear Level after 2 (so -1 at Fear Level 3, -2 for Fear Level 4, and so on).
There's also this free to download PDF of the errata.
PEG took the chance to tweak one other rule, correcting page 179 to say;
Fear: Supernatural creatures are born of the Reckoning and ignore Fear Level penalties.
Deadlands: Lost Colony continues the Deadlands setting, taking humanity to the mining colonies of deep space or hostile planet of Banshee after the collapse of the galactic wormhole that leads back to Earth. It requires Savage Worlds Adventure Edition to play.
Join (or start) the healthy debate. Share your observations below.