Wizards of the Coast are getting involved in Britain's Comic Relief. They'll be hosting a D&D stream with comedians Nish Kumar, Sue Perkins, Ed Gamble and Sara Pascoe. Paul Foxcroft, of Questing Time, will be the DM.
You can watch it on Twitch.
There's a Tiltify page already in place. The event starts at 7pm on the 8th of May and will likely run for 2 to 3 hours.
Viewers who donate at least £1 will be able to suggest ideas to the comedians for their characters to do. From today, you can vote for which comedian's character will get hit by a curse, which monster will feature and what quest items there are.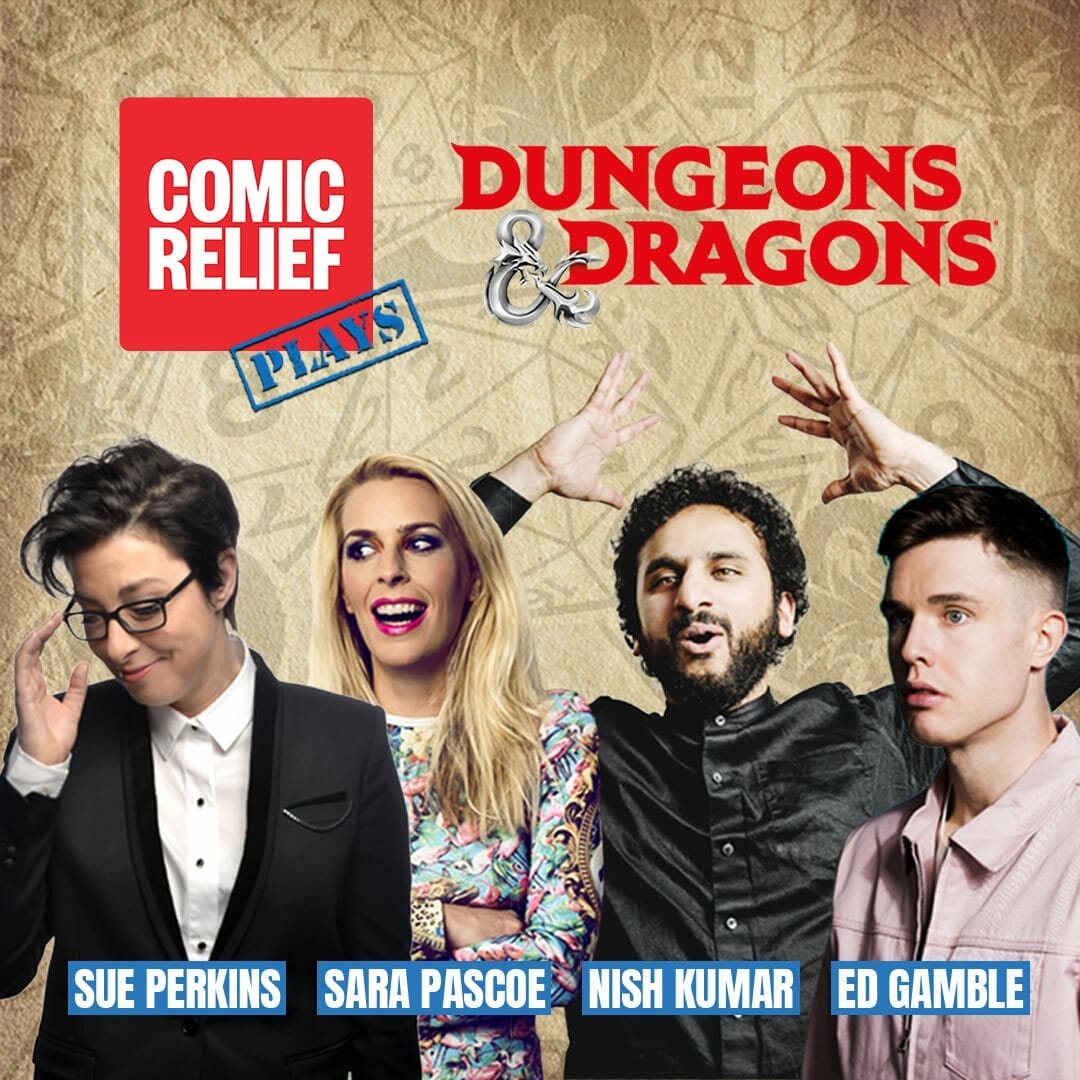 Nish Kumar said:
I'm excited to support Comic Relief and the incredible work they do by taking part in this very special event in aid of Covid-19."
Sue Perkins said
I'm lucky to have travelled all over the world, but this might just be my biggest quest yet. I'm not quite sure what to expect, but I've heard that Paul Foxcroft is one of the finest Dungeon Masters in all the land – and I do so love a good Dungeon Master.
Dan Barrett, Senior Brand Manager at Dungeons & Dragons, added:
We believe the social connection and fun of watching and playing games such as Dungeons & Dragons can be helpful to those of us feeling isolated in this time of social distancing. So, please stay safe at home, and together with Comic Relief, we'll bring the adventure to you. All we ask is that you donate if you're able to help support those most vulnerable amongst us in the fight against Covid-19."
I'm not sure how well known these comedians are outside the UK, but they deserve to be.
Here's one of my favourite clips from Nish's "Mash Report" – from 2019 when politicians were just getting around to addressing how Brexit makes border issues with Ireland a horrible issue to tackle;
38 reasons why players might quit your D&D game
Have you ever wondered why someone quit a game on you? Often times it is due to a change in circumstances. The player might have moved away or have a new job with a new schedule and simply can't make the game any more. However, people also quit games when they're not having fun any […]
Start a comment conversation in the secton below.