Eugene Fasano is the founder and lead designer at Arcana Games. Last year, Arcana Games raised nearly $50,000 from over 1,000 backers on Kickstarter for a 5e setting called Arkadia. That's a solid success.
Arcana Games made good on their Kickstarter and in May this year Arkadia – The Greek Setting for 5e hit the shelves at DriveThruRPG.
Eugene kindly agreed to chat to Geek Native about Arkadia and about how (and when) to move players from a 'standard' campaign setting created and supported by Wizards of the Coast to something new.
Can you please describe Arkadia for gamers who might not yet have heard about it?
Arkadia is a combined setting and players handbook for Fifth Edition – inspired by the history and myths of Ancient Greece. Arkadia offers a ton of new features for players to add to their game: A new class archetype for each class, ten subraces, twenty feats, thirty magic items, and thirty monsters, all inspired by Greek mythology. All of this new content is framed by the setting of Arkadia itself, against a backdrop of rival city states, powerful gods, and dark titans.
What is it about the myths and legends of ancient Greece that makes them a compelling setting for Fifth Edition?
I think the main reason why ancient Greece makes a compelling base for a Fifth Edition setting is that it's simultaneously comfortingly familiar and alluringly exotic. Greek mythology is so prevalent and yet so distinctly different from traditional D&D, which draws heavily on Medieval Europe. Drawing on the myths and history of ancient Greece instead allows for a fresh take on the races, classes, and very tone of Fifth Edition.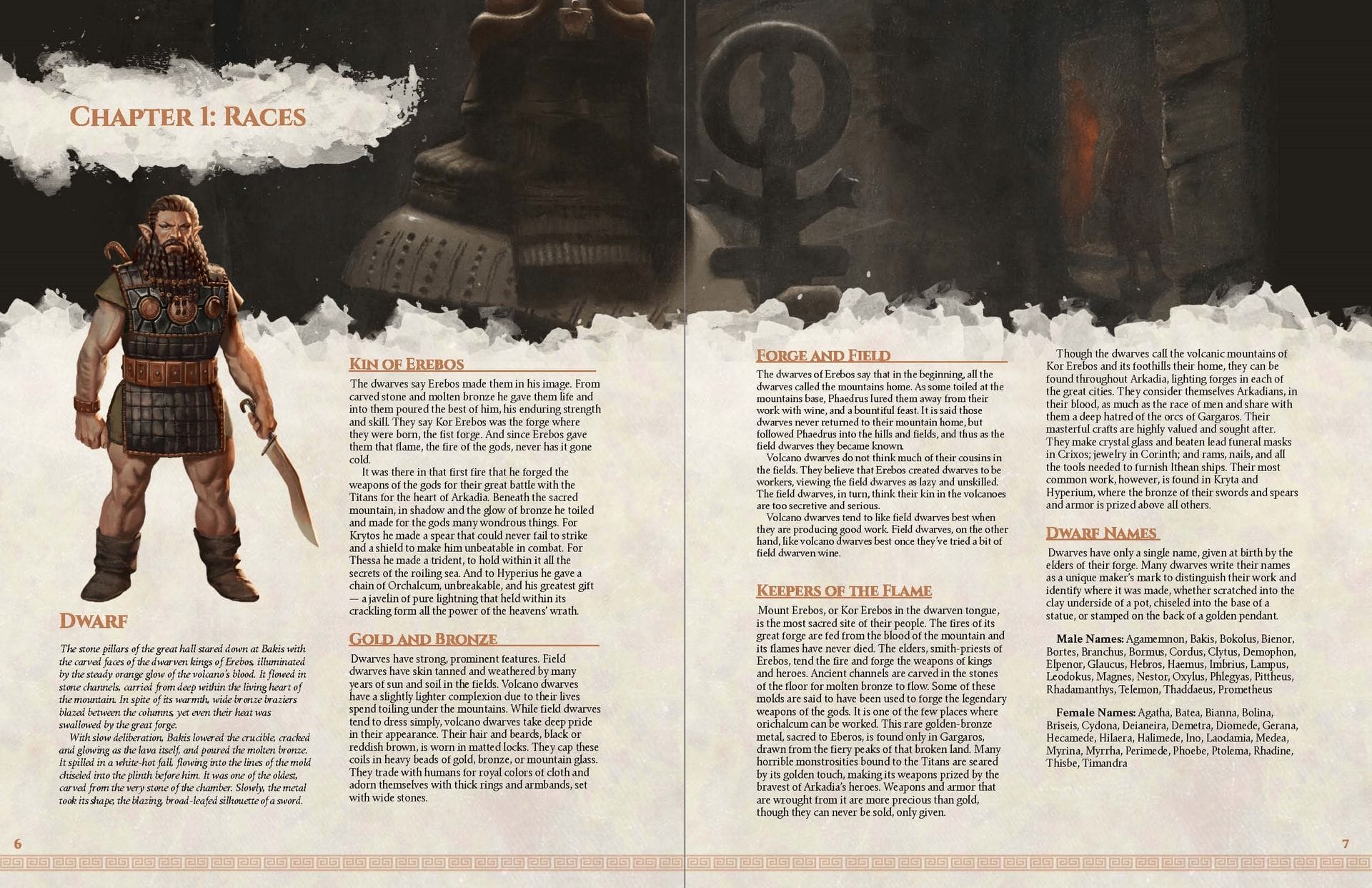 There's a lot of new Dungeons & Dragons players thanks to the success of Fifth Edition. Most start off in the Forgotten Realms, and some might now have explored Eberron, Ravenloft, Ravnica and thanks to the Ghosts of Saltmarsh, Greyhawk. At what point should groups start to consider third-party campaign settings like Arkadia?
I think the purpose of a setting is to facilitate a more specific gameplay experience. People should consider a setting like Arkadia if it offers the type of world they are interested in. If you want gothic horror, pick Curse of Strahd, if you want urban mage punk, choose Ravnica or Ebberon, if you want ancient Greece, play Arkadia. Whether or not your group chooses a particular setting should be based on the type of world they want to explore, and the types of stories they want to experience.
As a DM, how can I best prepare my players for starting a Fifth Edition game in a brand new world, one that's different from what they've become accustomed too over the years?
You, as the DM should familiarizing yourself with the setting. You are your players middleman for interacting with the setting, the more excitement and knowledge you bring to the table for a setting, the more your players will get out of it. Some setting books, especially many of the official titles, like Curse of Strahd, are combined adventure and setting books, making it difficult for players to use the book themselves to learn about Ravenloft without spoiling the campaign. Arkadia, on the other hand, is a combined player's handbook and setting, allowing players to explore the setting as much as they want.
Do you have any 'Session 0' recommendations?
My biggest piece of advice for a "session 0" is for the DM and players to agree on tone. Tonal continuity is something very important for me, as a creator, a DM, and as a player and it is something that is often overlooked. Curse of Strahd for example, has within it elements that could allow it to be run to be run as dark, gothic horror, or schlocky, campy horror. If a group assumes one tone while the DM or a single player assumes the other, neither will work and it will not be a satisfying experience for the group.
As a player, how can I best help contribute to the game when my group tries Arkadia for the first time. Should I read up on Greek myths, for example?
As a player, the best way you can contribute to your first game in Arkadia is just to have fun. You don't need to know anything specific about Greek history or mythology to enjoy Arkadia. Though Arkadia draws inspiration from ancient Greece, it is not a literal historical setting. As I mentioned in one of the previous questions, reading the section on the race and class that interests you is more than enough. If you'd like to check out some Greek mythology and history to prepare for your game, I've included a list of works that were inspirational to Arkadia. The list includes both ancient texts and modern films.
Books
Films
Is there anything from the Forgotten Realms or 'standard' D&D that you would recommend not bringing to Arkadia. For example, does the Great Old One pact for Warlocks fit with the setting?
This is actually something we address in the book. We mention where the other class archetypes might have a place in the setting. For example, our Warlock patron is the Dead King, as it ties Nys, our Egypt inspired cursed desert land. In Arkadia, Warlocks draw their power from the Titans, ancient and terrible primordial beings. In a sidebar in the Warlock section, we discuss how the standard patrons can be mapped onto the titans; the Great Old One is contextualized as the Maw, the wounded titan who writhe in the abyssal depths.
The one thing I would certainly not bring to Arkadia is medieval equipment. Rapiers, crossbows, and plate, are all out of place in an otherwise bronze age world. However, all elements such as this that might break the immersion of the setting have been changed. Arkadia has full bronze age equipment tables, from weapons and armor down to the trinkets and class starting kits.
In general, is it okay for third-party campaign settings to disallow standard D&D classes or races?
In general, I don't think third party settings should disallow standard D&D races or classes. A setting is about giving players options, more opportunities and tools to play the type of character they want to play. At the end of the day, people are going to play what they want to play — all the rules are just guidelines, and that's part of the beauty of D&D. Ultimately, a setting or campaign only exists in the experience, between the DM and the players at the table. Their version of a setting such as Arkadia might be different from yours or mine, and that's totally fine.
If players are keen to try something new which of the Arkadia classes and races would you recommend?
Definitely try the Phaedran race. It's a unique race, with subraces that allow you to be a satyr, siren, harpy, gorgon or centaur. Our most popular class from our playtests polls was the Oath of Judgement Paladin, which lets you hurl lightning bolts like Zeus. I am particularly proud of our Wizard archetype, the School of Philosophy, but personally would love to play our ranger, the Amazon. You can read more about the Class Archetypes and download for free here.
Join (or start) the healthy debate. Share your observations below.