British television personality Marnie Simpson and iSpyEyes today received a slap on the wrist from the Advertising Standards Authority after she used her Instagram account to promote her range of coloured contact lens.
What's the problem? It turns out that it's illegal to sell contact lens, even zero-powered ones used for cosmetics and cosplay, to anyone who does not need them.
This will surprise cosplayers up and down the country, and it raises questions as to why there are so many websites opening selling cosplay contact lens.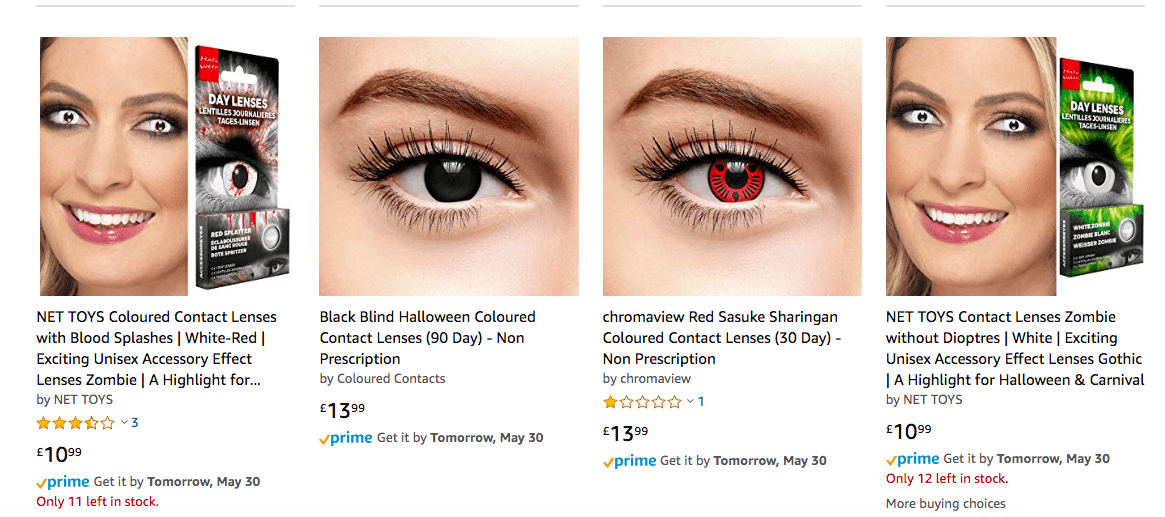 A search on Amazon today reveals pages and pages of coloured contact lens, albeit most have terrible reviews.
In their ruling against the presentor and reality TV star, the ASA quoted the Opticians Act 1989 (Amendment) Order 2005.
The Act provided at Section 27(1) that "A person shall not sell (a) any contact lens for use by any person who does not have a valid specification provided pursuant to section 25(5) above; or (b) subject to the following provisions of this section, any optical appliance or zero-powered contact lens unless the sale is effected by or under the supervision of a registered medical practitioner, a registered optometrist or a registered dispensing optician". Zero-powered contact lenses were referred to explicitly in the legislation, and we contacted the General Optical Council (GOC), who confirmed that they understood the sale of such lenses to be illegal if they were not sold by (or under the personal supervision of) a registered optometrist, registered dispensing optician or registered medical practitioner.
The authority, which responds to consumer complaints about adverts, points out that the Act explicitly mentions zero-powered contact lens.
The takeaway for cosplayers is that while zero-powered contact lens appear to be readily available to buy online, we should respect the wisdom of the law. Even zero-powered contact lens touch the eye and can, therefore, cause infection or even trauma to the eye. Poor fitting lens can are responsible for corneal ulcers, abrasions and may also cause loss of vision.
The NHS is equally clear, stating;
Don't wear any contact lenses, including novelty lenses, that haven't been properly fitted to your eyes