Free League Publishing are now taking pre-orders on their forthcoming Alien RPG. Pre-orders will open on May 25th, that's this Saturday and will close on August 4th.
You'll be able to pre-order Alien from Free League's dedicated site at Alien-RPG.com and there's a good reason to do so. Everyone who pre-orders the full printed game will get access to a 168-page Cinematic Starter Kit PDF which will include the scenario Chariot of the Gods from Andrew E.C. Gaska.
The Cinematic Starter Kit PDF will be available for download from DriveThruRPG just as soon as your pre-order is confirmed.
The Cinematic option in Alien has been described by Free League as the playing style most like the movies. Not everyone will live. In fact, towards the end of the one-shot, you might even found out that other PCs had it in for you.
Interestingly, Free League are letting people come up with ideas and suggestions after they complete the pre-order but before the core rules are printed. That makes sense. Why not give these early access players the optional role of beta testers. If you do step up and provide helpful beta testing advice, then you'll get your name in the final and official publication.
Alien RPG limited edition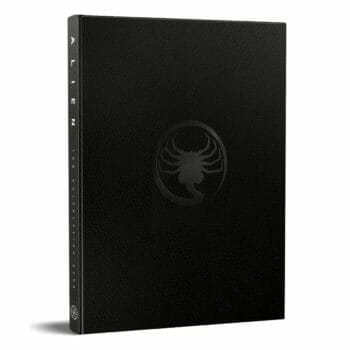 In addition to the 300+ page core rules with original artwork, rules for open-world campaigns as well as the cinematic style, and the modified Year Zero game engine, you can also pre-order Alien themed goodies.
Free League will be selling a deluxe GM Screen, custom dice, a large version of the starmap and custom cards of stats for weapons, NPCs and rules.
There will also be a limited edition of the RPG for the 40th anniversary of the film that comes with an embossed book cover. It'll never be printed again.
Free League haven't even hinted at the price of this collectable. I doubt it'll be cheap!