Liminal is an urban fantasy RPG from Wordplay Games. The word itself means "relating to a transitional or initial stage of a process" or "occupying a position at, or on both sides of, a boundary of threshold". In the game, the PCs stand between the real world and the supernatural Hidden World.
As Geek Native noted in March last year, the Kickstarter pitch for Liminal wasn't shiny. The video was run of the mill, and yet it hinted at proper attention would be given to quality art for the game. That is a promise kept. Liminal has a straightforward layout spiced up with some stunning artwork, and you'll see some pages from the game in this review.
There's lots of urban fantasy that feels a bit like Liminal, but the game is its own thing. As I read through the introduction of the Hidden World and those few humans who are aware of it, including the police force's P. Division, I was sure the game's inspiration was Paul Cornell's London Falling Shadow Police series. I'd just finished the audiobook. As it happens, Liminal wears its influences on its sleeve, dozens of titles like The Rivers of London (Ben Aaronovitch), Jonathan Strange and Mr Norrell (Susanna Clarke), The Dresden Files (Jim Butcher), and even Hellblazer, Dracula and the BBC's version of Neverwhere. I think you could easily use Liminal to turn any of those stories into an RPG.
A feature shared by many of those titles is just how they flirt with the shades of grey while hinting that something potentially much darker lurks below the surface. That's very much the case of Liminal. It seems the game will naturally gravitate towards not just the shadows of the Hidden World but the shadows of motivation, intention and trickery. There might be vampires that hunt blood and the agony of werewolves unable to control the curse, but I think, in any Liminal game, there will always be the sense it could get even worse.
Characters in Liminal are built with points and begin with a drive. Drives are one or two sentences that describe the character's motivation and this is a game where retiring a character once they reach their goal is a consideration. It is not mandatory.
All characters in Liminal fit into one of three categories; they are magicians, they are determined, or they are tough.
There's an exception for shapechangers and lycanthropes, though. Normally shapeshifting is the art of the magician but if your character can only change into a single shape – like a wolf – then they can be created as a tough. Examples of thoughtful consideration like that are peppered throughout Liminal.
Characters have a set of skills (training and natural abilities), traits (advantages) and limitations (disadvantages). Some supernatural characters strongly suggest certain traits and limitations, but nothing is mandatory.
The system is pretty simple but in a quick playtest proved it to be sufficient enough. Characters have the Endurance stat to represent health, Will for inner strength and a Damage stat for dishing it out in combat. Skill tests are made by rolling 2d6, adding a skill level and trying to hit the Challenge Level. If you don't have the right skill, then the Challenge Level raises by two points.
That Will stat is useful as you spend it to improve rolls; adding the number of points you're willing to burn to that 2d6 total.
Liminal is set in the UK. That's a big part of the game. As a result, gunfights are rare. Most combat will be melee or magical and the rules reflect that. For example, the suggested rules of severe weapons like rocket launchers and grenades is to treat them as an instant kill.
This game is a 287 paged book, which I think is excellent value for $14.95, and so there's plenty of room to flesh out some character concepts. In doing so, author Paul Mitchener introduces more of the Hidden World. There are 'Faces' who liaise between the Factions in the mage, Gutter Mages who've not had the academic training as those in the Council of Merlin have enjoyed, Men in Black who work for the church's Order of St. Bede to remove supernatural threats and Wardens, for example, who protect Magicians from danger.
Equally, the limitations section (traits as well, to a lesser extent) help define the world. Typical traits include things like Oathbound – where characters find it hard to lie or Obliged – where characters are in debt to a supernatural power – and come together to create a layered world where negotiation and intelligence are as important as punching power.
This layered world is built from Factions. These are the powers of the Hidden World and the source of much of the game's tension. At the start of the game, the players start with a 0 written next to every Faction the GM wants active in the world. They then take turns to pick two Factions each; putting +1 to the total for a Faction where their PC has a positive relationship and a -1 when there's negative. The Crew can't exceed +3 or go lower than -3 at this stage. A +3 relationship means the Crew is allied with that Faction. A -3 relationship means they have enemies.
This notion of groups is hardcoded into Liminal. The PCs work together in a Crew and just like the characters themselves the Crew has its own Goals. As the game sagely notes; "a Crew needs a reason to take on cases and engage with the world."
It's not often this reviewer gets to see his home city in an RPG, but The Edinburgh Inquirers is an example Crew; they are scientists trying to understand the magic of the Hidden World with the assets of a base of operation (Edinburgh University), an occult library, hangers-on and laboratory.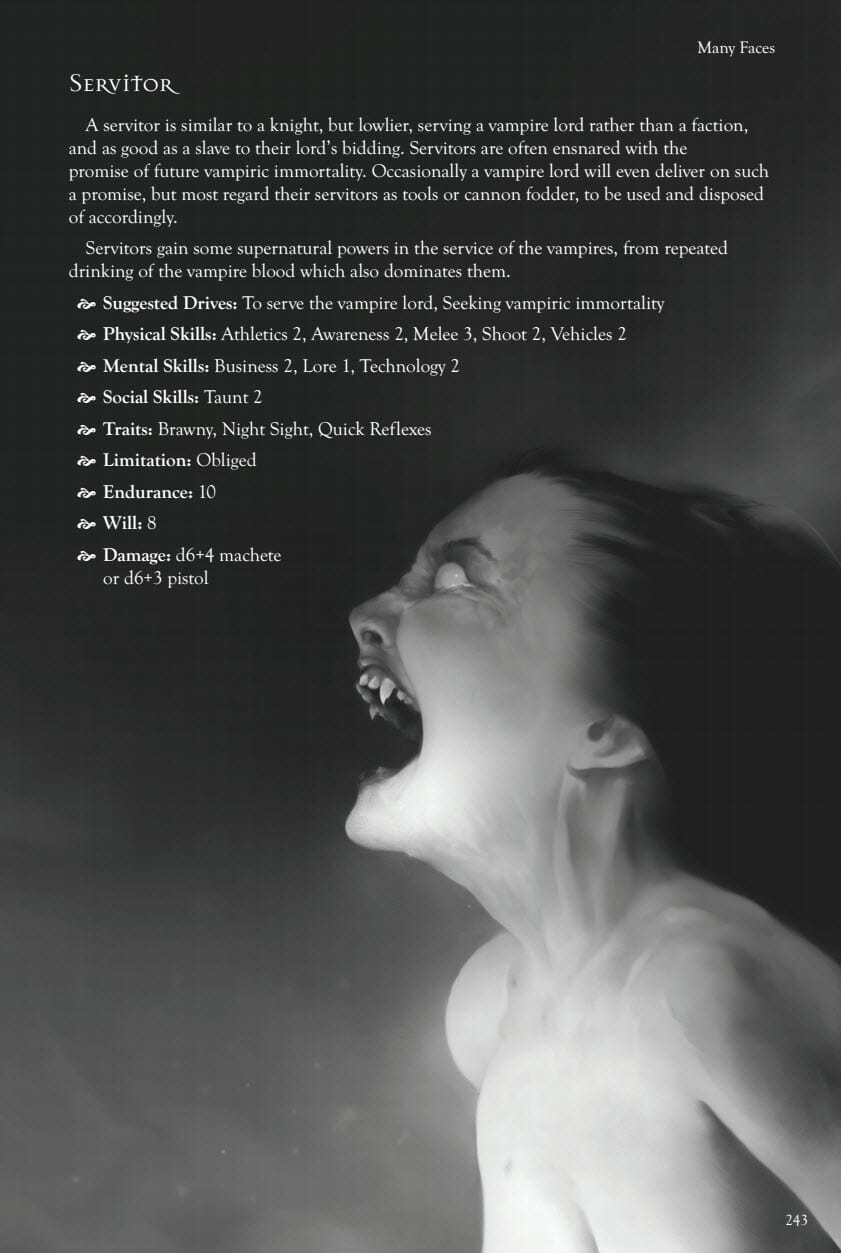 Edinburgh itself isn't the Liminal's Gazette of exciting locations, but plenty of other British and Irish places are. I don't think you need anything beyond a TV understanding of the countries involved to enjoy Liminal, but it certainly feels helpful to have so many towns and cities detailed. The RPG has info on the Hidden World in Belfast, Caernarfon, Dartmoor, Durham, the Giant's Causeway, Glasgow, Glastonbury, Glen Coe, Hadrian's Wall, Highley, Liverpool, Loch Lomond, London, Manchester, Mussenden Temple, The New Forest, Oxford, Portmeirion, Saltaire, Stonehenge, Mount Snowdown, Winchester, York, Canewsdon, Hinton St. Mary, The Forest of Dean, Peebles and Tamworth. I've no idea what the criteria for making the cut was, some of these towns are an odd choice, but if we have got an RPG based off spooky places Paul Mitchener has been on holiday then so be it.
It's very much the people, rather than the places, that define the Hidden World and a decent chunk of the rule book is spent detailing the game's factions. Broadly speaking there are the significant Factions who will likely be available for encounters in many games and then lesser Factions whom Crews may or may not encounter. The motivations and modus operandi of each Faction is spelt out for Game Masters, and there are introductions (and stats) to important NPCs.
I don't think Liminal is likely to be a game that is picked up by inexperienced GMs, but the section on how to GM and the example cases (adventures) is still a worthy addition. They act as an experienced hand on your shoulder, confirming what you've probably concluded as you've read through the game.
I enjoyed Liminal. It's a thoughtful and elegantly simple game. Crunch is minimised in favour of creating lasting memories and facilitating drama but it feels more robust than many games you could say that about. There are, after all, nearly 300 pages of rules, spells, character abilities, monsters and NPCs in this RPG.
If you're looking for an urban fantasy, a supernatural noir or perhaps a way to turn one of your favourite TV shows or books into an RPG, then Liminal is a solid choice.
What do you think? Sound off in the comment section below.