Geek Native's Patrons help pay for article and art commissions, never tech, and as 2022 fades into history, we start 2023 debating the role of AI art in the hobby. It feels timely, like Geek Native's Patrons are great people putting some money into the hobby.
Thank you.
Geek Native's patrons also get to vote in RPG Publisher Spotlight, and Catilus of the Cute Creatures Compendium won the January 2023 slot. If you're eligible, you can vote on Patreon.com.
The first five candidates for 2023 are;
Ready and able to vote? Leap over to this private link and have your say.
Latest competition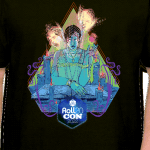 Competition: Roll20Con 2022 and Roll vs Evil t-shirt
-
To date, the charity's JustGiving page says £25,00 has been raised by nearly 200 supporters, which includes companies like Roll20. [...]
Join in the conversation below or teleport over to the chat portal to join in the conversation elsewhere on the site.