What did you make of Hawkeye? Daredevil? What about The Punisher? We didn't face alien invasions in these shows but street thugs and gangsters.
The Punisher, in particular, pushes the line between street hero or vigilante.
Does Batman make Gotham safer, or has the Dark Knight made no difference in the city except for directly or indirectly creating dozens of villains?
Earlier this year, Geek Native had copies of Andrea Wolf's first two Buzzard comic books to giveaway and to enter readers had to answer this question;
Are "superheroes" or "street fighting heroes" who stalk the city searching for everyday criminals to defeat and confront heroes actually? Or are just they vigilantes?
I also asked whether the reader identified themselves as a geek or not, and it was multiple choice and not scientifically robust. Hopefully, though, interesting.
Not Geeks: True Heroes
Readers, most likely people out to win a prize, voted in favour of the street heroes as 70% decided these fighters are true heroes.
Geeks: True Heroes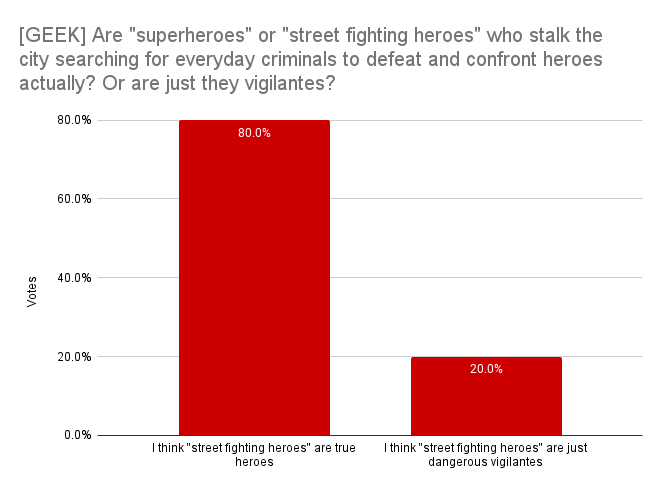 Geeky readers thought the same. Geeks were even more emphatic without naming names or suggesting exclusions to the general rule; 80% believed street heroes were heroes.
Quick Links
Got something to say about this article? Let us know in the comments below.