🎲 Sponsored Post part of a DMs Guild promotion. Geek Native may also earn affiliate commission.
Whenever it's foggy here in Edinburgh, whenever the haar rises, there's a good chance my Tuesday night GM will weave in a horror element into the RPG session. The expectation adds to the tension, and it doesn't always happen.
The game's setting supports it. Our in-game busy port is the perfect place for strange occult killings. A jolly man handing out gifts to the good? Not so much.
So, if you're running a tabletop game over the festive break, you'll have to decide (forgive the Yule decide pun!) whether you try and weave some holiday spirit into your regular game or do a one-shot.
If you decide to add in some winter cheer, it might well be best to stay neutral. It's not about keeping Christmas out of your life but, and the purists here might agree with me, avoiding clashing and contradicting game lore.
It's easy enough to have a generic event that feels Christmassy. Geek Native even has a festival generator you can use for free.
I like the one-shot approach. It's the end of the year; take a break, do something different. Dabble with new rules, roles and themes.
With that in mind, let's look at a bunch of festive-themed one-shots from the DMs Guild.
Christmas 5e one-shot adventures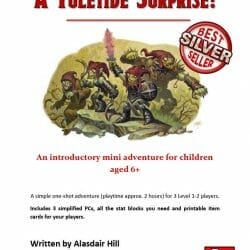 Once Upon a Winter's Eve: a 5th-level Christmas/Holiday One-Shot by Aaryan Balu. A silver best-seller.
It's a long one that'll take about 4 to 6 hours, and it also requires characters at the 5th or 7th level. It comes with three maps and even four new magic items.
It's a chilly Winter's Crest in the cosy village of Pinedale as loved ones gather tight, share cocoa, and tell stories of ages past. But when a blizzard strikes the town, Pinedale finds itself drawn into the dreaded domain of a mysterious fey with deadly plans…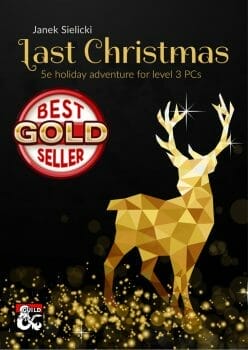 Last Christmas by Janek Silickni. A gold best-seller.
10 pregenerated PCs come with this 2-6 hour one-shot, along with handouts. Those pregens? Christmas baddies we'll recognise from TV!
There's even a Fantasy Grounds version.
A Very Aberrant Holiday Special by Kyle Carly. An electrum best-seller.
This 5e one-shot reviews well, with 4.5/5 after several confirmed purchase reviews. It's set in the logging town of Pinemere but, er, why are the toys trying to kill people?
It suits characters at the 3rd or 4th level.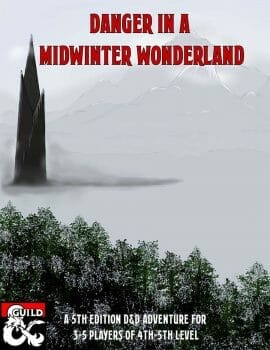 Danger In A Midwinter Wonderland: A Christmas One-Shot by Asa Wheatley. A platinum best-seller.
A strong candidate for your holidays at less than $3 and a dozen good reviews. The 10-page one-shot suits a party size of around 3 to 5, and the best combination is four players with 5th level characters.
There's some Christmas-themed magic items in here and that dastardly Krampus.
How the Liche Stole Christmas by Wizard Sleeve Studios et al. A platinum best-seller.
Over 30 reviews and 4.5/5 stars. This 17-page one-shot suits 3 to 4 hours of play. Best of all? It's appropriate for characters of all levels, with variations on the encounters for all D&D tiers.
Also, best of all (another one) is the inclusion of kobolds in hats.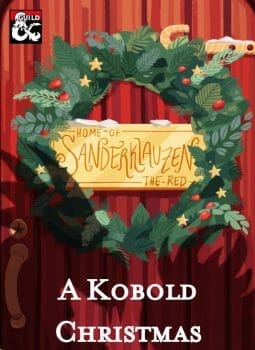 A Kobold Christmas by River Daniel. A copper best-seller.
A festive one-shot that promises to be chaotic, fun and in which you might be playing as a kobold in a hat.
Here's a pun here, too, as River Daniel tells us the adventure is "seasoned" for a group of about 3 to 5 players and with 4 to 6 hours to play.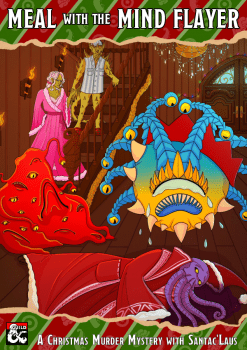 Lastly, as a bonus 9th; if you're looking to invest in a whole lot of festive content, then there's always Hershels' Holiday Haversack as a bundle that'll save you $12.95 or about 46% off the collection.
These aren't playtested reviews; of course, they just discovered and curated one-shots that fit the bill. Pleasingly, the review system is a handy feature. Not surprisingly, there's no such thing as a "festive filter" on the site's search engine, and perhaps this list will serve as a starting point to a bit of Yuletide research.
Creative Commons: Christmas decorations by Garcya.
Start a comment conversation in the secton below.