The One Page Dungeon Contest is decades old and still very popular.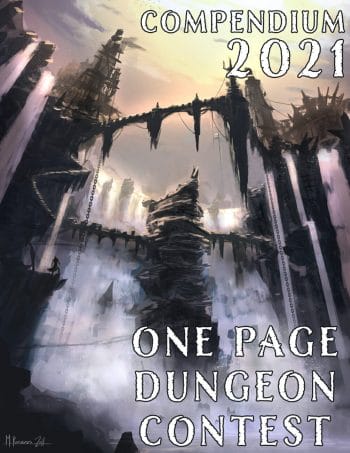 In 2021, the competition had 74 entries and you can buy them all as a compendium from Grumroad or DriveThruRPG. The proceeds go to covering the cost of the website and prize pools.
Overall Winner
Cheryn Rapp of Goblins and Growlers takes the top prize with a one page dungeon called "This Place Is a Zoo".
The city zookeeper has hired the party for their experience with "difficult creatures". It seems that the zoo's creatures have started displaying strange abilities…
Runner Up
Ithai supported by playtesting kids secures the runner up slot with a dungeon called "Scare the Bear".
A dire bear is said to inhabit a den, not far enough from a worrying village. Scare it away and be rewarded. Should be simple enough, right? – but when you start going into the darkness, you never know what horrors (or fortune) you might uncover.
Winner's Circle
Quick Links
Level up your geek stat by contributing to the comments.