Crawlspaces & Critters promised us they'd take their delicious charity project to Kickstarter. Now they have, and with a high bar but a high karmic yield.
The crowdfunder is a chance to eat sweets and do good. You can learn the art of goblin eating and check out the project from the pitch page.
It's not a pie in the sky proposal. I've tested some prototype goblins and can confirm Crawlspaces & Critters can make these goblins. That's no surprise, as thousands of gummy minis have been created over the last two years. Imagine plucking defeated goblins off your tabletop and wolfing them down. You could. These are gummy goblins.
The charity that'll benefit is the Children's Miracle Network of Hospitals. It's an opt-in approach, though, one that's been announced by the network.
There's also a charity D&D one-shot with the Penny Arcade "C" team, who'll eat their way through the flavours live on screen, raising money for the cause.
Why is that an event? Well, there are five flavours and watch how they get more dangerous!
Velheim Lime
Boo Berry
Cherry Bomb
Marshmallow Fellow
Jalapeno Jump Start
The campaign needs $20,000 to fund, which isn't peanuts. If it gets to $25,000 and for every $5,000 after that, either a new flavour or a new monster model will unlock.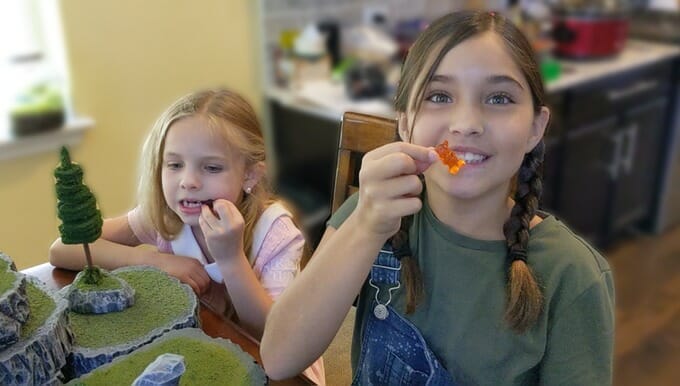 The pledges work in two ways. Firstly, you can just pledge $8 to get into the gummy mini tier. That gives you BackerKit access where you can buy as few as 1 packet or donate to charity.
The more you buy, the greater the discount. It's a 50% discount if you're buying hundreds of packets, and maybe FLGS or board game cafes might. These goblin gummies will also travel to anywhere in the world, but with shipping added later.
Sadly, that model doesn't really help the campaign hit the target as it would require many $8 pledges.
Those who pledge at least $25 get 5 packets, $60 gets 10 and all the way up to $450 to get those 100. That's no cheaper than going in at $8, but I guess it secures your purchase and does help the campaign.
There are two limited tiers; $3,000 and $4,000, in which you get a tour of the favour and a test or prototype mould used from the project (plus many gummies).
Leave your own remarks on this in the comment area at the bottom of this page.