The Delver's Guide to Beast World is a Kickstarter success in a week that's seen no shortage of heavy-hitting campaigns.
The supplement adds furries and wagons to D&D, and it funded within minutes. At the time of writing, it's surging beyond 1,500 backers, and the $30,000 campaign target is nothing but dust in the road as the current total is so very nearly $200,000. You can see the latest total or join in from the pitch page.
The quirky twist in Heartleaf Games' Kickstarter is that there's no easy access to the PDF only version of the setting. The digital-only rules exist, but the campaign is to make the book, and so you're invited to email in, especially if you just want the PDF. However, there's still an optional $20 tier to back to reserve your slot.
The book offers up 24 new playable species, each with 5 different "homeland" variations. Also, the wagon rules, stats and customisation system gives the supplement its scope.
In addition, there are shops, NPCs, advice, spells, magic items and 12 new subclasses.
The Delver's Guide to Beast World has wagon customization options for rugged and survivable house wagons that go with you to where the adventure is. Make your wagon a member of the party with a full sheet featuring all of its game statistics.

Every part of your wagon can be swapped out for parts that reflect your crew's play style and environment.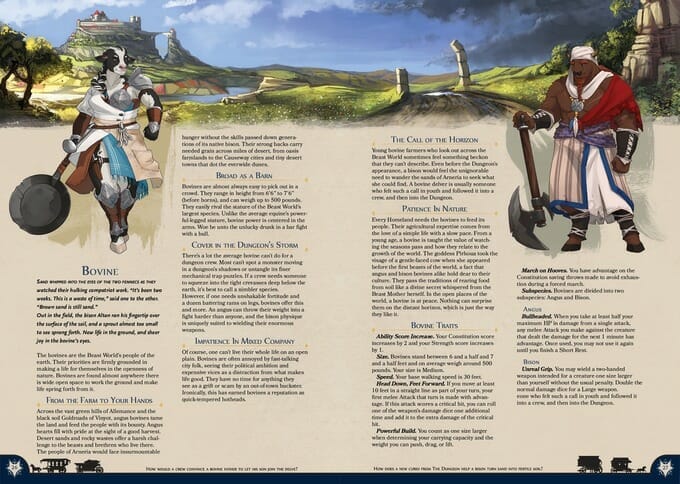 If you want to avoid the quirkiness around the PDF and whether or not pledging $20 gets you a copy, then jump to $50. You'll get the hardback with shipping excluded and added by Backerkit later. That comes with the PDF.
At $90, the rewards include full-colour cards, dice with beasts inside, the Dungeoneer Insignia enamel pin and GM screen.
Then, at $120, a box, plush toy (one of two) and the Pathpost Dungeon Scout Kit.
There are many more tiers, some sold out, but the campaign finally tops out at $5,000. There's been a backer at that level who will get plushies, maps and multiple copies of the books.
The estimated delivery date is April 2022.
Leave a comment below and join the Geek Native community.