In partnership with Netflix, Titan Publishing will release a Cowboy Bebop prequel in November and an original comic book series in December.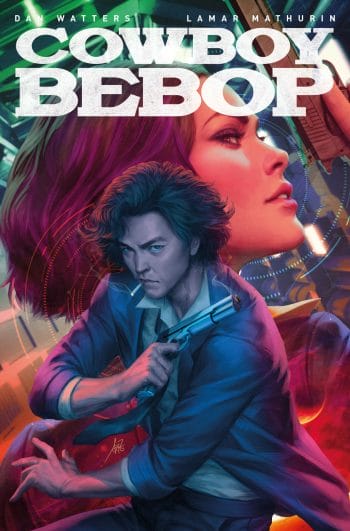 Additionally, a coffee table art book detailing the Netflix series is slated for Spring 2022.
The Netflix series follows Spike Spiegel (John Cho), Jet Black (Mustafa Shakir), and Faye Valentine (Daniella Pineda) hunting down deadly criminals, for a price, in the spacefaring future.
Cowboy Bebop: A Syndicate Story: Red Planet Requiem will be written by Sean Cummings. Cummings is a staff writer on the Netflix series, and the story will lead into the events in the forthcoming show. It'll show the galaxy through the lens of a young Spike Spiegel and Vicious.
Cowboy Bebop: The Comic Series is a new arc set in 2171 when the crew of the Bebop are chasing an ex-gang member who has a special vest capable of generating luck.
The comic series will be written by Dan Watters, the DC veteran from Lucifer and Home Sick Pilots and include art by Lamar Mathurin and covers from the likes Stanley' Artgerm' Lau. The first issue will appear in December, and then the collected trade paperback of the four-part story due in May 2022.
Cowboy Bebop: Making the Netflix Series goes behind the show's scenes, starting with a foreword by showrunner André Nemec. It'll be an official companion and include concept art and behind-the-scenes photography.
Titan Publishing is no stranger to geeky IP deals and publishes books and comics for Doctor Who, DC Universe, Star Trek, Alien and others.
Can you help expand this article? Scribble down some thoughts in the discussion area below.