It's D&D Live, and there's lots of news, with much of the attention on Fizban's Treasury of Dragons.
However, Fizban is but one of an increasingly active Dungeons & Dragons release schedule. Other books have already been announced, books we know little about. Today we also learned about the already announced The Wild Beyond the Witchlight: A Feywild Adventure.
Frustratingly for some tabletop gamers, that news also includes Wizards of the Coast conceding the book will be late in many regions. There's a round-up in this week's RPG news.
The Feywild adventure will not be as dark as Ravenloft, but it'll undoubtedly have a shadow. Dark whimsy, if you will, in an unsettling Plane seeped in magic.
Once every eight years, the fantastic Witchlight Carnival touches down on your world, bringing joy to one settlement after the next. Its owners, Mister Witch and Mister Light, know how to put on a good show. But there's more to this magical extravaganza than meets the eye!
Witchlight Carnival map
The Feywild adventure will pit characters against the Hourglass Coven, thanks to the Witchlight Carnival. The supplement adds two new races; faeries and the rabbit folk known as harengon. There are new backgrounds as well; Feylost and the Witchlight Hand.
Players will see the splendour of the Witchlight Carnival thanks to this map Wizards released in digital today.
Chris Perkins, the principal story designer for Dungeons & Dragons, noted;
This adventure, unlike some of our previous adventures, is really designed to launch from whatever world you, as the Dungeon Master, consider to be the homeworld for your campaign.
The Witchlight Carnival Dice & Miscellany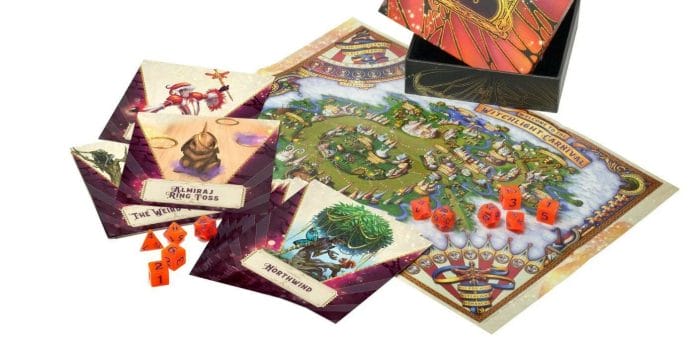 Really like the map? Or perhaps just need some bold new dice? Wizards of the Coast have good news for you as you can get tangible versions of both.
Also announced today is The Witchlight Carnival Dice & Miscellany as official Feywild adventure D&D accessories.
The Amazon listing says the pack includes;
Set includes 11 premium dice (two d20s, one d12, two d10s, one d8, four d6s, one d4)
Durable, felt-lined box that doubles as two dice trays
Includes a beautifully illustrated, double-sided player-friendly foldout map with the Witchlight Carnival on one side and carnival concept art on the other.
19 double-sided reference cards with descriptions and illustrations of characters, creatures, games, and other features of the Witchlight Carnival
Quick Links
Can you help expand this article? Scribble down some thoughts in the discussion area below.