Luke Gygax is the son of Mary and Gary Gygax and grew up during the development of D&D. He played Melf, the elf magic that created Melf's acid arrow.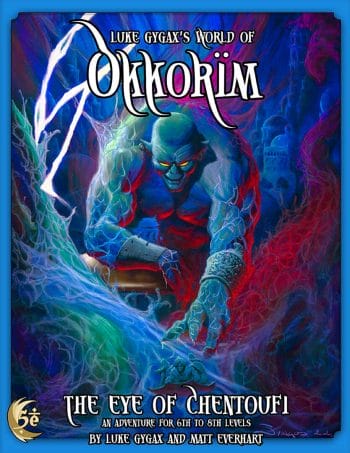 The Gary Con head honcho is also a military veteran (28 years) and the writer of game accessories like The Lost City of Glaxmoor (co-written with Ernie Gygax before the two appeared to fall out over TSR Games (3)).
The Eye of Chentoufi is a 5e adventure co-written by Matt Everhart that Luke's Gaxx Worx published this week.
Pelicos Red has hired your party to help him locate the Oculus of Senrahba, a mysterious relic of the Ydrissid Empire. Your investigations lead you to Grand Library where you are ambushed by The Sacred Sisterhood of Mazuzah! After their attack you discover a hidden vault sequestered deep below the library, protected by the powerful sisterhood and undisturbed for an age…
…and that is just the first chapter of this spellbinding edge-of-your seat adventure! This beautifully illustrated module is guaranteed to provide hours of fun while exploring the mysteries, and facing the dangers, of the enigmatic lands of the Okkorim.
The adventure is suitable for 6th to 8th level characters and features art by Dean Spencer, JE Shields, C Martins and Michael Syrigos.
At the time of writing, the usual price of $14.95 has been reduced to $4.00 for the 36-page download. The Eye of Chentoufi is part of Luke Gygax's World of Okkorim.
Quick Links
What do you think? Let us know in the comments below!