Matt Everhart is the designer of an upcoming RPG called Strange & Grim, a war horror game which I got to talk to him about.
Strange & Grim will be a first. It'll be the inaugural third-party RPG from the new Everyday Heroes license. That's the 5e-d20 Modern mashup from newcomers Evil Genius Productions and the one that will power movie franchise titles like Kong, Rambo, Pacific Rim and the Highlander RPG.
Luke Gygax's Gaxx Worx is the publisher, while Strange & Grim is Matt's game; the Gary Con founder is involved too. As it happens, Luke is retiring from the US Army, and stepping into civilian life, so I had to wonder: Is there a connection between that and a war game? What next for Gaxx Worx?
As a bonus, I've permission to share some of the art commissioned for the game but remember it's all early stage and pre-Kickstarter.
Tell us about Strange & Grim! What can we expect from this wartime horror of a tabletop RPG?
Matt Everhart: S&G is a dieselpunk horror setting which blends aspects of cosmic horror and magic with the belching smoke and diesel-driven industrialization. 

Imagine a world similar to Europe during the interwar period of the 1920s to 1940s, but both science & sorcery contributed to the booming growth of industry. Artisans and craft workers infuse their products with magical energy to create "aethertech" items. 

In Strange & Grim, massive aeroliners are held aloft by elemental engines, speakeasies blare loud jazz, and massive syndicates control commerce around the world, all while a simmering threat of war bubbles in the background. This setting is similar in that respect to movies like Indiana Jones or Hellboy. 

The threat of war is the backdrop of the setting in which our characters, called Agents, operate, and it is a tool for the GM to use to create plotlines and tension in their campaign.  

At the same time, the world itself is reeling from the creation of the Void, which is a demi-plane created to protect the people of the Commonwealth from the threat of otherworldly invasion. The Void has been a boon in many ways providing new and unforeseen effects on harnessing magic, but there is a dark side that has become evident as unscrupulous individuals and entities use it to advance their evil ends. 

Even more troubling is the indication that the Void may be acting as a beacon to the Elder Gods, drawing their dreadful attention back toward Baennor. Whether they are working for the government, a syndicate, or trying to help citizens of the Commonwealth, there is the constant fear of the "unseen threat" on the periphery of their vision, whether that be war or something darker and more insidious. 

This setting presents a dichotomy between a progressive, industrialized veneer and the dark, corrupted reality just beneath the surface
The horrors of war seem to be a horribly adapted zeitgeist of the world we find ourselves in. Was that a factor in picking the genre?
Matt Everhart: I developed this setting as an homage to the genre. My personal infatuation knows no bounds with the image and portrayals of "Great Wars" period in which the everyday person could become a hero to the nation or to the cause whether you picked up a rifle or a wrench; whether you were planting your victory garden or sailing with the merchant marine. 

In juxtaposition, we see the beginning of the end of the idea of "grand adventure". On Earth, the last of the "unknown places" such as Egypt and the Amazon had been explored, The Americas mapped and settled, and the distant East was not so far as it once seemed. 

Baennor, the world of Strange & Grim, seeks to capture these elements of grand adventure and exploration in a shrinking world in a fictional setting with alien species, magic and the inexorable return of the Elder Gods…. 

These elements combined with my love of horror and life experience as a servicemember created a proverbial melting pot of genres that I have worked on over the past 4 years. It's heretofore unnamed genre to my knowledge- maybe- Arcano-Diesel-Horror?  
Do you think that wartime horror might be challenging for new gaming groups to switch to?
Matt Everhart: I think this genre is something many have experienced and enjoyed in movies and television shows. Anyone that enjoyed Mortal Engines, Sky Captain and the World of Tomorrow, League of Extraordinary Gentlemen or TV shows like Arcane will be familiar with and enjoy the setting in Strange & Grim. Gamers who watched the World War II scenes in Captain America movies and the mechs from Sucker Punch should get the premise of the setting and be able to jump right into play. 

Luke and I believe there is a niche in the gaming community who will really enjoy Strange and Grim as much as we are enjoying developing it.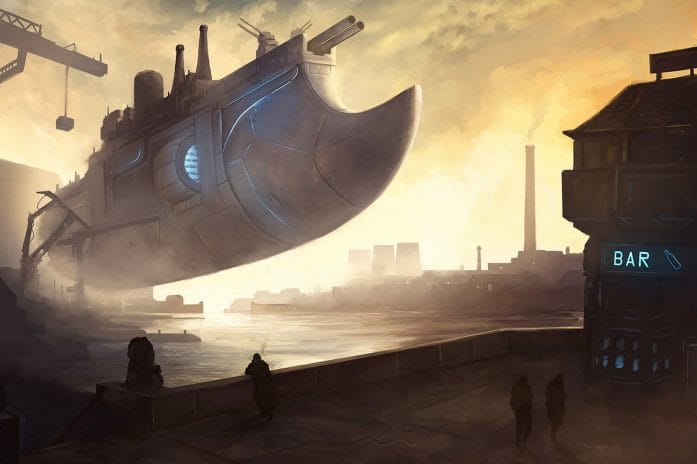 How much of your own gaming is outside traditional European folklore-inspired fantasy?
Luke Gygax: I enjoy gaming in general from traditional games like chess, quarto, mahjong and poker, to board games of all sorts. Until I retired from the Army just a few weeks ago, my gaming time was very limited so much of my play was playing RPGs on streaming shows which is mostly D&D and oftentimes draws predominantly on European myth and folklore. 

However I have my own homebrew setting called Okkorim which draws inspiration from many sources including stories of European, the Maghreb, Eastern along with science fiction, science-fantasy and my lifetime of game play. The main metropolis is The City of Chentoufi, a remnant of a bygone empire of sorcerer-gods called the Ydrissid. It is a crossroads of people and cultures that teems with intrigue from multiple sources. 

I find gaming to be more fun and engaging when the characters encounter strange new things, places, people, cultures and creatures which is one of the reasons I wanted to create Okkorim outside of the "typical".
Actually, how much gaming do you get to do these days? Or are you kept busy with conventions and on the industry side of the hobby?
Luke Gygax: I am just beginning my transition from a soldier to a civilian and I relish the additional time I have to dedicate to my family and creative endeavors. I am able to say yes to more invitations to conventions, podcasts and streams. My daughters just leveled up their characters and are ready for a regular home game, so I am optimistic that there will be a lot more game playing in my future. 

I also know that Gary Con will require lots of logistics, business and mundane work in order to continue. Organizing conventions is a lot of work with little monetary reward. The payoff is seeing thousands of people come together to share high adventure.  
How has the landscape of the hobby changed over the years for you? Do you find it a bit rough and bumpy at times?
Luke Gygax: Change is the one thing you can count on in life. The TTRPG community is no exception to that rule. We are in a wonderful resurgence of TTRPGs that has grown the ranks of players from maybe a couple million to upwards of 40 million people! 

It makes me incredibly happy to see the game genre that my father co-created through the invention of Dungeons & Dragons role playing game. 

Anytime you have a lot of people involved there is some tension and conflicts so our community isn't that unusual. By and large I have found that gamers are good people who are often intelligent, caring and generous. I enjoy meeting people at Gary Con or other conventions and talking to them about the positive aspects of RPGs, and how it has helped them. I am very fortunate to be able to help carry my dad's legacy forward. 
Can newcomers like Evil Genius help push us forwards?
Luke Gygax: Dave Scott at Evil Genius brings in a lot of energy and drive to bring his vision to the community. He is passionate about the Everyday Heroes ruleset and is making it easy for small publishers and individuals to license these rules so they can stop worrying about the crunch, focus on the story AND reduce the obstacle for hordes of people to get into their game because they already know the rules. I think Evil Genius Games has a great plan that will lift up many creators and help them realize their dreams.
What else do you hope from the licensing agreement you've signed with D. Todd Scott and company?
Luke Gygax: As I said above, I don't have to worry about the rules as they are tried and true, and well known by almost every gamer. To use a gaming metaphor we are all speaking the Common Tongue when we have the Everyday Heroes ruleset license. It saves time, reduces barriers for new players to get in the game and we may be able to partner with EGG to market our new game, Strange & Grim.
Lastly, what next for Gaxx Worx?
Luke Gygax: Whats next for Gaxx Worx is the Strange & Grim Kickstarter campaign in October followed by the third instalment of the Oculus of Senrahbah series, compatible with the fifth edition of the world's most popular RPG. I am also working on a sourcebook for the World of Okkorim for 2023. So that along with my Gary Con responsibilities will keep me occupied in the near term. 
Take part in Geek Native's community by sharing a comment below.