As beings of the far future and emerging from a galaxy wrecking war, characters are generically engineered remnants on a mission to reclaim a lost empire.
Fragged Empire launched in 2014 with Kickstarter success, won high acclaim and then expanded in with multiple successful follow up crowdfunders. Then Fragged Aeternum adds the fourth setting of a haunted city which, unlike Fragged Empire, has never been available as a bundle before.
Fragged Bundle
The tactical sci-fi RPG from Wade Dyer is up again at the Bundle of Holding.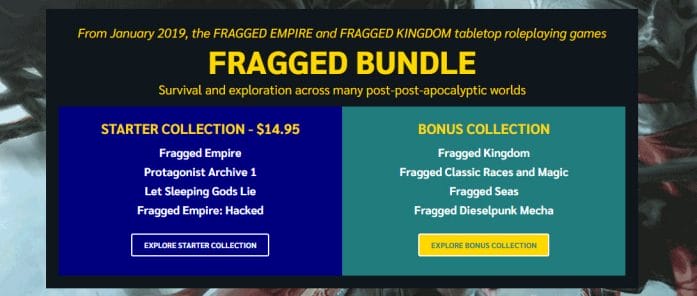 Starter Collection – $14.95
The Starter Collection has a retail value of $55.
Fragged Empire
Protagonist Archive 1
Let Sleeping Gods Lie
Fragged Empire: Hacked
Bonus Collection
The cost of the Bonus Collection changes as the Bundle deal runs, but the retail value always weighs in at $50.50.
Fragged Kingdom
Fragged Classic Races and Magic
Fragged Seas
Fragged Dieselpunk Mecha
Fragged Aeternum
The Aeternum setting, adventures and sourcebooks have not been seen on the Bundle of Holding before, but can now be downloaded from the site.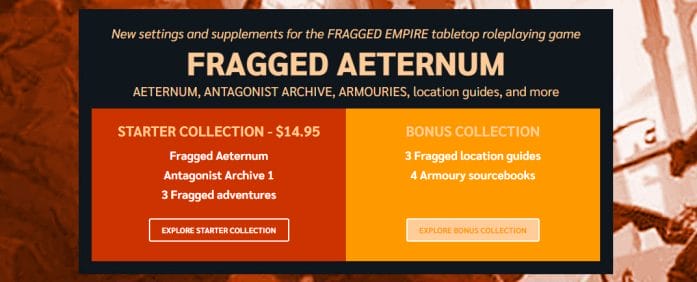 Starter Collection – $14.95
This new tier has an impressive retail value of $62.50.
Fragged Aeternum
Antagonist Archive 1
3 Fragged adventures
Bonus Collection
The price changes as people stretch their budgets to buy it, going up as people do, or down if they do not. The retail value is always $69.
3 Fragged location guides
4 Armoury sourcebooks
Quick Links
Join the discussion and leave a comment below.